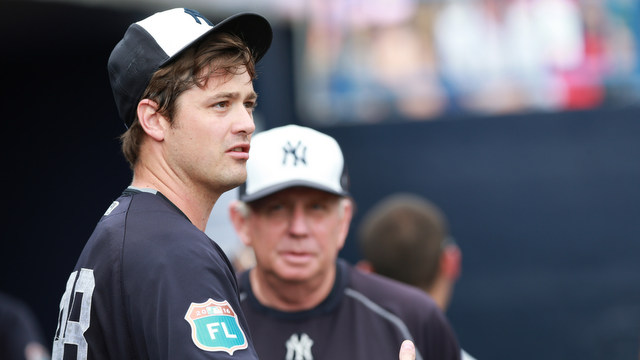 Friday: The hand specialist has cleared Miller to pitch through the chip fracture in his right wrist, reports Jack Curry. The fracture will heal naturally and the only question is pain tolerance. I'm sure the Yankees will give him something to help with that. They dodged a big time bullet.
Thursday: Earlier this morning, Andrew Miller told reporters in Tampa he plans to pitch through his right wrist injury. "It's my right hand, I don't really need it," he said to Erik Boland. Miller was hit by a line drive in yesterday's game and suffered a chip fracture. He clarified the injury was to a bone at the base of his hand, not in his wrist.
The toughness is admirable, but Miller still has to see a specialist later today, and the specialist will determine whether the injury is actually playable. No, it's not his throwing wrist, but he still needs to be able to catch the ball with his glove. It's also possible he could do more damage if he gets hit again or falls on wet grass, something like that.
We'll see what the specialist says. Hopefully this is indeed a playable injury and Miller will be ready for Opening Day, or shortly thereafter. The Yankees are already going to be without Aroldis Chapman for 30 games, and when you build you team from the ninth inning forward, losing two top relievers is bad news.