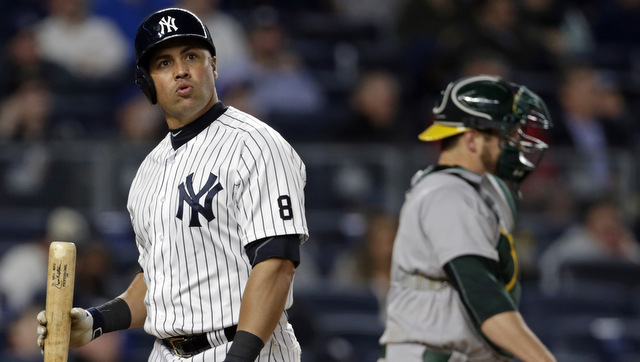 The Yankees have lost five of their last six games and they've scored 13 runs total in those six games. They've scored two or fewer runs in the five losses. The Yankees have a .317 OBP as a team in their last four games — the MLB average is a .314 OBP in 2016 — so they're getting guys on base, but man, they can't drive them in to save their lives.
Eventually the Yankees are going to bust out of it and score like six runs a game for a week. Remember when they scored 100 runs in a 12-game span last summer? That was cool. Do that again. Winning with run prevention is for suckers. Give me dingers and runs. Lots and lots of runs. Here is the Athletics' lineup and here is the Yankees' lineup:
CF Jacoby Ellsbury
2B Starlin Castro
RF Carlos Beltran
1B Mark Teixeira
C Brian McCann
DH Alex Rodriguez
3B Chase Headley
SS Didi Gregorius
LF Aaron Hicks
RHP Nathan Eovaldi
Yet another great weather day in the New York. It's supposed to rain maybe later in the week, but right now it's gorgeous outside. Love it. Tonight's game will begin just after 7pm ET. You can watch on YES, as always. Try to enjoy the game.
Injury Update: Brett Gardner was scratched from tonight's starting lineup with a stiff neck, the Yankees announced. Apparently this may have been lingering since he fell backwards into the stands making that catch in Toronto.
YES Update: FOX regional sports affiliates, including YES, can now be streamed on Sling TV. It's $20 a month — there's a free seven-day trial — so it's not free, but it's not too pricey either. You will be able to stream Yankees games on YES, even if you're in-market and a currently dealing with the Comcast nonsense. Here's the Sling TV link.