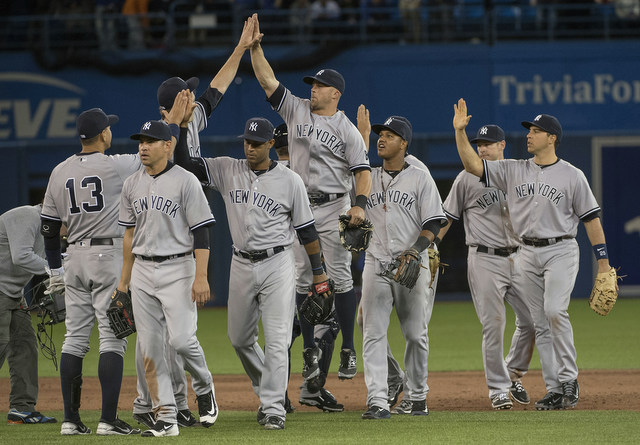 The six-game turned five-game road trip ends tonight with the rubber game against the Blue Jays. A win to clinch the series victory would be awfully sweet. A 3-2 road trip is always better than a 2-3 road trip, especially when you get that last win over a division rival.
Nathan Eovaldi is on the mound and he did something in his last start he usually doesn't do a whole lot: give up homers. He gave up two of them in five innings after allowing ten homers in 154.1 innings last year. Hopefully Eovaldi fares a little better tonight with the game inside and not in the freezing cold. Here is the Blue Jays' lineup and here is the Yankees' lineup:
CF Jacoby Ellsbury
LF Brett Gardner
DH Alex Rodriguez
1B Mark Teixeira
C Brian McCann
RF Carlos Beltran
3B Chase Headley
2B Starlin Castro
SS Didi Gregorius
RHP Nathan Eovaldi
It's another really cold day in Toronto, so the Rogers Centre roof will be closed. First pitch is scheduled for 7:07pm ET. You can watch on YES. Enjoy the game.
Injury Update: McCann (toe) is back in the lineup, obviously. He is wearing some sort of extra padding to protect his toe after taking that foul tip the other night.