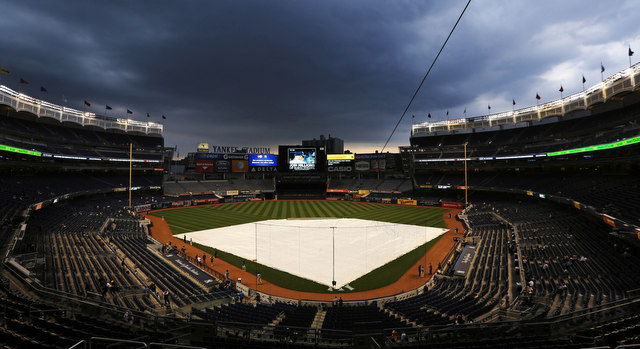 Looks like we have to wait one more day for Opening Day. This afternoon's game has already been postponed due to the inclement weather in New York, the Yankees announced. The game will be made up tomorrow at 1pm ET. The schedule for the pregame ceremonies and all that is exactly the same, just one day later.
The Yankees were last rained out on Opening Day back in 2008, and hey, this is the reason they have the off-day following Opening Day each year. Fans with tickets to today's game can either use them tomorrow, or exchange them for another game this season. The rainout is a bummer, but at least the game was called early.
On the pitching side, the rainout means Masahiro Tanaka will have to make his second start of the season on normal rest this Sunday, and we know the Yankees don't like that. They could always pull Ivan Nova out of the bullpen — or call someone up from Triple-A Scranton — to make a spot start and give Tanaka that extra rest. We'll see.
Well, we've waited almost six months for meaningful Yankees baseball. What's one more day? /sobs