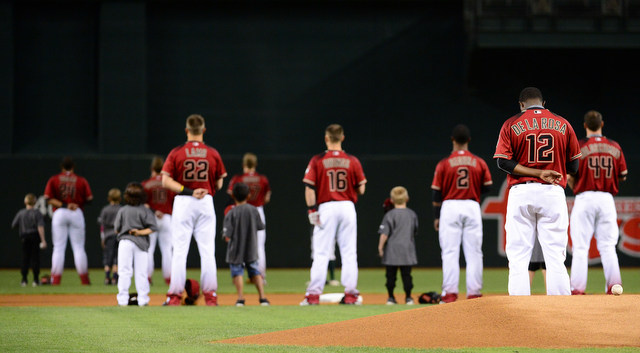 It's time for the first West Coast trip and the first interleague series of the season. This one is a seven gamer through Arizona and Oakland. The Yankees are visiting Chase Field for the first time since 2010 this week. Their starting pitchers for that 2010 series: A.J. Burnett, Andy Pettitte, and Javier Vazquez. Seems like a lifetime ago. The Yankees have won two of three both times they've visited Arizona in the regular season. There's also that whole 2001 World Series thing, but we don't like to talk about that.
What Have They Done Lately?
The D'Backs have been pretty streaky lately. They have lost their last five games, but prior to that they won five straight, and prior to that they lost six straight and eight of nine. Arizona is 17-23 with a -19 run differential overall. After that busy offseason, they're currently sitting in the NL West cellar.
Offense & Defense
Arizona's offense has been about average so far in 2016. They're scoring 4.38 runs per game — the NL average is 4.41 runs per game — with a team 97 wRC+ overall. (Their non-pitchers have a 103 wRC+.) Manager Chip Hale is without two of his best players: CF A.J. Pollock and RF David Peralta. Pollock has not played this year and is out long-term with a broken elbow. Peralta (96 wRC+) was just placed on the DL yesterday with a wrist issue. Peralta and especially Pollock are two of Arizona's better players.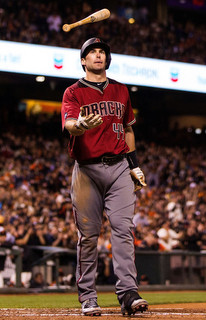 Their best hitter, of course, is 1B Paul Goldschmidt (117 wRC+), who is on the very short list of the best all-around players in the game. That 117 wRC+ is actually way down by his standards; Goldschmidt hit .309/.412/.556 (159 wRC+) from 2013-15. Beyond the big first baseman, the D'Backs have quality supporting pieces in 2B Jean Segura (123 wRC+), OF Yasmany Tomas (121 wRC+), 3B Jake Lamb (115 wRC+), and C Welington Castillo (123 wRC+). UTIL Brandon Drury (131 wRC+) has been pretty excellent as well.
SS Nick Ahmed (31 wRC+) is in the lineup for his glove, not his bat. UTIL Chris Owings (84 wRC+) is a middle infielder who has been playing center field. UTIL Chris Herrmann (128 wRC+) is the backup catcher who can also fill in at other places. OF Rickie Weeks Jr. (59 wRC+) — he added the Junior this season — and IF Phil Gosselin (72 wRC+) are the other bench players. The D'Backs called up veteran OF Michael Bourn just yesterday in the wake of the Peralta injury.
Both Goldschmidt and Ahmed are well-above-average defenders, and both Lamb and Segura are solid as well. The outfield is a mess right now though. Tomas is a straight up bad, Bourn's legs are close to gone, and the other guys they've been sticking in the outfield (Drury, Owings) are playing out of position. Castillo's good enough behind the plate. Not great, not terrible. Arizona's infield defense is good. The outfield? Not so much.
Pitching Matchups
Monday (9:40pm ET): RHP Chad Green (No vs. ARI) vs. LHP Robbie Ray (vs. NYY)
Ray has a connection to the Yankees. He was one of the players the Tigers sent to the D'Backs as part of the three-team trade that brought Didi Gregorius to New York prior to last season. The 24-year-old southpaw owns a 4.84 ERA (4.38 FIP) in seven starts and 35.1 innings this year, and aside from his strikeout rate (24.6%), his peripherals are not so good: 11.4% walks, 40.2% grounders, and 1.27 HR/9. Righties have hit him a lot harder than lefties both this year and throughout his career. Ray throws really hard, especially for a lefty. He sits in the mid-90s with his four-seamer and sinker, and has run the four-seamer up as high as 97.7 mph this season. A mid-80s slider is his top secondary offering. He'll also throw a few upper-80s changeups and low-80s curves per start. Ray is a power pitcher all the way.
Green, meanwhile, is scheduled to make his Major League debut tonight. He came over from the Tigers in the Justin Wilson trade and is filling in for the injured Luis Severino. My guess is Green will be sent down following tonight's game for either an extra reliever or another bench player (depends on the state of the bullpen). The Yankees have a short bench right now and that's not ideal in an NL ballpark. CC Sabathia is coming back Friday and will assume this rotation spot. This is very much a spot start for Green.
Tuesday (9:40pm ET): RHP Michael Pineda (vs. ARI) vs. RHP Zack Greinke (vs. NYY)
The D'Backs gave Greinke a six-year contract worth $206.5M over the winter and they can't be too thrilled with the super early returns. Greinke, 32, has a 5.26 ERA (3.61 FIP) in eight starts and 49.2 innings, mostly because he's giving up a lot more home runs (1.09 HR/9) than usual. His strikeout (20.2%) and walk (5.5%) rates are fine, ditto his ground ball rate (47.2%). Lefties have historically had more success against Greinke than righties, but not by much. At his best, Greinke is an artist on the mound, painting the corners and locating with precision. No one in the game has better command, at least when Greinke is pitching like Greinke. His four-seamer and seldom used sinker sit around 92 mph, and he backs them up with upper-80s changeups and mid-80s sliders. He'll also throw a few slow curves per start that will range anywhere from 65-75 mph. I'm basically ignoring Greinke's stats right now. I still see him as one of the best pitchers in the world. He reminds me so much of Mike Mussina.
Wednesday (9:40pm ET): RHP Nathan Eovaldi (vs. ARI) vs. RHP Shelby Miller (vs. NYY)
I'm totally cool with trading prospects for established big leaguers, but wow did the D'Backs give up a ton for Miller. Like an absurd amount. It looks even worse now that Shelby has a 6.94 ERA (6.85 FIP) in eight starts and 35 innings. He's been fighting a weird mechanical issue that has been causing him to hit his hand on the mound during his follow through. It's a little tough to see in this GIF, but some dirt kicks up from the mound when Miller's hand hits: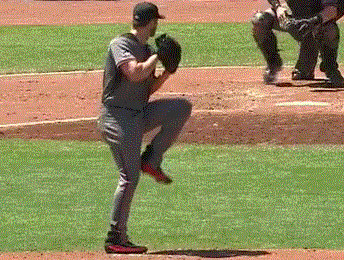 Weird, right? He's actually had to leave a few starts because his hand was cut up from the mound. Miller and Arizona's pitching coaches have been working hard to get him to finish more upright all season. So far this season Shelby has more walks (14.2%) than strikeouts (13.6%), and he's been both fly ball (39.3%) and homer (2.06 HR/9) prone. All throughout his career he's been much more effective against righties than lefties. Miller, 25, is averaging 93 mph with his fastball and 89 mph with his cutter. His changeup lives in the mid-80s and his curveball in the upper-70s.
Bullpen Status
The back-end of Arizona's bullpen is a microcosm of relievers today. Their three big late-inning arms are a failed starter, a guy with a history of arm problems, and a guy who started throwing submarine as a last resort to save his career. Relievers come in all shapes and sizes. Here is their current eight-man bullpen:
RHP Jake Barrett: 14 IP, 11 H, 4 R, 4 ER, 2 BB, 11 K, 1 HR (0 pitches Sun., 0 pitches Sat.)
LHP Andrew Chafin: 13 IP, 12 H, 8 R, 8 ER, 7 BB, 16 K, 0 HR (0 pitches Sun., 0 pitches Sat.)
RHP Tyler Clippard: 16.1 IP, 17 H, 5 R, 5 ER, 4 BB, 16 K, 2 HR (3 pitches Sun., 0 pitches Sat.)
LHP Zac Curtis: 5 IP, 2 H, 0 R, 0 ER, 2 BB, 4 K, 0 HR (0 pitches Sun., 3 pitches Sat.)
RHP Randall Delgado: 21 IP, 26 H, 14 R, 14 ER, 8 BB, 19 K, 2 HR (0 pitches Sun., 0 pitches Sat.)
RHP Daniel Hudson: 17.1 IP, 7 H, 3 R, 3 ER, 5 BB, 11 K, 0 HR (10 pitches Sun., 24 pitches Sat.)
RHP Evan Marshall: 9.2 IP, 7 H, 4 R, 4 ER, 4 BB, 5 K, 0 HR (0 pitches Sun., 20 pitches Sat.)
RHP Brad Ziegler: 16.1 IP, 19 H, 5 R, 5 ER, 8 BB, 10 K, 0 HR (12 pitches Sun., 0 pitches Sat.)
Marshall is a pretty incredible story. In Triple-A last August he took a line drive to the head and suffered a skull fracture. He needed surgery to relieve pressure on his brain. Marshall was able to work his way back and be a full participant in Spring Training. Incredible, isn't it? Now here he is in the big leagues. Good for him.
Ziegler (submariner) is the closer and Clippard (failed starter) and Hudson (arm problems) are his setup men. Ziegler's thing is ground balls (60.4%). Curtis was called up all the way from High-A a few weeks ago and he's a left-on-left matchup guy. Delgado is the long man and everyone else slots in to the middle innings somewhere. Head on over to our Bullpen Workload page for the status of Joe Girardi's relievers. The big three end-game guys probably won't be available tonight.