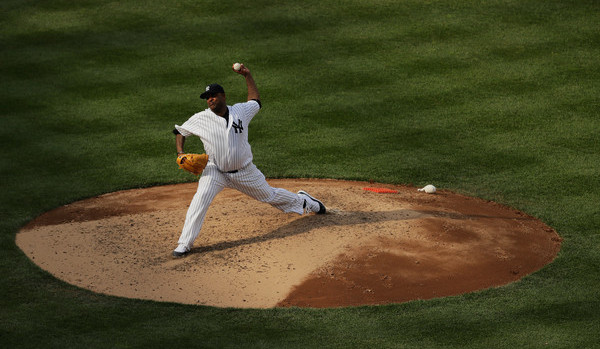 Here's a weird stat I stumbled across today: CC Sabathia has started only two games at Rogers Centre since 2011. Part of that is just luck of the draw. If he's not scheduled to pitch in the series, he's not scheduled to pitch. Some of it is by design though. Last year the Yankees went out of their way to shuffle their rotation so Sabathia would avoid the Blue Jays. Given his ineffectiveness and their powerhouse offense, it made sense.
Now? Now Sabathia is pitching better than he has at any point since 2012 thanks to his new cutter/sinker approach, among other things. It's only seven starts, but a 2.83 ERA (2.99 FIP) in 41.1 innings is best case scenario stuff from the big man. Hopefully the offense gives him more support tonight than they did last time out, when they wasted his gem against these same Blue Jays. Here is Toronto's lineup and here is the Yankees' lineup:
CF Jacoby Ellsbury
RF Rob Refsnyder
1B Mark Teixeira
DH Carlos Beltran
2B Starlin Castro
3B Chase Headley
C Austin Romine
SS Didi Gregorius
LF Aaron Hicks
LHP CC Sabathia
Pleasant weather in Toronto this afternoon, so I imagine the Rogers Centre roof will be open. This evening's game will begin at 7pm ET and you can watch on YES. Enjoy.
Injury Update: Dustin Ackley (shoulder) will indeed have season-ending labrum surgery. Sucks. That most likely ends his time with the Yankees. He was a non-tender candidate before the injury and the torn labrum makes it a lock. Ackley will be transferred to the 60-day DL the next time the team needs a 40-man roster spot.
All-Star Voting Update: MLB released the first fan voting update for the AL All-Star Game starters this afternoon. Here are the results. Brian McCann is second among catchers — it's a distant second, he's nearly 800,000 votes behind Salvador Perez — and Beltran is 11th among outfielders. No other Yankees are among the top five vote getters at their positions. Spoiler alert: the Yankees will not have an All-Star Game starter for the second straight year after having at least one every year from 2000-14. Here's the ballot if you want to vote anyway.