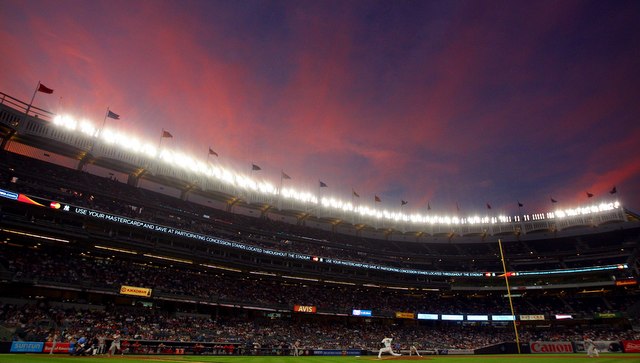 The Yankees are back home for a nine-game homestand following that six-game trip through Colorado and Minnesota last week. Thanks to some scheduling weirdness, they're going to again play the Rockies and Twins this week. Hopefully it goes better than it did last week. Going 3-3 against those two teams is no way to climb back into the postseason race. Here's the Rockies' lineup and here's the Yanks' lineup:
LF Brett Gardner
RF Carlos Beltran
DH Alex Rodriguez
C Brian McCann
2B Starlin Castro
SS Didi Gregorius
3B Chase Headley
CF Aaron Hicks
1B Rob Refsnyder
RHP Ivan Nova
Not the best weather in New York today. It's been cloudy all day and there is a tiny little bit of rain in the forecast, but not until much later tonight. It shouldn't interrupt the game. Tonight's game will begin at 7:05pm ET and you can watch on WPIX. Enjoy.
Injury Update: Jacoby Ellsbury is out with some sort of stomach illness. Joe Girardi said he expects him to be back in the lineup tomorrow.
All-Star Updates: The fourth AL All-Star fan voting update was released today and, unsurprisingly, no Yankees are in line to start the game. McCann dropped to fourth among catchers and Beltran jumped up to tenth among outfielders. Here's the latest update and here's the ballot.