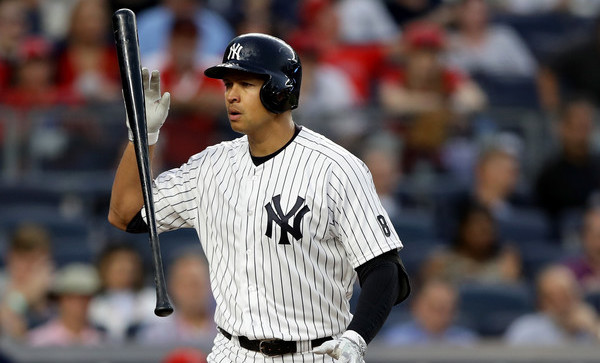 Yesterday afternoon, when Alex Rodriguez wasn't in the starting lineup, I assumed it was because he had played eight straight days. Joe Girardi likes to rest his regulars, so sitting A-Rod gave him a day to rest and also allowed Carlos Beltran to DH, giving him a day off his feet. Girardi does that stuff all the time.
A-Rod is not in tonight's lineup either, and he's not hurt. Girardi confirmed the Yankees are "mixing it up" by sitting Alex against a right-handed pitcher, which makes sense. A-Rod is hitting .200/.236/.348 (50 wRC+) with a 31.7% strikeout rate against righties this year. The offense is sputtering — they had two hits without Alex yesterday, remember — and it's time to try something different, so Alex sits. Here is the Rangers' lineup and here is the Yankees' lineup:
CF Jacoby Ellsbury
LF Brett Gardner
DH Carlos Beltran
C Brian McCann
1B Mark Teixeira
2B Starlin Castro
SS Didi Gregorius
3B Chase Headley
RF Aaron Hicks
RHP Ivan Nova
It has been cloudy and humid all day in New York, and there is some rain in the forecast tonight. It doesn't look like it'll be anything heavy though. Hopefully there's no delay. Tonight's game is scheduled to begin a little after 7pm ET. You can watch on YES. Enjoy.
Roster Update: The Yankees have outrighted Ike Davis to Triple-A Scranton, the team announced. He can still elect free agency. My guess is Davis will stick around because all it takes is one misstep by Teixeira to return to the bigs.
All-Star Update: The final fan voting update for the All-Star Game starters was announced earlier today. No Yankees are in position to start the game or are even remotely close in the voting at their respective positions. Here's the update. The rosters will be announced next Tuesday.