The following is a guest post from Andrew Calagna, who goes by The Original Drew #BAEROD in the comments. You can follow him on Twitter at @_swarlesbarkley. Andrew wrote about the trade deadline and the Yankees top relievers. Enjoy.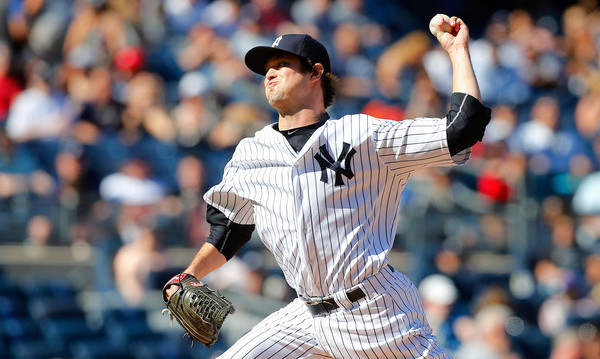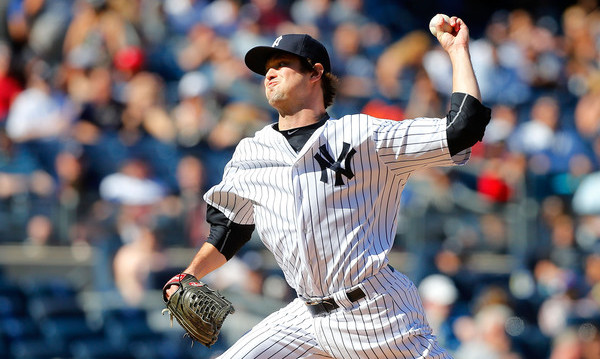 Last week Don Sullivan wrote an intriguing guest post that advocated that the Yankees send off all 3 of their endgame bullpen arms and go into full rebuild mode. While the Yankees are not close to contending in 2016 (as of today), I do not believe that contending in 2017 is out of the realm of possibilities. Allow me to retort0
There is a core of the team already in place
There is a ton of dead weight on the Yankees roster currently (I refuse to use the "A" word) but there are still many pieces on the 2016 team that can help build a contender in 2017. Starting pitching wise you have Masahiro Tanaka, the much improved Nathan Eovaldi, and despite his struggles I would still consider Luis Severino to be an asset going forward. You have Andrew Miller and Dellin Betances potentially back as the anchors to the bullpen.
Lineup wise is where it gets tricky. Starlin Castro and Didi Gregorius are definitely building pieces along with Aaron Hicks, but you have to squint really hard to find others on the current roster. Brian McCann led all catchers in HRs as recently as 2015 and having the presence of Gary Sanchez on the roster might make McCann a part time DH option next year. Do we believe that Brett Gardner is a truly .230 hitter now? It is a definite possibility but there is still enough good performance dating back to last year to possibly justify keeping him around a piece for next year's team.
That is beginning of building a contender for next year. The good news is that some of the dead weight of the current roster will be gone next year, but there are many players that still remain (I am looking at you Chase Headley). What do the Yankees do with these players? I am not going to pretend that I am smarter than the Yankee front office, but jettisoning many of these players, even if it is for pennies on the dollar is a must. I listed 10-11 guys as pieces for next year, not counting the Yankees top prospects which is a nice segue to…
Rolling the dice with prospects
The Yankees went into the year with their offense relying on Mark Teixeira and Alex Rodriguez, two aging sluggers, having a repeat of their mostly awesome 2015 seasons. This was clearly a risk by the front office but there weren't really any other realistic options for the team going into 2016. The 2017 team is going to be much different. Greg Bird, Aaron Judge, and Gary Sanchez will potentially be ready to step in and contribute at the major league level.
As it stands today, handing over the keys to the Yankees offense to this group are also inherently risky. We are unsure of Bird's recovery timetable from shoulder surgery, Judge is struggling at AAA right now, and Sanchez currently out with an injured thumb. The question is, is it more risky than what the Yankees did going into 2016? At some point you have to see what you have in these players and you ride or die with them. I can only speak for myself but I would rather roll the dice with this group of prospects (on top of other offseason moves the Yankees make) rather than go with the approach the Yankees have currently.
Trading away 2/3 of the big 3 relievers but not all 3
The Yankees have a depreciating asset in Aroldis Chapman. The longer he is on the roster in 2016, the less the Yankees are going to get for him in a trade. As Mike and many others have stated, no matter if the Yankees somehow miraculously turn it around in 2016 Chapman has to be turned into future assets. The return is potentially much larger now than what they gave up for him in the offseason.
Trading both Miller and Betances is where things start to get dicey. Relievers are fickle creatures, but having a dominant bullpen is a must for contending teams. I agree with Don that the most valuable reliever on the Yankees roster is currently Betances, but at the same time the Yankees would have to be really blown away to trade him. Miller seems to be a top target for a lot of contending teams and should definitely be more in play.
There is always the possibility of trading away Miller and Chapman and being able to resign the latter. This is an unlikely possibility but it becomes more likely if the Yankees trade away Miller. Like most, I believe that the now budget conscious Yankees wouldn't pay top dollar for two relievers. If Betances is the only reliever left standing in 2016, re-signing Chapman should definitely be in play. The domestic violence issue that lead the Yankees to acquire Chapman has been a icky situation at best, but the Yankees were willing to take the brunt of the criticism but acquiring Chapman to begin with. Re-signing him should not be out of the question.
In conclusion, there is definitely more than one way to build a team. Being that the Yankees don't truly rebuild in the sense that other teams do, I think that there is a way for the Yankees to trade away assets this year but not go into 2017 with having zero hope to contend.
I don't think this team would be World Series favorite going into the season, but I personally would be happy with the team battling for a WC spot and have the potential to get better year and after year. Brian Cashman and Co. would be doing a disservice to the franchise to not listen to any and all offers for players on the current roster, but absolutely having to trade all assets away in a rebuild is not the only way to get the Yankees back into contention.