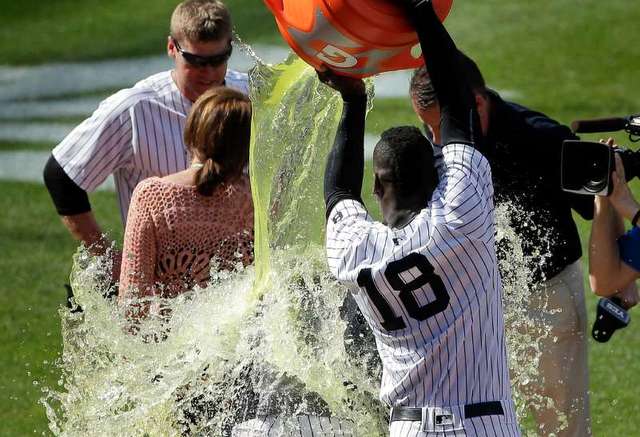 The Yankees are off yet again today. This is their third off-day since last Monday. I guess they need the break after playing 40 games in 41 days before this stretch of three off-days in eleven games. I know I appreciate off-days more and more with each passing year. Anyway, I have some thoughts.
1. If you would have come to me back in March and said that come mid-June, Carlos Beltran would be on pace to hit 40+ homers and CC Sabathia would have a sub-3.00 ERA while taking a regular rotation turn, I would have guessed the Yankees were on pace to win about 93 games. Instead they're on pace to win 80, and man, things would be a heck of a lot worse without those two. I'm not sure even the most optimistic fans expected Beltran and Sabathia to play this well this season, Sabathia's clunker yesterday notwithstanding. Those two have been the awesome and the rest of the team is letting their awesomeness go to waste.
2. I don't really expect the Yankees to go through with it, but if they do trade Aroldis Chapman and Andrew Miller, they're going to be left with the worst bullpen ever. Okay, that's an exaggeration. But it would definitely be one of the worst in the game based on the way the non-big three relievers have pitched. Those guys have a 4.97 ERA in 128.2 innings. Dellin Betances would give the Yankees a top notch closer — unless they trade him too! — but the other six bullpen spots? Yeesh. Unless they trade Chapman and Miller for a bunch of relievers (no thanks), the bullpen the rest of the year is going to be a major eyesore. Then again, if the Yankees do decide to trade away pieces, protecting leads won't be much of a concern.
3. Rob Refsnyder just started back-to-back games against right-handed pitchers, and that tells me he's not going down to Triple-A when Mark Teixeira comes back this weekend. Joe Girardi started Ike Davis against righties twice last week, but it seems like he's already abandoned that plan. Refsnyder has been pretty good so far, good enough to earn more playing time, so I'm curious to see how they get him into the lineup once Teixeira returns. Figure one game at first, the next at second, the next in right, the next at third, then the next on the bench? That sort of thing? It sounds easy, but man, moving a young player around that much can be tough, especially since Refsnyder is new to first and third bases. Still though, he's giving the Yankees a reason to keep him around, and that was step one. He had to earn playing time and he's done that. The Yankees owe it to themselves to keep running Refsnyder out there to see if he can be part of the solution going forward, even if he's only a part-time player long-term.
4. I am pretty encouraged by what Aaron Judge has done in Triple-A the last few weeks. He started the season very well, then slipped into a prolonged slump that culminated with an 0-for-24 skid a few weeks back. Since the end of that 0-for-24, Judge has gone 19-for-59 (.322) with three homers, four steals, 14 walks, and 13 strikeouts in 17 games. His season strikeout rate (23.9%) is much better than it was at Triple-A last season (28.5%), and in fact it's his lowest strikeout rate at any level since he was in Low-A two years ago (21.2%). Here is Judge's rolling ten-game average strikeout rate at Triple-A:
Judge is definitely trending in the right direction when it comes to his strikeouts, and he has been since last year. I'm not saying the Yankees should call him up and trade Beltran — if they do trade Beltran, I'd play Aaron Hicks and Ben Gamel before Judge — I'm just saying he seems to be getting the hang of Triple-A pitching. Judge was a college draft pick but he was always going to be something of a project because he's so damn big and has so much strike zone to cover. He seems to be getting the hang of it at the highest level of the minors now. That's fun.
5. Is it just me, or has Brian McCann's defense slipped this year? He's gone only 8-for-40 (20.0%) throwing out base-stealers this season after going 57-for-156 (36.5%) the last two years combined. It also seems like McCann is letting more balls trickle by for passed balls/wild pitches, though the numbers don't really bear that out. The pitching staff deserves some blame for McCann's poor throwing numbers — Betances and Michael Pineda in particular are slow to the plate; opponents are 19-for-22 (86.4%) stealing bases against those two — but not all of it. The Yankees fired bullpen coach Gary Tuck over the winter, reportedly because he disagree with some of the analytics they're using, and McCann credited Tuck for improving his throwing. McCann is 32 and he's caught over 11,000 innings in the show, so it would be understandable if he was defense is starting to decline. It just seems to me his defense has slipped noticeably so far this year. It hasn't been a slight decline.
6. Longtime RAB readers (and I guess Twitter followers) know I'm a pretty big hockey fan. It's my second favorite sport, and right now, I think I enjoy hockey more than I ever have before. Anyway, yesterday the NHL officially announced they are adding an expansion team in Las Vegas for the 2017-18 season. It was kind of an open secret, but yesterday it was made official. Two things about this. One, there's going to be an expansion draft, and I think it would be fun as hell to cover an MLB expansion draft. I hope I get a chance to do so at some point. Two, I think the NHL will be a test case for pro sports in Las Vegas. There seems to be concern over the potential for gambling and things like that. If the NHL does well there, I suspect you're going to see the other major sports show more interest in Sin City. MLB has some logistical issues to sort out before sending a team to Las Vegas — there's already a Triple-A franchise there, the Dodgers hold broadcast territorial rights, etc. — but it seems possible. Baseball is incredibly healthy financially and I think expansion will happen again within the next 10-15 years. (Commissioner Rob Manfred has said he wants to get the Athletics and Rays new stadiums before okaying expansion.) Las Vegas is an obvious expansion possibility and the NHL is doing everyone else a favor by breaking the ice, pun intended.