There's nothing quite like a game against the Twins to make you feel good about the Yankees, is there? The Yankees rallied from behind to beat Minnesota in game one of their three-game series Friday night. The final score was 5-3. New York is, once again, a .500 ballclub. They're 36-36. It would be cool if they got over .500 and stayed over this time.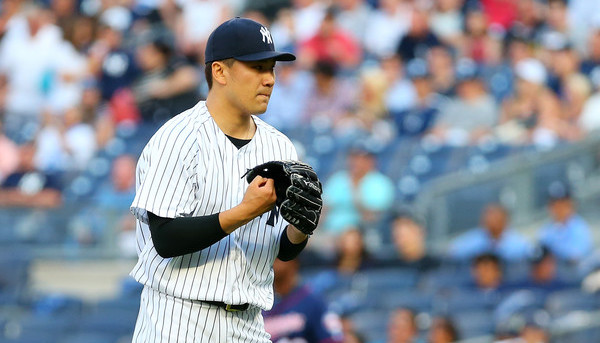 A Shaky Tanaka Start Is Still A Quality Start
For only the fifth time in his 15 starts this season, Masahiro Tanaka allowed more than two runs Friday night. He allowed three runs on seven hits and two walks in six innings and it definitely could have been worse; Tanaka stranded a leadoff double in the second inning and runners on first and second in the third inning. The first inning was his only 1-2-3 inning.
There has been plenty of talk this season about Tanaka's performance on normal rest versus his performance with an extra day of rest, and for good reason. He's pitched way better with an extra day (like most pitchers). Tanaka was making this start with two extra days of rest thanks to the off-days Monday and Thursday, and I wonder if he was a little too strong because of it. He was up in the zone a lot and wasn't commanding his fastball as well as he usually does.
Either way, Tanaka struck out a season high tying seven batters. He generated 14 swings and misses as well, though that's nothing special by his standards. He's had 14+ whiffs in eight of his 15 starts. This was one of those "he's not at his best but he's still good enough to win" games for Tanaka. He bent a little but did not break. Tanaka's one of those guys who doesn't have disaster games. Even when he's bad, he's still pretty good.
Come From Behind
The Twins took a 2-0 lead on Eduardo Nunez's third inning single, and the Yankees answered right back with two runs in the bottom half of the inning. Austin Romine reached on error before being erased on Brett Gardner's fielder's choice. Carlos Beltran doubled into the left field corner to score Gardner, then Alex Rodriguez pulled a ground ball single through the left side of the infield to score Beltran.
Watching the play live, I thought Beltran was going to be out at the plate. Luckily Robbie Grossman's throw was well off-line, allowing Carlos to score and A-Rod to take second base. This was just the Twins being the Twins. Lefty Tommy Milone faced six hitters that inning and four of the first five saw a hitter friendly 2-0 or 3-1 count. Beltran was the lone exception, and that was only because he doubled on the first pitch. Bad teams find a way to lose, and the Twins and Milone found a way to let the Yankees back into the game that inning.
Minnesota took a 3-2 lead in the fourth thanks to a walk (Byung-Ho Park), a double (Kurt Suzuki), and a ground out (Byron Buxton). The Yankees again answered right back, scoring two runs in the bottom of the fourth. They loaded the bases with no outs on a walk (Chase Headley), a bunt single (Didi Gregorius), and a Joe Mauer error (Aaron Hicks). Romine plated the first run with a sac fly, then Rob Refsnyder came through with two-out single to score the second run, giving New York a 4-3 lead.
Game Over
Once Tanaka got through six innings, it was time to turn things over to the big three relievers. They retired all nine batters they faced. Dellin Betances struck out one and threw an 88.7 mph curveball, which is a) nuts, and b) not even his fastball curveball of the year. He threw an 89.4 mph bender in his last appearance. Andrew Miller fanned one in the eighth.
Aroldis Chapman struck out the side in the ninth and holy crap, that was easily his most dominant outing of the season. He threw eleven pitches, all of them for strikes, and ten of the eleven clocked in at 101.3 mph or above. The one "slow" pitch was the 91.1 mph changeup he threw to end the game. Here's his pitch-by-pitch velocity, via Brooks Baseball: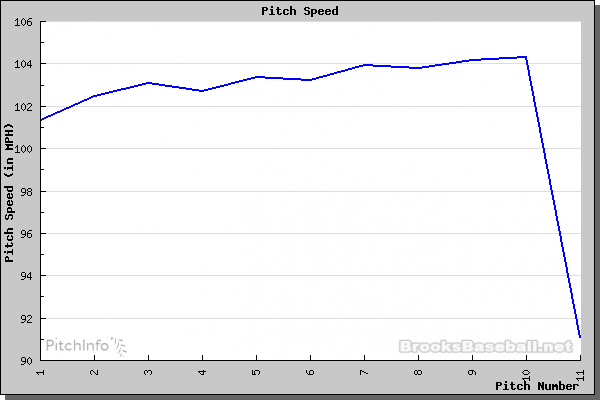 That changeup looks like he dropped the mic and walked off the stage. It was a ridiculous inning. Chapman's fastball averaged 103.2 mph and topped out at 104.3 mph on the night. It was the first time he hit 104+ since last August. The weather is starting to warm up and it looks like Aroldis is really starting to cut it loose. That was a fun inning.
Leftovers
Gardner and Gregorius went 1-for-9 combined — the one was Didi's bunt single — but man, that doesn't tell the whole story. Gardner nearly beat out an infield single in the first and later hit two line drives right at infielders for outs. Gregorius sent a ball to the right field warning track and pulled a would-be double just a few inches foul. Those two had way better swings than the 1-for-9 would lead you to believe.
Every starter had a hit except Gardner and Romine, though Romine had the sac fly, which was well struck to deep left field. It looked like it had a chance to go out off the bat, but alas. A-Rod was the only player with two hits. Hicks swatted a solo homer in the bottom of the eight for a much appreciated insurance run. I'm sure that felt good against his former team. It was Hicks' third homer of the season overall and his first against a lefty.
And finally, the Yankees struck out only six times as a team. It was their 31st game with six or fewer strikeouts this season. Only the Angels (38), Giants (36), and Athletics (33) have more. The offense hasn't been great this year, but the Yankees don't get enough credit for putting the ball in play as much as they do. Their team 18.5% strikeout rate is fifth lowest in MLB this season.
Box Score, WPA Graph & Standings
For the box score and updated standings, you want to go over to ESPN. MLB.com is the place to go for the various video highlights. Here are our Bullpen Workload and Announcer Standings pages, and here's the win probability graph:

Source: FanGraphs
Up Next
The Yankees and Twins will continue this three-game series Saturday afternoon. That's a regular 1:05pm ET start. Hooray for that. Michael Pineda and Ervin Santana are the scheduled starters. This is the last homestand before the All-Star break, so if you want to catch tomorrow's game or any of the other five games on the homestand, head over to RAB Tickets.