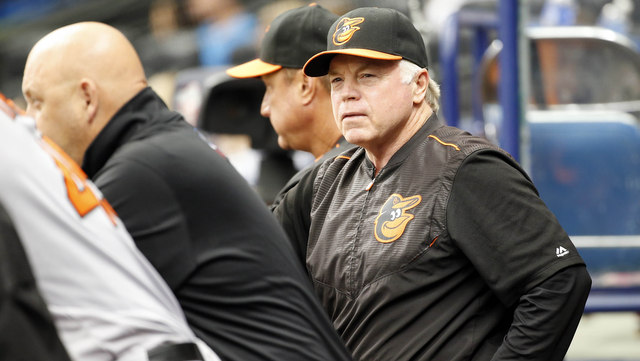 This ten-game homestand against three (most likely) postseason bound teams continues this week with four games against the Orioles. Believe it or not, this is the O's first trip to Yankee Stadium this season. The two teams played two series in Camden Yards in the first half. The Yankees lost two of three both times.
What Have They Done Lately?
The O's lost to the lowly Rays yesterday — Tampa is 4-24 in their last 28 games! — but won four straight dating back to the first half prior to that. They've won six of their last eight games overall. Baltimore is 53-37 with + 40 run differential. They're atop the AL East, two games ahead of the Red Sox and three games ahead of the Blue Jays. The Yankees are 8.5 back.
Offense & Defense
Offensively, the O's are pretty much exactly who we expected them to be. They're averaging a healthy 5.00 runs per game with a team 109 wRC+ and an MLB leading 141 homers. OF Hyun-Soo Kim (136 wRC+) is their only injured position player. He's nursing a hamstring issue and is day-to-day.
Manager Buck Showalter has a fairly set lineup, with CF Adam Jones (98 wRC+) batting leadoff despite a .309 OBP. It's been working, so whatever. 2B Jonathan Schoop (123 wRC+) has been hitting second with Kim hurt, and 3B Manny Machado (140 wRC+) bats third. 1B Chris Davis (120 wRC+) and RF Mark Trumbo (138 wRC+) have been alternating the fourth and fifth spots the last few days. C Matt Wieters (87 wRC+) slots in sixth and SS J.J. Hardy (84 wRC+) hits seventh. So there you have it.
DH Pedro Alvarez (113 wRC+) will start against righties, and both OF Nolan Reimold (104 wRC+) and Rule 5 Draft pick OF Joey Rickard (84 wRC+) split time in the various outfield spots. C Caleb Joseph (10 wRC+) and UTIL Ryan Flaherty (77 wRC+) are the other bench players. The O's carry a normal four-man bench — unlike most teams these days, it seems — though it's a three-man bench until Kim gets the green light.
The O's are a good team defensively, especially on the infield. Machado is excellent at third, Hardy and Schoop are above-average on the middle infield, and Davis is underrated at first. He doesn't get enough credit for his athleticism and glove work. Jones is solid in center, but the corner outfield spots are a mess, especially when Trumbo is in right. Hit it that way if you can, Yankees.
Pitching Matchups
Monday (7:05pm ET): RHP Ivan Nova (vs. BAL) vs. RHP Kevin Gausman (vs. NYY)
Gausman, 25, is probably the most successful homegrown O's starter — by homegrown I mean drafted and developed by the team — since Sidney Ponson. They've not had much luck developing starters at all. Gausman goes into tonight's start with a 4.15 ERA (4.29 FIP) despite excellent strikeout (22.1%) and walk (5.1%) rates in 15 starts and 86.2 innings. He gives up a few too many fly balls (43.9% grounders) and lots of homers (1.56 HR/9), and righties have hit him a lot harder than lefties. The reverse split is not unusual for Gausman because he has a nasty mid-80s splitter. His fastball sits mid-to-high-90s and he'll also throw some low-80s curveballs. The Yankees have seen Gausman twice this year: eight scoreless innings in April and one run in six innings in June.
Tuesday (7:05pm ET): RHP Nathan Eovaldi (vs. BAL) vs. RHP Vance Worley (vs. NYY)
The O's are desperate for help at the back of the rotation, and right now they're basically cycling through a bunch of in-house options until they can make a trade. Worley will get the start Tuesday after throwing 16 pitches in relief yesterday, and it should be noted he hasn't thrown more than 63 pitches in an outing since April. He might not be able to go long tomorrow. The 28-year-old righty has a 2.98 ERA (3.94 FIP) in 45.1 innings spread across two starts and 17 relief appearances this season. His strikeout rate (17.4%) is low, but otherwise his walk (7.7%), grounder (47.2%), and homer (0.79 HR/9) rates are solid. Lefties have hit Worley hard this year and last, though his career split is pretty small. He works mostly in the upper-80s with his four-seamer and sinker as a starter, and will also feature a mid-80s slider and mid-70s curveball. Worley will also mix in a few low-80s changeups. The Yankees managed a run in two-thirds of an inning of relief against the bespectacled righty earlier this year.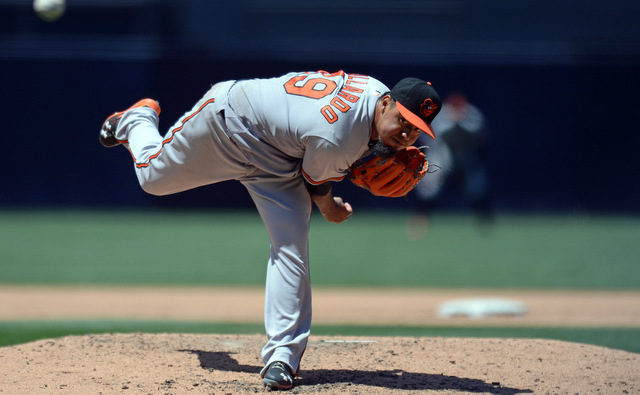 Wednesday (7:05pm): RHP Michael Pineda (vs. BAL) vs. RHP Yovani Gallardo (vs. NYY)
Over the winter Gallardo fell victim to the infamous Orioles Physical™. He originally agreed to a three-year deal worth $35M, then the O's found something in his physical, destroyed his market, and got him to accept a smaller contract (two years, $22M). The 30-year-old Gallardo is not the first player to fail an O's physical and he won't be the last. So far this season he has a 5.77 ERA (5.14 FIP) in ten starts and 48.1 innings around a shoulder issue — see, the Orioles were right! — and his underlying stats are awful: 14.5% strikeouts, 12.2% walks, 40.4% grounders, and 1.12 HR/9. Left-handed batters have had much more success against him than righties, both this year and throughout his career. Gallardo's four-seamer and sinker sit right around 90 mph, and his trademark slider is still humming in around 87 mph. He'll also throw mid-80s changeups and upper-70s curveballs. The Yankees didn't see Gallardo in either of the two series in Baltimore earlier this year.
Thursday (1:05pm ET): LHP CC Sabathia (vs. BAL) vs. RHP Chris Tillman (vs. NYY)
Tillman, 28, is the staff ace almost by default. He's had a solid year overall (3.29 ERA and 4.23 FIP in 120.1 innings) but has been so very up and down throughout his career. His strikeout (20.6%) and homer (1.05 HR/9) rates are about average, but his walk (9.4%) and ground ball (39.5%) numbers aren't as good as you'd like. So far this year he has a pretty big platoon split, though historically it's been small. Tillman has actually added some velocity this season and he now sits closer to 92-94 mph than 91-93 mph with his four-seam fastball. A big upper-70s curveball is his trademark pitch. Tillman also uses mid-80s changeups and upper-80s cutters as well. He's made one good (one run in seven innings) and one bad (five runs in five innings) start against the Yankees in 2016.
Bullpen Status
Once again, the O's have a rock solid bullpen, and they've done it without ace setup man RHP Darren O'Day (3.15 ERA/5.42 FIP) for the last month and a half. He's been out since early-June with a hamstring injury. Here is Showalter's current bullpen:
Closer: LHP Zach Britton (0.68 ERA/1.96 FIP)
Setup: RHP Brad Brach (0.88/2.47)
Middle: RHP Mychal Givens (3.27/3.68), RHP Chaz Roe (3.60/5.97), LHP Donnie Hart
Long: RHP Ordisamer Despaigne (2.87/4.96)
Like the Yankees, the Orioles had two All-Star relievers this season in Britton and Brach. They've been really awesome. Hart was just called up and he made his MLB debut yesterday, getting lefties Corey Dickerson to fly out and Kevin Kiermaier to strike out. He's a classic left-on-left matchup guy with a funky sidearm slot (video).
Hart (six pitches) and Despaigne (25 pitches) both pitched yesterday. Everyone else should be good to go coming into the series. Head on over to our Bullpen Workload page for the status of Joe Girardi's 'pen.