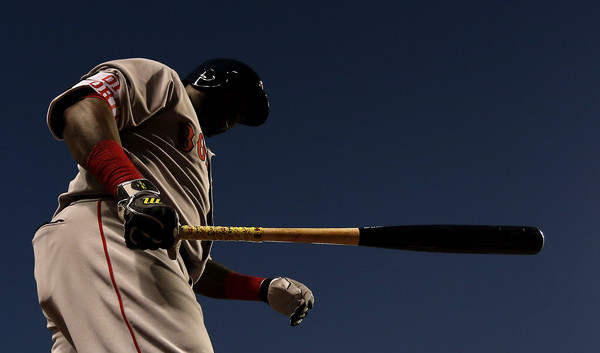 I think we've all been waiting about 14 seasons for this: David Ortiz's final series against the Yankees. The Yankees are planning a ceremony to honor Ortiz prior to Thursday's game, and I can't imagine anyone is seriously upset by that. If you are, maybe take a step back and take a deep breath or something. Anyway, the Red Sox are in the Bronx for a three-game set. The Yankees are 5-11 against the BoSox this season, though most of the damage has come in Fenway Park. The two clubs have split the six previous games in Yankee Stadium this year.
What Have They Done Lately?
The Red Sox are molten hot right now. They come into this series riding an eleven-game win streak, the first four of which were those four awful games in Fenway last week. The Yankees did hold the lead in three of those four games though, so … yay? Anyway, Boston swept the Orioles and Rays last week to open up a comfortable six-game lead in the AL East. They're 92-64 with a +192 run differential overall, and their magic number to clinch the division is one. New York's tragic number is two. Pretty good chance the Red Sox will clinch the division and the Yankees will be eliminated this series.
Offense & Defense
No team has had a more dominant offense the last few years than the 2016 Red Sox. They're averaging 5.51 runs per game, the most by any team since the 2009 Yankees scored 5.65 runs per game. Boston needs to score 39 runs in their final six games to become the first team to score 900+ runs since those 2009 Yankees scored 915, so it's within reach, but not a lock to happen. They have a team 114 wRC+ and are without 3B Pablo Sandoval (shoulder), C/OF Blake Swihart (ankle), and IF Josh Rutledge (knee), all of whom had season-ending surgery.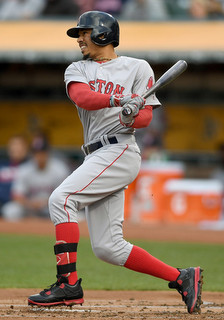 The top of manager John Farrell's lineup is set: 2B Dustin Pedroia (121 wRC+), SS Xander Bogaerts (111 wRC+), DH David Ortiz (167 wRC+), RF Mookie Betts (137 wRC+), and 1B Hanley Ramirez (127 wRC+) bat 1-5 every game. That's one of the best lineup top fives we've seen in quite some time. Lately 3B Travis Shaw (89 wRC+) has been hitting sixth and it seems like the Red Sox want him to take hold of the third base job heading into the postseason, but he hasn't obliged. He owns a 61 wRC+ in September.
OF Andrew Benintendi (134 wRC+) and OF Chris Young (125 wRC+) are platooning in left field while CF Jackie Bradley (121 wRC+) and C Sandy Leon (128 wRC+) play everyday. Leon has cooled down big time these last few weeks, which was entirely expected. IF Aaron Hill (88 wRC+) and UTIL Brock Holt (90 wRC+) are the frequently used bench players. C Ryan Hanigan, C Christian Vazquez, C Bryan Holaday, IF Deven Marrero, IF Marco Hernandez, and IF Yoan Moncada are the extra players.
The Red Sox are a good defensive team, especially up the middle with Leon, Pedroia, Bogaerts, and Bradley. Betts is very good in right as well, and both Benintendi and Young get the job done in left. The corner infield spots can be a problem. Shaw is a first baseman playing third and Hanley is a DH playing first. Generally speaking though, the Red Sox are a sound club in the field.
Pitching Probables
Tuesday (7:05pm ET): RHP Luis Cessa (vs. BOS) vs. LHP David Price (vs. NYY)
Oh wow, look at that, the Yankees are going to face David Price. Weird. You never see that. Price, 31, as a 3.91 ERA (3.38 FIP) in 218.2 and 32 starts in his first season with the Red Sox. Great strikeout (24.6%) and walk (5.1%) numbers, as usual, and middling home run (1.07 HR/9) and grounder (44.1%) rates, also as usual He makes up for that with a lot of weak pop-ups and fly balls. Price's platoon split is small and his fastball still lives in the mid-90s. His cutter checks in at a tick below that and it's an extremely effective pitch he likes to backdoor to righties. A mid-80s changeup in his primary offspeed pitch, and he'll also throw a few low-80s curves per start as well. Four times the Yankees have faced Price this season. Four. He has a 7.71 ERA in those four starts and the Yankees are hitting .350/.387/.540 against him, so they have that going for them.
Wednesday (7:05pm ET): RHP Bryan Mitchell (vs. BOS) vs. RHP Clay Buchholz (vs. NYY)
The overall numbers are ugly — Buchholz has a 5.00 ERA (5.18 FIP) in 133.1 innings in 2016 — but they don't tell the whole story because he's been bouncing back and forth between the rotation and bullpen. The 32-year-old has a 5.29 ERA (5.48 FIP) in 110.2 innings as a starter this year, though that includes a 3.97 ERA (4.72 FIP) in September. So, long story short, Buchholz has been a bit more effective recently than he has been for much of the season. His peripherals are mediocre at best (15.3 K%, 9.3 BB%, 40.7 GB%, 1.42 HR/9) and lefties have had much more success against him than righties. These days Buchholz sits in the low-to-mid-90s with his four-seamer and a tick below that with his cutter. A low-80s changeup and upper-70s curveball are his two non-fastballs. He's faced the Yankees twice this year, once out of the bullpen (two-thirds of an inning) and once as a starter (two runs in six innings).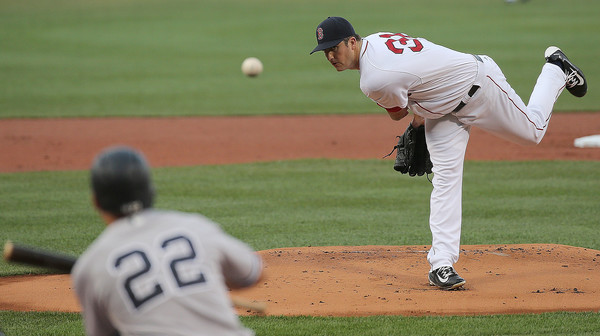 Thursday (7:05pm ET): LHP CC Sabathia (vs. BOS) vs. LHP Drew Pomeranz (vs. NYY)
For a guy who started the season in the NL West, the Yankees sure have seen a lot of Pomeranz this year. The 27-year-old southpaw has a 3.35 ERA (3.82 FIP) in 30 starts and 169.2 innings overall, though he had much more success with the Padres (2.47 ERA and 3.14 FIP) than he has with the Red Sox (4.68 ERA and 4.86 FIP). His overall strikeout (26.4%) and ground ball (46.4%) rates are good, though his walk (9.3%) and homer (1.17 HR/9) numbers are not good. He has a 1.87 HR/9 with Boston. Yikes. Pomeranz has a negligible platoon split thanks mostly to his big upper-70s curveball and mid-80s cutter. He throws the curve about as often as he throws his low-90s four-seam fastball, so he uses it a lot. For whatever reason he's more or less abandoned his changeup since the trade to Boston. The Yankees have faced Pomeranz three times and have had more more success each time: one run in seven inning in July (with the Padres), one run in 5.2 innings in August (with the Red Sox), and four runs in 3.2 innings (with the Red Sox).
Bullpen Status
The bullpen was a big weakness for the Red Sox for much of the season, but things are starting to fall into place now, right before the postseason. They still lack a shutdown lefty. That's about the only glaring need. Anyway, here is the bullpen Farrell is working with these days.
Closer: RHP Craig Kimbrel (2.65 ERA/2.59 FIP)
Setup: RHP Koji Uehara (3.60/3.43), RHP Brad Ziegler (2.24/3.00)
Middle: LHP Fernando Abad (3.66/3.97), RHP Matt Barnes (4.13/3.67), LHP Robbie Ross Jr. (3.21/3.14), RHP Junichi Tazawa (4.25/4.29)
Extra: RHP Joe Kelly, RHP Heath Hembree, LHP Henry Owens, RHP Noe Ramirez, LHP Robby Scott
With the Red Sox set to clinch the AL East title very soon, don't be surprised if the take it easy on Kimbrel and Uehara this week and give high-leverage work to some of the kids. Their focus will shift from trying to win games to preparing for the postseason very soon.
The Red Sox had an off-day yesterday, so their bullpen is as fresh as it's going to get this late in the season. Head on over to our Bullpen Workload page for the status of Joe Girardi's bullpen, of which only about five guys are used regularly.