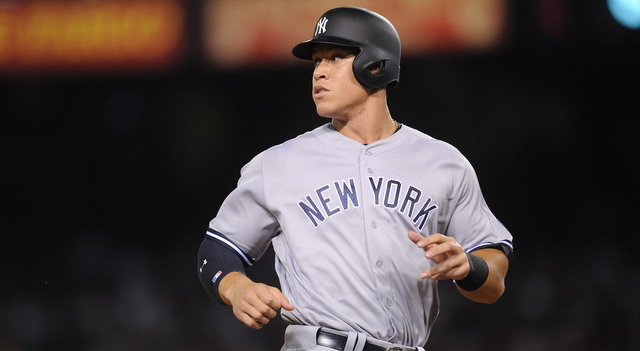 9:01pm: Judge left the game with a right oblique strain and will undergo an MRI tomorrow, the Yankees announced. Well that's no good. Here's video of the injury:
8:45pm
: Aaron Judge left tonight's game after the fourth inning with an unknown injury. Replays showed him grimacing after a swing and the trainer did come out to check on him, but Judge remained in the game to draw a walk and run the bases. He was lifted after the inning.
Hopefully the Yankees are playing it safe and only removed their prized young outfielder as a precaution. The team is already without Aaron Hicks, so if Judge misses any time, Tyler Austin and Rob Refsnyder would have to step into right field full-time. There's also Mason Williams in Triple-A.
For what it's worth, Judge missed a few weeks with a knee injury in Triple-A earlier this year, which he suffered diving for a ball in the outfield. The Yanks haven't released an update on Judge, so stay tuned.