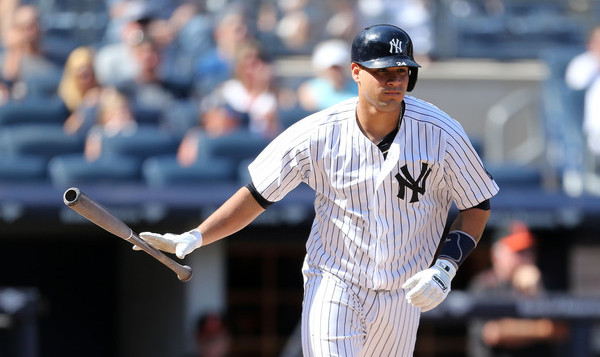 Alas, Gary Sanchez's two historic months were not enough to be named 2016 Rookie of the Year. Earlier tonight the BBWAA announced Tigers righty Michael Fulmer, not Sanchez, won the AL award. Sanchez finished second in the voting and Indians outfielder Tyler Naquin was third.
As far as the voting goes, it wasn't all that close. Fulmer received 26 of 30 first place votes and amassed 142 total points. Sanchez received the other four first place votes as well as 23 second base votes, which works out to 91 points. One voter left Gary off their ballot entirely. The full voting results are right here.
Sanchez was not called up for good until early-August, but he was in the Rookie of the Year race because he had a historically great two-month stretch. He hit .299/.376/.657 (171 wRC+) with 20 homer runs in 53 games, plus he showed off an insane arm behind the plate. Gary was a two-way threat.
In terms of games played, no player in history reached 11, 18, 19, and 20 career home runs faster than Sanchez. He led all AL rookies in fWAR (+3.2) and was second to Fulmer in bWAR (+3.0). Fulmer had a 3.06 ERA (3.76 FIP) in 159 innings. He was three innings short of winning the AL ERA title.
The Yankees haven't had an AL Rookie of the Year winner since Derek Jeter in 1996. Sanchez is the third Yankee to finish second in the voting since 1996, joining Robinson Cano (2005) and Hideki Matsui (2003). Cano lost out to Huston Street and Matsui lost to Angel freaking Berroa.
No other Yankees received Rookie of the Year votes, which isn't surprising. Guys like Tyler Austin and Aaron Judge had less playing time than Sanchez and didn't have nearly as much impact.