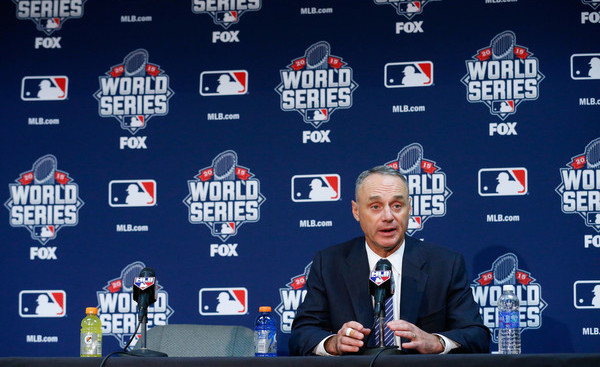 Baseball's unprecedented streak of labor peace will continue. According to multiple reports, Major League Baseball and the Major League Baseball Players' Association have agreed to a new Collective Bargaining Agreement. The new deal covers five years.
"I want to thank the Players for working diligently for more than a year to negotiate an agreement that, when finalized, will benefit all involved in the game and leaves the game better for those who follow," said union chief and ex-Yankee Tony Clark in a statement.
The current CBA was set to expire at midnight tonight. That was not a hard deadline — the two sides could have agreed to continue negotiating while operating under the current CBA terms — but neither MLB nor the MLBPA wanted to drag this out longer than necessary. The owners floated the possibility of a lockout, which struck me as nothing more than posturing.
Full and final terms of the new CBA are still unknown, and based on how this has worked in the past, the details will trickle in over the next few days and weeks. Here's what we know right now:
Based on what we know right now, the new CBA doesn't bring any drastic changes. There were a few tweaks and that's pretty much it. Baseball didn't need anything more than that, really. This is a $10 billion industry nowadays and there were no major sticking points. Both MLB and MLBPA stood to lose an awful lot of money and goodwill with a work stoppage.
Baseball has not had a work stoppage since the 1994-95 strike, and it took the game a few years to truly recover from that. It wasn't until Mark McGwire and Sammy Sosa started bashing homers every other day in 1998 that attendance really spiked. The game hasn't looked back since. Nine-figure payrolls are the norm, people all around the world can watch thanks to MLB.tv and MLB At-Bat, and more teams are competitive than at any other point in history.
According to Bob Nightengale, commissioner Rob Manfred will brief the owners on the details of the new CBA tomorrow. The owners and players must still ratify the new agreement before it is officially official, though that's just a formality. Last time around the CBA was agreed to on November 22nd and ratified on December 15th, so that's not necessarily a quick process. No big deal though. The new CBA is done and now we can get back to a normal offseason.