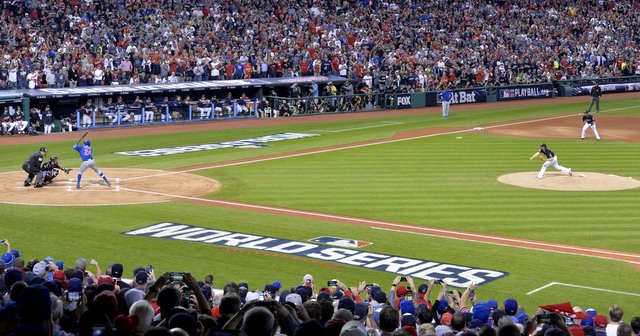 Later tonight, the Cleveland Indians and Chicago Cubs will play Game Seven of the 2016 World Series at Progressive Field. That is one hell of a sentence. Baseball in 2016 is weird, man. Anyway, I have some thoughts on things. The World Series, the Yankees, whatever.
1. Someone is going to end a very long title drought tonight. The Cubs haven't won since 1908 and the Indians haven't won since 1948. Heck, this is the first time the Cubs are playing in the World Series since 1945. At least the Tribe won a few pennants in the 1990s. I'm looking forward to seeing history tonight but it's also going to be sort of weird for the narrative of one of these two franchises to change. All I've known as a baseball fan is the Cubs never ever ever winning and the Indians being, well, all Clevelandy and stuff. I'm not sure I'm ready to live in a world where the Cubs are no longer the Lovable Losers. It's going to be really weird if they win.
2. I've always envisioned the Cubs team that breaks the championship drought being some sort of plucky underdog that overcomes long odds to win a title. Know what I mean? The 1996 Yankees were kinda sorta like that. These Cubs are a juggernaut, and if they do win tonight, we're in for an offseason of talk about the start of a potential dynasty and things like that. I dunno, I find the Indians more endearing than the Cubs. The Cubbies are expected to win, right? They've been the best team in baseball since Day One of Spring Training. The Indians had a phenomenal regular season, but they're without their best hitter (Michael Brantley) and second best starter (Carlos Carrasco) due to injury. They've had to overcome much longer odds to get here. It's boring when the best team wins, right? Except when that team is the Yankees, of course.
3. How cow, how much worse does Buck Showalter not using Zach Britton in the AL Wildcard Game look now? It's like all the other postseason managers looked at that and decided, "I'm not letting that happen to me." Managers have been extremely aggressive with their top relievers this October. Terry Francona has been using Andrew Miller for four or five outs pretty much every time out. Aroldis Chapman had an eight-out save over the weekend. Kenley Jansen threw three innings with the Dodgers down by five in Game Six of the NLCS. The traditional reliever mold has been shattered this postseason. It's great to see. The games are more competitive because of it, I think. This can't work across a full season, Miller's arm would be mush by June if Francona tried this in the regular season, but in October, when every game means so much, managers have ridden their top relievers hard.
4. Another thing about the postseason reliever usage: It's kinda funny to me that so many folks are making a big deal about closers getting four or five outs after growing up watching Mariano Rivera get two-out saves regularly in October. Mo appeared in 96 postseason games (holy crap) and he recorded at least four outs in 58 of them, or 60.4%. He threw two full innings 33 times in those 96 games. That's pretty incredible. Even as good as Miller and Chapman have been this postseason, they've made it interesting at times. Rivera never seemed to do that. He was nearly automatic in October, and he did it for nearly two decades. There really is never going to another one like him, huh?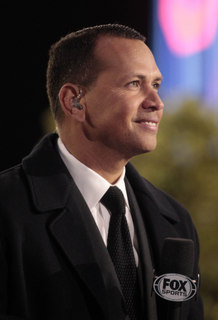 5. How good is Alex Rodriguez on television? He's such a good analyst. He's well-prepared, he knows the game inside and out, and he's able to talk from experience about facing certain pitchers. A-Rod's so good. It's a shame they stick him with Pete Rose, who provides a little comic relief, but that's about it. I have no idea whether Alex wants to do television full-time. It's not like he needs the money following his playing career. He could hang out with his family all summer, pop into Extended Spring Training and Instructional League now and then to do the special instructor thing, then do the postseason for FOX. Hopefully we get more A-Rod on television at some point though. He's too good for someone not to hire him. Hey, maybe YES will bring him to join their rotating cast of analysts. That'd be neat.
6. MLB is going to have to do something about the length of games at some point. The Dodgers-Nationals series in particular was brutal. The average time of game that series was over four hours and none of the games went to extra innings, and none were slugfests with a lot of offense. The pace is just so slow. These postseason games start at 8pm ET and they're not ending until midnight, sometimes even later. For me, that's fine. I stay up and watch anyway. Many folks can't do that, especially young kids. Commissioner Rob Manfred has said cultivating young fans is a top priority for MLB going forward, yet kids are lucky if they can watch two or three innings before bedtime in the postseason. That's a problem. Something has to give. A World Series day game would be a good start. Do it on Saturday or Sunday. Give kids a chance to see the end of the game. These games are exciting and all, but man, speed it up. There are too many mound visits and things like that. Too much standing around. Too much time with no actual baseball being played.
7. The offseason officially starts tomorrow and for some reason I get the sense the Yankees are going to act quickly this winter. They might try to get a jump on the free agent market by making a big offer to Chapman or Jansen early, like they did with CC Sabathia back in the day. I think they'll push hard to complete some trades too, either the seemingly inevitable Brian McCann deal with the Braves or something else. This is just a hunch. I have no inside information here. The Yankees have been pretty patient in recent offseasons and that's generally a good thing. They sorted through all their options and made what they felt were the best moves and decisions. This year, with free agency so weak and the trade market potentially so competitive, I think we're going to see the Yankees push to get things done quickly to avoid any prolonged negotiations.