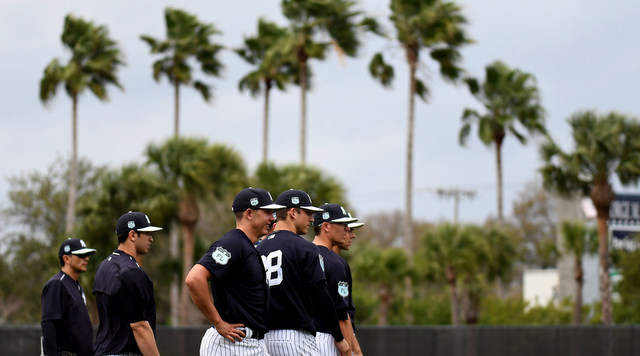 Feb. 24th: MLB Network has released their Spring Training broadcast schedule. The table below has been updated.
Feb. 17th: In just one week, Yankees baseball will be back. Sure, it's only Spring Training, but baseball is baseball. Spring games are fun in their own way, especially for prospect watchers. The Yankees are playing a total of 35 exhibition games this year. That includes 33 Grapefruit League games, a World Baseball Classic exhibition game against Canada, and a game at brand new SunTrust Park against the Braves.
Twenty-four of those 35 exhibition games will be broadcast either on television or online. That's a bit fewer than previous years — all regional networks have scaled back their Spring Training coverage, I guess because those afternoon games in the middle of the workweek don't draw many eyes — but still more than most teams. YES is broadcasting 12 games. Plenty of others will be on MLB.tv.
YES, MLB.tv, and ESPN all released their Spring Training broadcast schedules recently. We're still waiting for MLB Network to release their spring schedule, and while MLB Network doesn't figure to add any more games to the broadcast slate, it will give viewers another way to watch. They usually just pick up games that are already on MLB.tv.
My gift to you is the table below, which has all the Yankees' Spring Training broadcast information in one convenient place. You'll be able to find this post linked in the Opening Day Countdown widget in the sidebar. All times are ET.
| Date | Start Time | Opponent | Broadcast Info |
| --- | --- | --- | --- |
| Fri., Feb. 24th | 1:05pm | vs. Phillies | YES, MLB.tv, MLBN |
| Sat., Feb. 25th | 1:05pm | @ Phillies | MLB.tv (MLBN tape delay) |
| Sun., Feb 26th | 1:05pm | vs. Blue Jays | YES, MLB.tv |
| Mon., Feb 27th | 1:05pm | @ Orioles | MLB.tv, MLBN |
| Tues., Feb 28th | 1:05pm | vs. Tigers (ss) | |
| Tues., Feb 28th | 1:05pm | @ Red Sox (ss) | |
| Weds., March 1st | 6:35pm | vs. Braves | YES, MLB.tv (MLBN tape delay) |
| Thurs., March 2nd | 6:35pm | vs. Orioles | YES, MLB.tv, MLBN |
| Fri., March 3rd | 1:07pm | @ Blue Jays | MLB.tv, MLBN |
| Sat., March 4th | 1:05pm | @ Tigers | |
| Sun., March 5th | 1:05pm | vs. Pirates | YES, MLB.tv (MLBN tape delay) |
| Mon., March 6th | 1:05pm | @ Pirates | MLB.tv, MLBN |
| Tues., March 7th | 1:05pm | vs. Rays | YES, MLB.tv |
| Weds., March 8th | 1:05pm | vs. Canada | |
| Thurs., March 9th | 1:05pm | @ Braves | |
| Fri., March 10th | 1:05pm | @ Phillies | MLB.tv, MLBN |
| Sat., March 11th | 1:05pm | vs. Tigers | YES, MLB.tv |
| Sun., March 12th | 1:05pm | vs. Braves | |
| Mon., March 13th | OFF | | |
| Tues., March 14th | 1:05pm | @ Braves | |
| Weds., March 15th | 6:35pm | vs. Phillies | YES, MLB.tv (MLBN tape delay) |
| Thurs., March 16th | 1:07pm | @ Blue Jays | |
| Fri., March 17th | 1:05pm | @ Tigers | MLB.tv, MLBN |
| Sat., March 18th | 1:05pm | vs. Orioles | YES, MLB.tv |
| Sun., March 19th | 1:05pm | @ Astros | MLB.tv (MLBN tape delay) |
| Mon., March 20th | 1:05pm | @ Nationals | MLB.tv, MLBN |
| Tues., March 21st | 6:35pm | vs. Red Sox | MLB.tv (MLBN tape delay) |
| Weds., March 22nd | 1:05pm | @ Phillies | MLB.tv, MLBN |
| Thurs., March 23rd | 1:05pm | @ Rays | ESPN, MLB.tv |
| Fri., March 24th | 1:05pm | vs. Phillies | YES, MLB.tv (MLBN tape delay) |
| Sat., March 25th | 1:05pm | vs. Blue Jays | YES, MLB.tv |
| Sun., March 26th | 1:05pm | vs. Rays | |
| Mon., March 27th | OFF | | |
| Tues., March 28th | 6:35pm | vs. Tigers | |
| Weds., March 29th | 1:07pm | @ Tigers | |
| Thurs., March 30th | 1:05pm | @ Phillies | MLB.tv (MLBN tape delay) |
| Fri., March 31st | 7:35pm | @ Braves | YES, MLB.tv, MLBN |