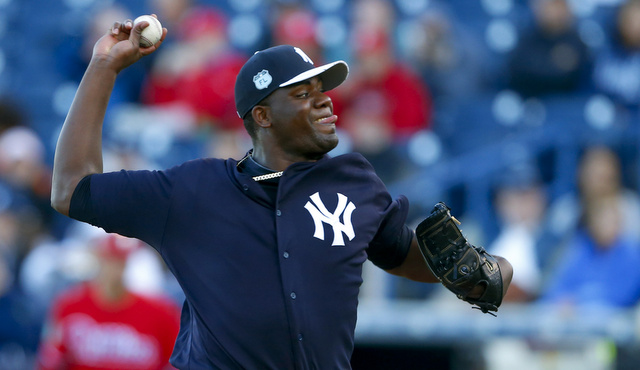 The Yankees are still on the other side of Florida today, and they have another game at the brand new Ballpark at the Palm Beaches. They beat the Astros there yesterday, and this afternoon they'll look to beat the Nationals there as well. Houston and Washington share the massive Spring Training complex. The new park looks pretty nice based on the nine innings I kinda sorta watched yesterday.
Anyway, Michael Pineda is on the mound making his fourth start of the spring today. The first went well, the second not so much, and the third was magnificent. Which Big Mike will show up today? Who knows. He's unpredictable. I guess that's part of the fun. Consistency is boring. Also, rotation candidate Chad Green is scheduled to pitch today as well. The Yankees have 13 days to finalize their roster. Here is the Nationals' lineup and here are the players the Yankees will use today:
CF Brett Gardner
LF Aaron Hicks
1B Greg Bird
DH Matt Holliday
3B Chase Headley
RF Aaron Judge
C Austin Romine
2B Rob Refsnyder
SS Ronald Torreyes
RHP Michael Pineda
Available Pitchers: RHP Chad Green, RHP Ben Heller, RHP Jonathan Holder, RHP J.R. Graham, and LHP Jason Gurka are all expected to pitch today. That's a lot of relievers. Not sure there will be enough innings to get them all in the game. We'll see. RHP Gio Gallegos, RHP Matt Marsh, RHP Travis Hissong, RHP Andrew Schwaab, RHP Cale Coshow, and LHP Nestor Cortes are the extra arms. Marsh, Hissong, Schwaab, Coshow, and Cortes are all up from minor league camp.
Available Position Players: C Kyle Higashioka, 1B Donovan Solano, 2B Ruben Tejada, SS Gleyber Torres, 3B Pete Kozma, LF Tyler Wade, CF Dustin Fowler, and RF Billy McKinney will be the second string off the bench. C Radley Haddad, 1B Ji-Man Choi, IF Thairo Estrada, OF Clint Frazier, and UTIL Wilkin Castillo are the extra players.
It is cloudy and on the cool side in West Palm Beach. There's no rain in the forecast, so hooray for that. There is no YES broadcast for today's game, which will begin a little after 1pm ET. If you're in the Washington market, you can watch on MASN. If not, you can watch on MLB Network and MLB.tv, even in the New York market. Enjoy the game.