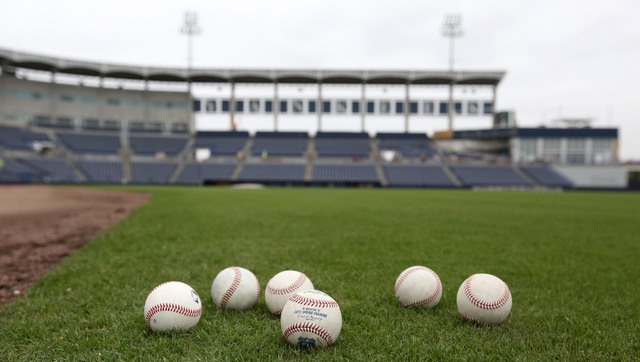 This afternoon the Yankees are playing their final Grapefruit League game of the year. They still have one exhibition game remaining, tomorrow night at the brand new SunTrust Field in Atlanta, but this is the final game in Florida. Well, at least until the Yankees come back to play the first series of the regular season against the Rays at Tropicana Field. Just can't escape Tampa, huh?
What to watch today? Well, Luis Severino for one. The Yankees unofficially announced their Opening Day roster this morning and Severino will be the fourth starter to begin the season. That doesn't mean he'll be the fourth starter all season. He'll have to pitch well to keep the job, because there are other guys waiting for their chance. Either way, it would be nice to see Luis end the spring on a high note. Here is the Phillies' lineup and here are the players the Yankees sent across the bay to Clearwater:
CF Jacoby Ellsbury
C Gary Sanchez
1B Greg Bird
DH Chris Carter
RF Aaron Judge
LF Aaron Hicks
3B Ronald Torreyes
2B Rob Refsnyder
SS Pete Kozma
RHP Luis Severino
Available Pitchers: RHP Adam Warren, RHP Tyler Clippard, RHP Ernesto Frieri, RHP J.R. Graham, and RHP Matt Marsh are all expected to pitch. LHP Joe Mantiply, LHP Jason Gurka, LHP Nestor Cortes, and LHP Caleb Frare are all up from minor league camp to serve as the extra arms.
Available Position Players: C Wilkin Castillo, 1B Mike Ford, 2B Thairo Estrada, SS Cito Culver, 3B Miguel Andujar, LF Clint Frazier, CF Dustin Fowler, and RF Rashad Crawford will be the second string off the bench. C Radley Haddad, C Jorge Saez, SS Kyle Holder, and OF Billy McKinney are the extra players. Everyone is up from minor league camp for the day.
The internet tells me it is sunny and warm in Clearwater this afternoon. Pretty much perfect baseball weather. The game will begin a little after 1pm ET, and if you're in the Philadelphia market, you can watch today's game on TCN. If not, MLB.tv is your only option. Enjoy the game.