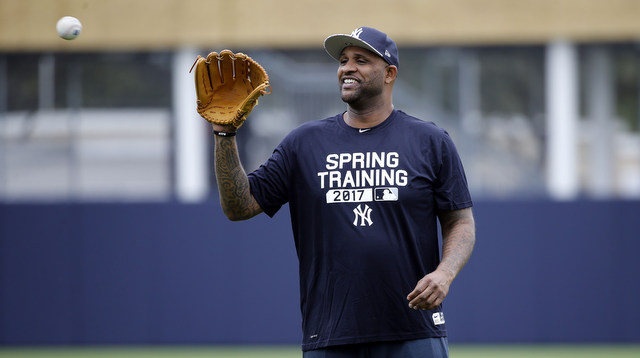 We've officially entered the dog days of Spring Training. Everyone is just kinda going through the motions and waiting for the regular season to begin. Don't get me wrong, the games are still fun to watch — how could they not be with this farm system? — but I'm ready for some meaningful baseball. I guess I'll enjoy the stress-free baseball while I can.
CC Sabathia is making his first Grapefruit League start this afternoon. The Yankees have been taking a bit slow with Sabathia this spring following his relatively minor knee surgery back in October. There's no reason to push it this time of year. Did you know this will be Sabathia's 17th big league season? Crazy. He made three starts against the dynasty era Yankees in the span of the month during his rookie season in 2001, and allowed 15 runs in 9.2 total innings. He's come a long way, eh? Here is the lineup the Rays sent up from Port Charlotte, and here are the players the Yankees will use today:
2B Ronald Torreyes
C Gary Sanchez
DH Matt Holliday
1B Chris Carter
RF Aaron Judge
SS Gleyber Torres
LF Clint Frazier
3B Miguel Andujar
CF Dustin Fowler
LHP CC Sabathia
Available Pitchers: RHP Adam Warren, LHP Chasen Shreve, RHP Ben Heller, RHP Jonathan Holder, RHP Domingo German, and LHP Jason Gurka are all scheduled to pitch today. RHP Johnny Barbato, LHP Nestor Cortes, RHP Brady Lail, and RHP Eric Ruth are the extra arms. Cortes and Ruth are up from minor league camp for the day.
Available Positions: C Kyle Higashioka, 1B Francisco Diaz, 2B Rob Refsnyder, SS Ruben Tejada, 3B Tyler Wade, LF Pete Kozma, CF Rashad Crawford, RF Billy McKinney, and DH Greg Bird are coming off the bench later in the game. C Jorge Saez, SS Jorge Mateo, OF Zack Zehner, and UTIL Wilkin Castillo are also available. Crawford and Zehner are up from minor league camp.
It is cloudy yet warm in Tampa today. Not picturesque baseball weather, but it'll do. Today's game will begin a little after 1pm ET and you can watch on YES. There's also MLB.tv and the FOX Sports Go app. Enjoy the game.