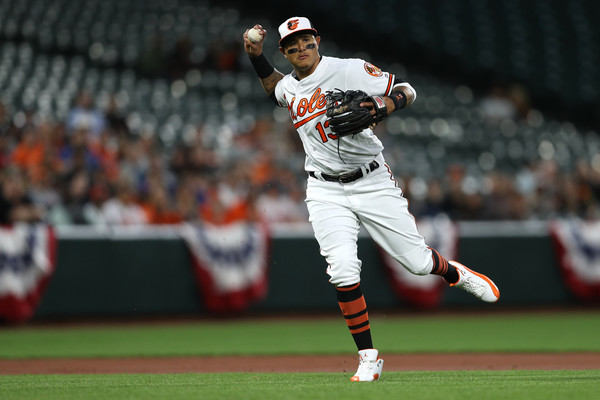 The Yankees are heading back to the Bronx to continue their three-series stretch against divisional opponents. It's too early for this to feel terribly significant, but it's interesting nevertheless that this series could determine who is in first place in the AL East on May 1.
The Last Time They Met
It was just three weeks ago that the Orioles hosted the Yankees, taking two out of three in a rather frustrating series. The Yankees dropped the first two despite holding leads of four and three runs, respectively, with the bullpen taking the loss in both games (one-run losses, at that). In fact, the Yankees outscored the Orioles 16-14 that weekend, while also accumulating seventeen more base-runners. And, as if that wasn't bothersome enough, it was also the series in which Gary Sanchez went down with a shoulder injury.
Check out Katie's Yankeemetrics post for more interesting tidbits.
Injury Report
Closer Zach Britton is on the disabled list with a left forearm strain, and was initially expected to be back sometime in May. He's slated for a rehab assignment on Friday, though, and could be activated for Sunday's game. Starter Chris Tillman is also on the disabled list, and has been since Spring Training due to right shoulder bursitis that required a platelet-rich plasma injection. He made a rehab start at High-A Frederick on Thursday, so he won't be back in time for this series.
Their Story So Far
The Orioles sit atop the AL East (and the American League as a whole) with a 14-6 record. Their offense has struggled at times (95 wRC+, 3.95 runs per game), but their pitching has been excellent, placing fifth in the majors with a 3.42 ERA. As per usual, and despite Britton's injury, the bullpen has been particularly strong, maintaining a 2.73 ERA thus far; surprisingly, the rotation has been more than adequate, as well, with a 3.82 ERA.
Starter Dylan Bundy is their feel good story of the moment, as the former top prospect has been excellent through four starts (26.1 IP, 20.4 K%, 4.1 BB%, 1.37 ERA, 1.88 FIP). He missed the vast majority of 2013 through 2015 due to various injuries, and was all but written off as a result. It's still very early in the season, of course, but it's a promising start on the heels of a decent (and mostly healthy) 2016 season.
The Lineup We Might See
Buck Showalter employs a few platoons, so the lineup will likely be dependent upon who is starting for the Yankees. CC Sabathia and Jordan Montgomery will probably see something like this:
Craig Gentry, LF
Adam Jones, CF
Manny Machado, 3B
Mark Trumbo, RF
Chris Davis, 1B
Trey Mancini, DH
Welington Castillo, C
Jonathan Schoop, 2B
J.J. Hardy, SS
Whereas Michael Pineda will probably face a lineup along these lines:
Seth Smith, RF
Jones, CF
Machado, 3B
Davis, 1B
Trumbo, DH
Castillo, C
Hyun Soo Kim, LF
Schoop, 2B
Hardy, SS
The Pitchers We Will See
Friday (7:05 PM EST): LHP CC Sabathia vs. RHP Kevin Gausman
The Yankees roughed Gausman up on April 8, to the tune of 4 runs on 8 hits and 3 walks in just 4.2 IP. It was a welcome sight, considering that the 26-year-old held the Yankees to a 1.10 ERA in 41.0 IP last year (and a 4.35 ERA against every other team). Last year did appear to be something of a breakout for Gausman, as he pitched a full, healthy season, but the early returns have not been too encouraging (particularly his 5.63 BB/9 and 7.50 ERA).
Gausman is a three-pitch guy, featuring a mid-90s fastball, a mid-80s splitter (against which hitters whiffed 20.7% of the time last year), and a low-80s slider.
Last Outing (vs. BOS on 4/23) – 5.1 IP, 8 H, 5 R, 3 BB, 4 K
Saturday (1:05 PM EST): RHP Michael Pineda vs. RHP Ubaldo Jimenez
The Yankees knocked Jimenez around, as well, scoring 5 runs on 7 hits (including two home runs) in his 4.1 IP. Jimenez somehow avoided the Yankees in 2016, which seems all but impossible for a pitcher that spent the entire season in the AL East, making 25 starts along the way; that may have been by design, though, given his career 5.50 ERA in Yankee Stadium. Am I alone in remembering when fans of most every team wanted a shot at Jimenez back in 2011? That seems even more impossible, with the benefit of hindsight.
Jimenez used to pump his two- and four-seam fastballs into the mid-to-upper 90s, but they currently sit right around 90 MPH. He also throws a splitter and a slider, both of which sit in the low-80s. He'll also sprinkle in a mid-70s curveball every now and then.
Last Outing (vs. TBR on 4/24) – 3.1 IP, 3 H, 3 R, 5 BB, 3 K
Sunday (1:05 PM EST): LHP Jordan Montgomery vs. LHP Wade Miley
Miley held the Yankees scoreless on April 9, despite walking seven in 5 IP. The Yankees won that game anyway, scoring 7 against the bullpen, but it was an irritating first five innings. The 30-year-old Miley has quietly been an innings eater for some time now, having made at least 29 starts and thrown at least 166 IP in each of the last five seasons. He's a rock solid back of the rotation starter, although he is coming off of his worst full season by ERA (5.37) and FIP (4.45).
It may be a bit of a cop-out to call Miley a crafty lefty, but that's exactly what he is. He throws a couple of low-90s fastballs, a low-80s change-up, a low-80s slider, and a mid-80s curveball, and he threw all of his offerings regularly last season. As per PITCHf/x, Miley has thrown his change-up significantly less this season, so that may be something to watch.
Last Outing (vs. TBR on 4/25) – 7.0 IP, 4 H, 2 R, 6 BB, 8 K
Yankees Connection
Buck Showalter's four-year tenure as the Yankees manager (1992 to 1995) is always brought up when these teams meet, so much so that you'd think that the Orioles stole him from the Yankees. He was a fine manager in the Bronx, winning AL Manager of the Year for the strike-shortened 1994 season (they had the best record in the league when the season was cut short), and guiding the Yankees to the playoffs in 1995. His departure from the organization wasn't on good terms, though, as he resigned after George Steinbrenner demanded that he fire his pitching coach.
LHP Vidal Nuno is the only other real connection, having pitched for the Yankees for parts of two seasons. He was dealt to the Diamondbacks for Brandon McCarthy back in 2014. I suppose you could also count Chris Davis, who was drafted by the Yankees out of high school in the 50th round of the 2004 draft, but opted to go to college instead.
Who (Or What) To Watch
Machado's defense at the hot corner is must-see TV, and that may well be the only reason to watch the Orioles this weekend. The offense does hit plenty of home runs, too, if dingers are your thing, which reminds me – you should also follow Sung Min Kim on Twitter, on the off-chance that Hyun Soo Kim goes deep (or just because he's a great follow).