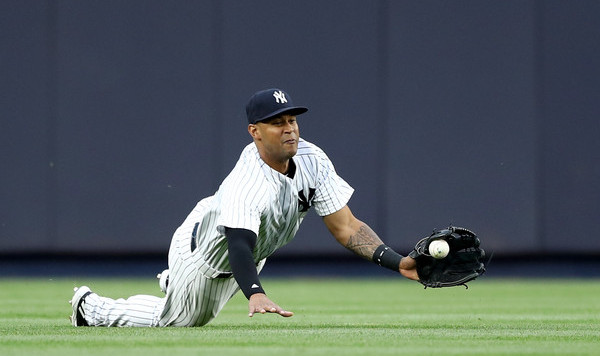 All winter long, I and many others said there was no way the Yankees would get worse production from first base this year than what Mark Teixeira gave them last year. Teixeira hit .204/.292/.362 (76 wRC+) last season. And so far this season, Yankees first basemen are hitting .164/.276/.295 (59 wRC+), and that's with Chris Carter hitting a home run last night. Welp. First base has been a sore spot.
Help is kinda sorta on the way. Bird swung a bat yesterday for the first time since landing on the disabled list, and Tyler Austin started a minor league rehab assignment over the weekend. That's good. They'll give the Yankees options. Will they improve the first base situation? Man I hope so. It's hard to think they'll make it worse once healthy, but who knows? No one thought Bird/Carter would be a downgrade from Teixeira, yet here we are.
In an effort to give themselves more options, the Yankees have had fourth outfielder Aaron Hicks work out at first base recently. Here's what Joe Espada, the third base and infield coach, told Brendan Kuty:
"He's athletic, and sometimes we get deep in games," Espada said. "It gives (manager Joe Girardi) some flexibility. (Girardi) asked me to hit him some ground balls in the infield, just in case … If he learned it, yes, I think (he'd be an option there). During the season, it's really hard to get him to learn it. But he'll take some ground balls on his off days and see what he can do. He does have some athleticism but it takes time to learn."
The Yankees put Rob Refsnyder through a first base crash course last season — literally one day of work! — before playing him at the position during a game, though that was out of necessity. Teixeira was banged up and they ran out of options. I doubt the Yankees want to do that again, and they haven't. Hicks has been working out at first base and nothing more. He's yet to play there in a game.
I get why the Yankees are having Hicks work out at first base, and there's no reason not to try to increase the versatility of your players, but I hope they don't decide to actually play him there in anything other than emergency. I am totally cool with sticking with Carter at first base until Bird and/or Austin returns. Carter has gone 7-for-29 with two homers since the end of the NL city road trip. That's a .241/.333/.483 line in nine games. That's Chris Carter.
First base has been a problem area for the Yankees since last season. They're getting little production from a position in which the offensive bar is quite high. It's actually kinda amazing they're second only to the Nationals (5.72) in runs per game (5.62) without getting anything from first base. Giving Hicks work there is fine as long as he's an emergency only option. Playing him there full-time shouldn't be a consideration right now. The Yankees aren't that desperate yet.