Man, this team. This friggin' team. The Yankees were down to their final strike and trailing by two runs in Friday afternoon's series opener at Wrigley Field, but then the Fighting Spirit kicked in. That 2-0 deficit turned into a 3-2 lead with one swing of the bat. The Yankees beat the Cubs by that same score.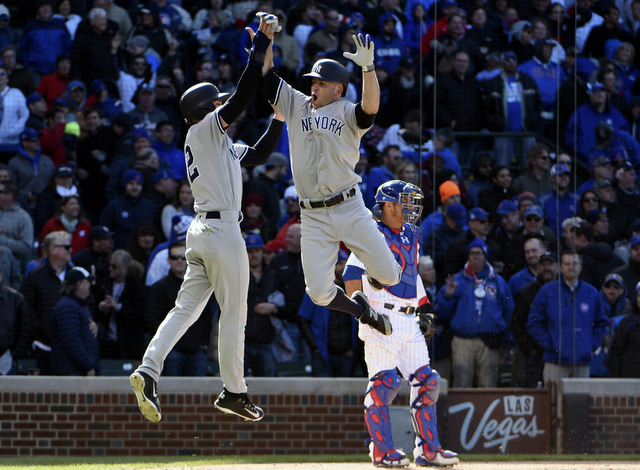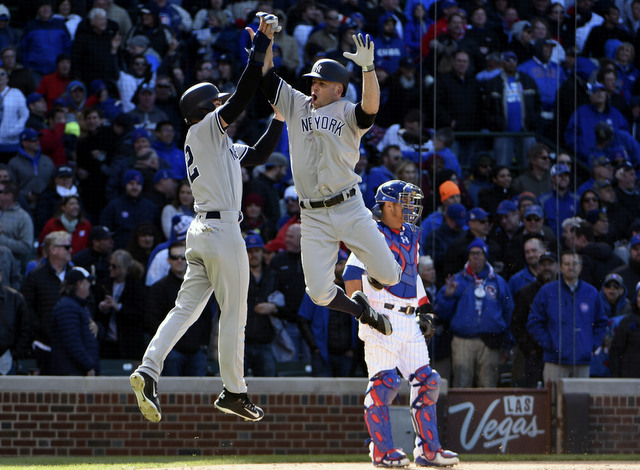 Never Out of It
I'm going to start in the ninth inning because, well, the rest of the game kinda stunk for the Yankees. The Cubs took a 2-0 lead into the ninth thanks to solo home runs by Kris Bryant and Kyle Schwarber, though regular closer Wade Davis was not available due to his recent workload. He'd pitched in each of the previous three days. Former closer Hector Rondon got the ball instead. He hasn't been quite the same since suffering and arm injury last summer.
The three-run ninth inning rally started with Chase Headley one-out single. He slapped the ball the other way against the shift. A low-key important play followed: Headley went to second when Rondon uncorked a wild pitch. That removed the double play possibility and forced Rondon and the Cubs to change their pitch selection. Who knows how things play out if Headley is still at first base the rest of the inning? Removing the double play chance was not nothing.
Chris Carter struck out for the second out of the inning, which stunk. Jacoby Ellsbury, whose availability was uncertain due to the inflamed nerve in his left elbow, came off the bench to pinch-hit for the pitcher's spot. He drew a five-pitch walk and none of the four balls were particularly close. Rondon had thrown 17 pitches before Ellsbury even stepped in the box and it was clear fatigue was setting in. He had big time problems locating.
In his first four at-bats of the game, Brett Gardner saw 22 total pitches, and he swung at only three. Three! That's his thing. He takes a lot of pitches and works the count, and yeah, sometimes that leads to called strike threes. Gardner took the first three pitches he saw from Rondon for a 1-2 count, then he went into protect mode. Fastball foul. Fastball foul. Fastball for a ball and a 2-2 count. There would be no called strike three this time.
Rondon gave up on the fastball at that point and tried to get Brett to swing over top of a two-strike slider. Not a bad idea! But Rondon left the slider up just a little bit, enough for Gardner to golf it out to right field for a go-ahead three-run home run. To the action footage:
I jumped out of my chair so hard when Gardner hit that home run that I hurt my calf. I'm not joking. It's still sore. I thought that ball was going to plop into the right field corner for a double that very well might have tied the game with Ellsbury running from first, but geez, it managed to go out and not by a few inches too. That's five home runs in the last six games for Gardner. He went 69 games without a dinger before that.
The home run gave the Yankees the lead but it did not end the game. They still had to get three outs in the bottom of the ninth inning, and it sure didn't help things when Headley whiffed on Addison Russell's leadoff ground ball. He missed the grounder and turned it into a double. Headley said after the game he just missed it. The sun wasn't in his eye, he didn't lose it as it crossed over from the shadows, nothing. Just a whiff. He started the season really well in the field, but that's now errors in four of his last five games. Yikes. Tighten it up, Chase.
Thankfully, Aroldis Chapman is a bat missing monster, and Russell never advanced beyond second base. Chapman struck out Jason Heyward, got Willson Contreras to ground out to Headley, then struck out Javier Baez to end the game. He started Baez with back-to-back backdoor sliders for called strikes before blowing him away with a fastball. After those two sliders, the 100.5 mph fastball must have looked about 120.5. Ballgame over, Yankees win.
Two Mistakes For Pineda
Really nice outing for Michael Pineda. Two runs on three hits and a walk in six innings against a good lineup? With six strikeouts and only five balls hit out of the infield? Sign me up for that every fifth day. Pineda made two mistakes and both went for solo homers — Bryant turned a first inning hanging slider into an opposite field homer, a rarity for him, and Schwarber turned around high fastball for a solo shot in the sixth inning. Two mistakes, two homers. The Cubs will do that.
Between the home runs Pineda retired 14 of 16 batters faced, and he did a nice job escaping a wind-aided mess in the fifth. A Contreras fly ball to right turned into three-base error by Aaron Judge, who misplayed the ball after the wind got a hold of it. Pineda stranded the runner with two ground balls, though it should be noted Kyle Hendricks was the batter with one out. Shout out to Cubs manager Joe Maddon for batting his pitcher eighth. It helped the Yankees there. Nice outing for Pineda overall. I'll take two runs in six innings every fifth day no question asked.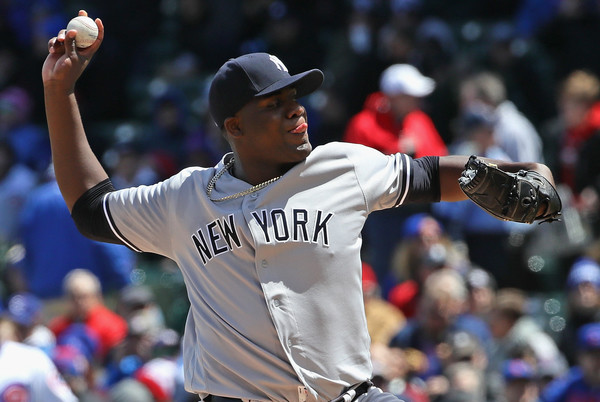 Running Into Outs
In theory, the game started well for the Yankees. Four of the first five batters they sent to the plate against Hendricks hit the ball very hard, and the one who didn't was hit by the first pitch of the at-bat. That was Gary Sanchez. Hendricks grazed his jersey with an obviously unintentional first pitch fastball in the first inning. Four well-struck balls and one hit batsman, yet no runs. Sigh.
Gardner started the game with a line drive to right field that was knocked down a bit by the wind and caught by Heyward. Aaron Hicks, the second batter, laced a double the other way into the left-center field gap. Sanchez was hit by the pitch, then former Cubs shortstop-turned-second baseman Starlin Castro roped a line drive to right. I thought it was a clean hit off the bat, but Heyward made a sliding catch. Hicks was running all the way, presumably because he thought the ball was trapped and not caught, and was doubled off second base to end the inning. SIGH.
The second inning started with another rocket, this one a Judge double into the right-center field gap. Statcast guru Daren Willman says the double left Judge's bat at 119 mph. Insane. Didi Gregorius did the bare minimum and moved the runner to third with one out with a ground ball, then, unfortunately, the contact play was on when Headley hit a grounder right to Ben Zobrist at second. Judge was thrown out at home. It wasn't all that close either.
So the Yankees hit the ball very well the first time through the lineup against Hendricks, and it resulted in zero runs because of the baserunning miscues. The Cubs play great defense! They deserve credit. But Hicks made a bad baserunning mistake in that first inning. He's got to go halfway with one out to make sure the ball isn't caught, not take off running. And the contact play? That's a calculated risk. It didn't work out. Hard hit balls: good! Baserunning mistakes: bad. Very bad.
Hendricks settled down a little bit over the next few innings before the Yankees put together a rally in the sixth. Castro beat out an infield single with one out, then Judge pulled a ground ball to left for another single. That ended Hendricks' afternoon. Maddon went to lefty Brian Duensing to face Gregorius, who lifted a weak fly ball to center field. The wind took it and Jon Jay had the ball clank off his glove. Amazingly, it was scored a hit. The bases were loaded with one out and the Yankees had their best chance to score prior to the ninth inning rally.
Instead, they hit into their second fly ball double play of the afternoon. Headley lifted a fly ball to Heyward in right, and Heyward was able to throw Castro out at the plate. Well, no. He threw him out about ten feet up the line. Starlin slowed down and basically ran into Contreras rather than around him. I do not understand. There was a clear path behind Contreras. Look at these baserunning shenanigans (video link):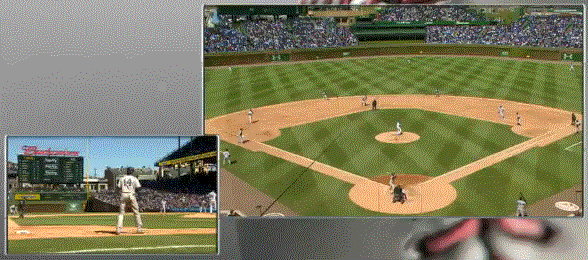 What a weird play. I didn't think it was a bad send! I thought Castro was going to score given where Heyward caught the ball, in fact. I'm not sure why Starlin a) initially broke home and had to run so far back to tag up at third, and b) why he slowed down on the bases and ran into Contreras rather than simply run behind him. Whatever. A full inning's worth of outs on the bases. Hicks in the first, Judge in the second, and Castro in the sixth. Up until the Gardner homer, it sure felt like the baserunning had cost the Yankees the game.
Leftovers
Welcome back, Gary Sanchez. In his first game back from the biceps injury, Sanchez went 0-for-4 with a strikeout and the first inning grazed-by-pitch. One of his outs was a line drive at Russell at shortstop. Sanchez also took a pretty good foul tip directly to the face mask in the middle innings. One of those foul tips that make you wonder why anyone ever wants to be a catcher. He stayed in the game and was fine though. Glad to see Gary back.
A Yankees pitcher got a hit! Pineda found a hole through the left side of the infield with a ground ball in the third inning. It was the first hit by a Yankees pitcher since Branden Pinder ripped a double (!) against the Braves in 2015. New York's pitchers went 0-for-27 between hits. Also, Pineda was nearly thrown out at second on a Hicks single. He didn't read the ball off the bat well and held up. A 9-6 force out would've been something. Pineda laid down a sac bunt in his second at-bat, so he took care of business at the plate.
The Yankees had eleven hits total, including three by Hicks — he's up to .316/.444/.632 (196 wRC+) on the season now — and two each by Castro and Judge. Gardner, Gregorius, Headley, and Pineda had one hit apiece. They went 2-for-11 (.181) with runners in scoring position. Good thing for dingers, eh? One of two hits with runners in scoring position equaled three runs. Sometimes it takes a few innings for this offense to get going, but once they do, big things happen.
And finally, it was pretty cool to see Castro get a big ovation before his first at-bat. He was the first young player to come up as part of Chicago's rebuild, and while he wasn't there for the 2016 World Series, he spent a long time with the Cubbies. The fans gave him a nice hand. Also, Chapman and Adam Warren received their World Series rings before the game.
Box Score, WPA Graph & Standings
Go to ESPN for the box score and updated standings, and MLB.com for the video highlights. Don't miss our Bullpen Workload page either. Helps you know which relievers are available on a given day. Here's the amazing win probability graph:

Source: FanGraphs
Up Next
Same two teams Saturday night in the middle game of this three-game series. That's a 7:15pm ET start. The worst. Southpaws Jordan Montgomery and Brett Anderson are the scheduled starting pitchers.