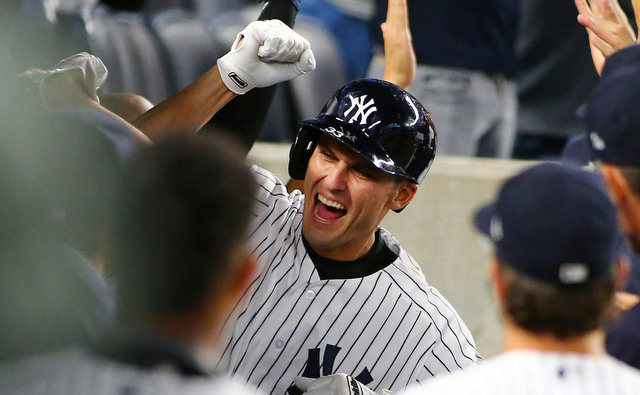 The Yankees lost their talented young first baseman earlier today, as Greg Bird went on the 10-day disabled list with a bone bruise in his right ankle. This is the same issue he's been dealing with since fouling a pitch off the ankle at the end of Spring Training. It sucks, but hopefully this DL stint turns into a positive. This'll give Bird a chance to get healthy and hopefully get back on track at the plate.
As for tonight's game, the Yankees have lost consecutive games for the first time since losing three straight from April 5th through the 8th. Those were the third, fourth, and fifth games of the season. It's been a while since the Yankees had anything resembling a losing streak. Thankfully, they have the right man on the mound tonight to stop this losing nonsense. Here is the Blue Jays' lineup and here is the Yankees' lineup:
LF Brett Gardner
3B Chase Headley
DH Matt Holliday
2B Starlin Castro
SS Didi Gregorius
RF Aaron Judge
CF Aaron Hicks
1B Chris Carter
C Austin Romine
RHP Masahiro Tanaka
It's a lovely day here in New York. Windy as hell — the wind is blowing out at Yankee Stadium, so we could see some dingers tonight — but it's cool with only a few clouds in the sky. Very pleasant evening. Tonight's game will begin a little after 7pm ET and you can watch on YES locally and MLB Network nationally. Enjoy the game.
Roster Moves: As expected, Luis Cessa was send down earlier today, the Yankees announced. Chasen Shreve has been called back up. Cessa threw 55 pitches in 3.1 innings yesterday, so it's no surprise he was sent down for a fresh arm … Rob Refsnyder was called up to take Bird's roster spot.
Injury Updates: In addition to Bird, the Yankees will be without Jacoby Ellsbury for a few days. He went for an MRI today and has been diagnosed with a bruised nerve in his left elbow. It happened when he crashed into the wall making that catch last night. The Yankees will see how he feels the next few days before deciding whether to put him on the disabled list before the road trip.