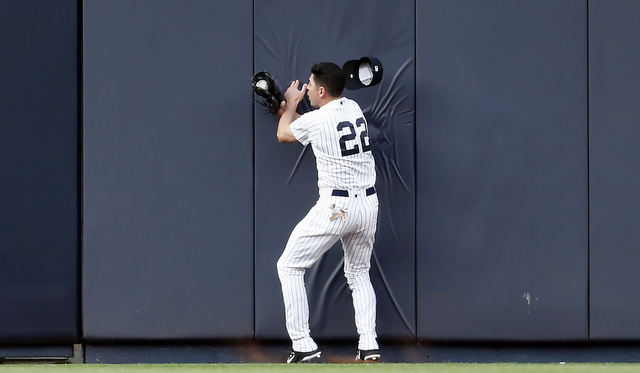 8:24pm ET: Ellsbury has indeed suffered a concussion, the Yankees announced. He also has a sprained neck. Ellsbury will presumably be placed on the 7-day concussion disabled list, meaning he'll have to be cleared by MLB's doctors before he can be activated. Mason Williams, Clint Frazier, and Dustin Fowler are the Triple-A outfielders. Williams is the only one on the 40-man roster, though the Yankees do have an open spot.
7:38pm ET: Jacoby Ellsbury exited tonight's game after crashing into the center field wall making a catch on the very first pitch of the game. Here's video. Trainer Steve Donohue looked at him and Ellsbury did stay in the game to complete the inning. He was removed in the second, however. His lineup spot did not come up in the bottom of the first.
Earlier this season Ellsbury missed one game with a pinched nerve in his elbow after another wall-crashing catch. This time they were focused more on his head and neck, so obviously the concern is a concussion. Ellsbury has never had a concussion in pro ball. The internet tells me he suffered one crashing into the wall making a catch in college though.
Ellsbury, 33, came into the game hitting .281/.349/.422 (113 wRC+) with four home runs and eight stolen bases in 38 games this season. The Yankees have a really great fourth outfielder in Aaron Hicks, plus several great outfield prospects in Triple-A, though losing Ellsbury would still stink. The more good players, the better.
The Yankees have not yet released an update on Ellsbury, so stay tuned.