A quality, no nonsense win, this was. The Yankees came out Wednesday night, put a hurting on the MLB ERA leader, and cruised to an easy 11-7 win over Royals. The game didn't feel as close as the final score indicates.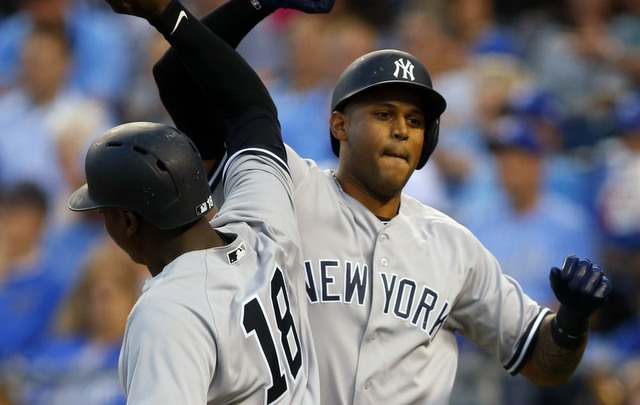 The Big Two-Out Rally
I do love quick first inning leads on the road. Get on the board before the other team even has a chance to bat. Put them on the defensive right away. Love it. The Yankees did exactly that Wednesday night thanks to a Brett Gardner leadoff single and a Starlin Castro two-out double. Castro drove the ball off the wall in right field. Probably would have been a home run into the short porch in the Bronx. Either way, a 1-0 lead is a 1-0 lead.
It wasn't until the fourth inning that the Yankees really broke the game open, and they scored all five runs that inning with two outs. I love two-out rallies too. All five runs were earned. Jason Vargas came into this start having allowed five earned runs total in his first seven starts and 44.2 innings of the year, giving him an MLB best 1.01 ERA. The Yankees put a nice dent in that. A lot happened in that fourth inning, so let's recap it with an annotated play-by-play.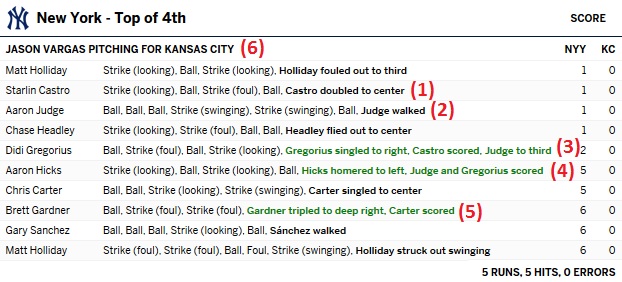 (1) I thought Lorenzo Cain broke his wrist on Castro's double. It was very 2006 Hideki Matsui-esque. Remember when Matsui broke his wrist attempting a sliding catch? Cain nearly did the same thing. He laid out to catch Starlin's base hit, rolled over his wrist, and failed to complete the catch. The ball rolled away far enough that Castro advanced to second. Fortunately Cain was able to stay in the game. That was scary.
(2) I'm pretty sure the ball would have disintegrated on impact had Aaron Judge connected with either the 3-0 or 3-1 swings. He really cut it loose, but Vargas pulled the string with back-to-back changeups, and Judge was way out in front. Veteran pitcher got the best of the young hitter. Vargas threw a third straight changeup in the 3-2 count, and Judge spit on that one for ball four. Nice at-bat. Judge muscled up and tried to unload in the 3-0 and and 3-1 counts. Then he backed off in the 3-2 count.
(3) Didi Gregorius has really come a long way against left-handed pitchers the last year or so. He was pretty hopeless against them in the past, even during his first year in New York. Gregorius drove in the first run of the fourth inning by staying back on a two-out, two-strike breaking ball, and yanking it into right field. Very nice piece of hitting. In the past, Didi would have been close to an automatic out in that situation. Now he's a threat.
(4) You done messed up that baseball A-A-Rod! I thought the Aaron Hicks homer was foul off the bat. I actually looked away from the screen while the ball was in flight because I expected it to sail foul. Instead, the ball stayed fair by a few feet, giving the Yankees their second, third, and fourth runs of the inning for a 5-0 lead. That was Hicksie's seven home run of the season in his 108th plate appearance. He hit eight homers in 361 plate appearances last year.
(5) I love those tack-on runs after a three-run home run. In most cases, a three-run dinger with two outs would mean you're done scoring that inning. The rally has been killed, so to speak. Chris Carter was able to get a ground ball single through the middle, then Gardner hammered a triple into the right field corner. Shout out to Jorge Soler for completely airmailing the cutoff man, allowing Carter to score. The play at the plate would have been really, really close had Soler hit the cutoff man. Tacking on that extra run after the big home run is always fun.
(6) I can't believe Royals manager Ned Yost stuck with Vargas that entire fourth inning. He threw 49 pitches that inning. 49! The guy was making his 11th start back from Tommy John surgery and he's one of your top a) starting pitchers, and b) trade chips prior to the deadline. Gotta protect that investment, yo. Yost really let Vargas wear it that inning. Good for the Yankees, of course.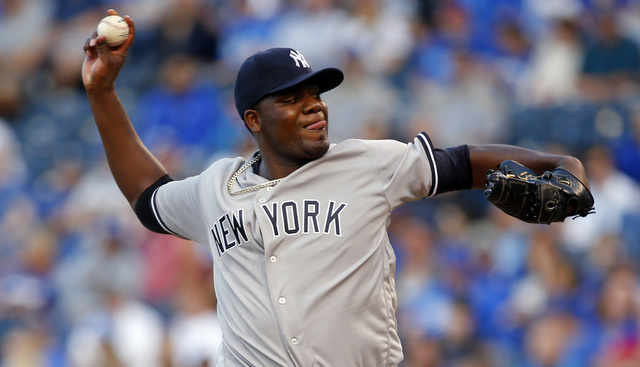 Mediocre Mike
It's kinda funny what qualifies as a poor start for Michael Pineda this season, isn't it? He allowed four runs on six hits, two walks, and a hit batsman in six innings Wednesday, and the fourth run scored after he was out of the game. Pineda served up a two-run home run to Salvador Perez in the fourth inning, with the Yankees already up 6-0. He then allowed a solo homer to Whit Merrifield in the fifth, with the Yankees up 10-2. Garbage time shots, basically.
A clean single and two errors by Headley (on the same play!) ended Pineda's night in the seventh. I was surprised Joe Girardi elected to send Pineda out for another inning given how hard he had to work to get through the sixth, but with a seven-run lead and fewer than 100 pitches thrown, why not, I guess. Pineda struck out five and was fighting his command, especially with his fastball. The slider was mostly okay. He did a nice job burying it down and away to righties.
This was only the second time in eight starts this year that Pineda allowed as many four runs in a start. He allowed four in 3.2 innings in his first start, then rattled off six straight outings with three runs or fewer. Starts like this one used to be the norm for Pineda. If he got the Yankees through six innings with only four runs allowed, it felt like things went okay. Now four runs in six innings is a bad start for Big Mike. He's been rock solid overall this year.
The Big No-Out Rally
One inning after putting up a five-spot with two outs, the Yankees scored four runs with (mostly) no outs. Vargas was out of the game, having been replaced by Peter Moylan, who is still pitching, apparently. The inning went infield single (Castro), walk (Judge), RBI single (Headley), RBI single (Gregorius), walk (Hicks), RBI fielder's choice (Carter), sac fly (Gardner). Four runs. Bang bang bang. (Bang.)
Carter was thrown out at the plate to end the inning on Gary Sanchez's single. He was originally called safe. The call was overturned on replay. The Yankees were up 10-2 at that point. I have no trouble pushing the envelope, even with Carter running. It was nice to see the Yankees keep the pressure on after that five-run fourth inning. Between the fourth and fifth, they sent 17 batters to the plate and scored nine runs, and had a guy thrown out at the plate.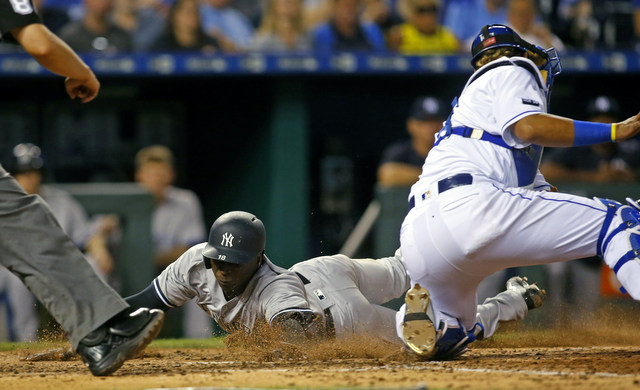 Leftovers
Tommy Layne got a lefty out! It was Alex Gordon, who came into the game hitting approximately .100/.150/.125 (.164/.277/.204, really), but hey, the left-on-left matchup guy got a lefty out. Layne replaced Pineda, then Adam Warren replaced Layne. He allowed a sac fly to Alcides Escobar to give the Royals their fourth run before escaping the seventh inning. Warren tossed a scoreless eighth as well.
Gio Gallegos made a mess of things in the ninth inning, allowing three runs on five hits while getting only two outs. Three of the five hits came in two-strike counts. Not good, OG Gio. That's no way to earn a spot in the Circle of Trust™. Girardi had to go to Dellin Betances to get the final out with the tying run on deck, and Dellin got Eric Hosmer to hit a weak tapper back to the mound to end the game.
Eleven runs on 16 hits for the Yankees, neither of which is a season high. Well, not true. The 16 hits ties their season high, which was set in the Mat Latos game. They've scored as many as 14 runs in a game this season though. Anyway, the Yankees scored double digit runs for the eighth time this season. No other team has done it more than six times. Last season the Yankees did it only nine times. Man do I love offense.
Not only did every starter have a hit, six of the nine starters had multiple hits. Judge, Headley, and Carter had only one hit apiece. The 1-2-3-4 spots in the lineup went a combined 9-for-18 with two doubles, one triple, and two walks. The Yankees went 5-for-14 (.357) with runners in scoring position overall. Have I mentioned I love offense? Because I love offense.
Box Score, WPA Graph & Standings
Go to ESPN for the box score, MLB.com for the video highlights, then back to ESPN for the updated standings. Make sure you check out our Bullpen Workload page. Here's the win probability graph:

Source: FanGraphs
Up Next
The Yankees will look to complete the sweep in the series finale Thursday night. It would be their fourth three-game series sweep of the season already. They swept only four series of at least three games last year. Lefties Jordan Montgomery and Danny Duffy are the scheduled starting pitchers.