The recent free fall continues. A lifeless offense and (more) bad bullpening sent the Yankees to an 8-1 loss to the Rangers on Saturday afternoon. The Yankees have lost nine of their last eleven games and are 10-12 in June overall despite outscoring their opponents by 40 (!) runs. The Orioles are good for the ol' run differential.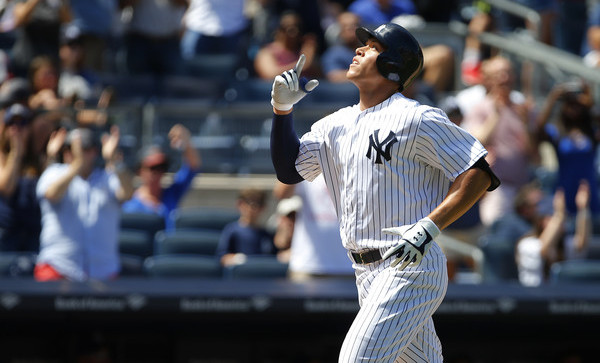 The Amazing, Disappearing Offense
The Yankees have now scored three runs in their last 26 offensive innings, dating back to Aaron Judge's monster three-run home run against the Angels on Thursday night. They scored one run Saturday afternoon. A Judge home run, of course. He cranked a solo home run into the left field seats in the sixth inning. Austin Bibens-Dirkx caught a little too much of the plate with a 91 mph heater.
Three problems. One, the Yankees were already down 3-0 when Judge homered. Two, no one was on base when Judge homered. And three, the Yankees only had two other baserunners make it as far as second base in the game. Mason Williams walked and stole second in the first inning, then singled and stole second in the third inning. No runner made it as far as third base aside from the Judge dinger. Five hits and one walk on the afternoon. That's all.
Bibens-Dirkx, a 32-year-old rookie who has spent multiple years in independent ball, deserves all the praise he'll receive for this game and he should enjoy the hell out of his performance (7 IP, 5 H, 1 R, 1 ER, 1 BB, 3 K) and this day. Good for him. The Yankees have been pretty crummy at the plate though. Have been for a few days now. A sampling of the ongoing slumps:
Aaron Hicks: 0-for-4 on Saturday and 2-for-18 (.111) since coming back from the Achilles issue.
Matt Holliday: 0-for-4 on Saturday and 5-for-36 (.139) in his last eleven games.
Starlin Castro: 1-for-4 on Saturday and 5-for-28 (.179) in his last seven games.
Didi Gregorius: 1-for-3 on Saturday and 5-for-27 (.185) in his last seven games.
Hmmm. That's not good. This is baseball and players slump during the long season. It happens. It just bites when half the lineup slumps at the same time.
The Yankees went through an offensive slump a few weeks back — they scored 26 runs in a nine-game span at one point last month — and they snapped out of that. They'll snap out of this eventually because no, those guys are not true talent .100-something hitters. Hopefully it happens soon. No disrespect to Bibens-Dirkx, but not getting a runner to third base against him is awful.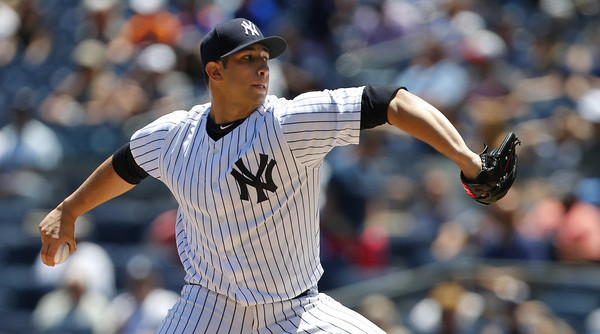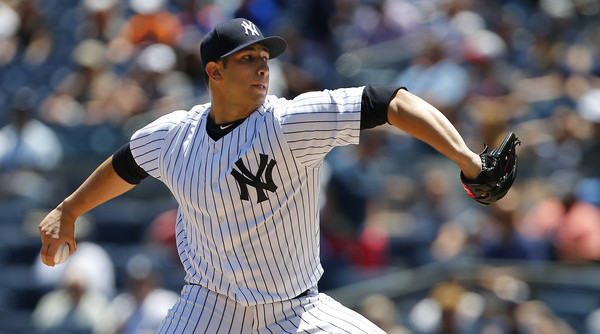 Five & Fly
On most days, getting five innings and three runs from your sixth starter would be an okay outcome. Just not Saturday given the way the Yankees have been swinging the bats of late. Luis Cessa gave up a first inning run in maybe the most annoying way possible. The first four batters of the game:
Delino DeShields Jr.: 0-2 to a walk (DeShields then stole second)
Shin-Soo Choo: Four-pitch strikeout
Elvis Andrus: 0-2 RBI single on a pitch out of the zone (strike zone plot)
Adrian Beltre: 0-2 to a 1-2 count to a broken bat single to center
Cessa jumped ahead in the count 0-2 to three of the first four batters, and all three reached base. The leadoff walk was easily the biggest mistake of the inning. Andrus tomahawked a high fastball to right and Cessa broke Beltre's bat. What can you do? Cessa struck out Rougned Odor on three pitches and Carlos Gomez on six pitches to strand runners on the corners and limit the damage to one run.
After that, Cessa settled into a little groove and retired the side in order in both the second and third innings. Seven of his first eight outs were strikeouts. He ran into trouble again in the fourth, when he issued a leadoff walk to Mike Napoli and the defense couldn't complete the line drive double play. Starlin Castro caught the ball, double-clutched, and the throw clanked off Tyler Austin's glove at first.
Naturally, the next batter hit a two-run home run. Cessa left a two-strike slider up enough to Gomez, who pounded it into the left field seats. Sigh. Cessa pitched around a leadoff hit batsman (Pete Kozma!) in the fifth before hitting the showers. Three runs on three hits and two walks in five innings, plus a career high eight strikeouts. Normally a winnable game from the sixth starter. Normally.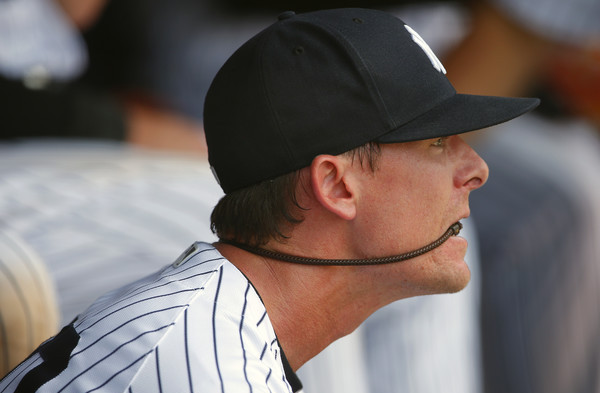 The Bullpen Of Our Discontent
The bullpen allowed the Rangers to tack on five runs in the late innings and it was the usual suspects: Jonathan Holder and Tyler Clippard. Holder's sixth inning went double off the wall, fly out to the right field warning track, strikeout, fly out to the left field warning track. Seems good. The first batter he faced in the seventh, Robinson Chirinos, hit a homer. So four of the first five men he faced hit the ball to at least to the warning track.
A 4-1 deficit is a good time to try to iron out Clippard's issues, apparently. Three-run lead in the ninth inning? This situation is so important I have to literally save my best reliever in case it arises. Three-run deficit in the ninth inning? Oh well, the chances of a comeback are so small that I might as well give my struggling reliever some work. The wonders of modern bullpen usage. Chess, not checkers, people.
Clippard allowed four runs on three hits and two walks. Loud hits too. They didn't dink and dunk him that inning. Clippard needed 36 pitches to get three outs and looked just terrible. No life on his fastball and his changeup might as well be a batting practice fastball. He's allowed eleven runs and 14 baserunners in his last 3.2 innings. Holder has allowed ten runs and 20 baserunners (including five homers!) in his last 14 innings. He's lucky Clippard is around to deflect attention. Bad bullpen is bad.
Leftovers
Welcome back to the big leagues, Tyler Austin. He went 0-for-3 with a three-pitch strikeout, a six-pitch strikeout, and a first pitch double play. He also couldn't make the catch on the potential line drive double play in the fifth, though, to be fair, it was not an easy play. Still, Chris Carter would have been raked the coals for that.
Welcome to the big leagues, Tyler Webb. He made his MLB debut between Holder and Clippard and retired the left-handed hitting Choo. He also tossed a perfect eighth inning as well. I'm pretty sure that makes Webb the third best reliever in the bullpen now.
Box Score, WPA Graph & Standings
Head over to ESPN for the box score and updated standings. MLB.com has the video highlights and we have a Bullpen Workload page. Here's the win probability graph:

Source: FanGraphs
Up Next
Old Timers' Day! The Yankees will hold their annual celebration of the team's history Sunday afternoon. The ceremony starts at 11:30am ET. The series finale against the Rangers will then begin at 2pm ET. Michael Pineda and Nick Martinez are the scheduled starting pitchers. RAB Tickets can get you in the door if you want to catch Old Timers' Day, or boo the offense and bullpen.