Boy did the Yankees need a win like that. I think we all did after these last 12 days. The Yankees turned the clock back to April and used good pitching, timely hitting, and (occasionally) good defense to earn a hard-fought 2-1 walk-off win over the Rangers on Friday night. They needed ten innings.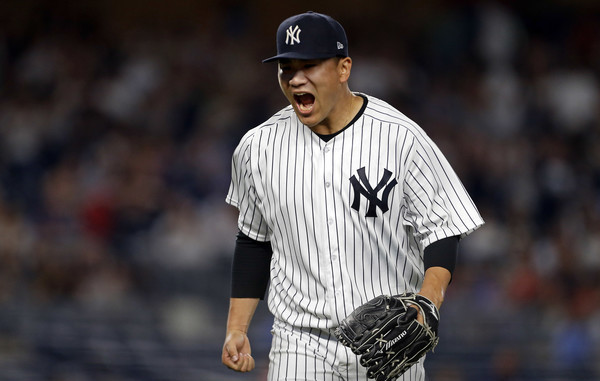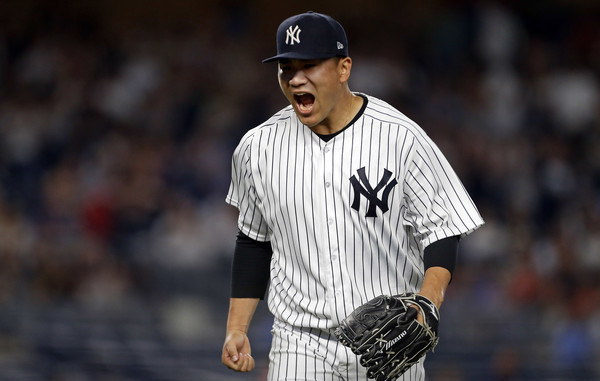 Master 'Hiro
As bad as Masahiro Tanaka has been overall this season, there have been some flashes of brilliance, and we saw one Friday night. Eight shutout innings, three soft singles (one didn't leave the infield), two walks, and nine strikeouts against a Rangers lineup that is more than capable of hitting the ball out of ballpark. At one point Tanaka retired 16 consecutive batters.
This start was not about Tanaka getting away with mistakes and lucking out when some balls were hit right at defenders. His defense definitely helped out — Ronald Torreyes made two very good plays at third base, including one to start an inning-ending double play in the second, and Didi Gregorius made a great play up the middle as well — but Tanaka was razor sharp. Best splitter and slider and he's had in a while. Here are his pitch locations: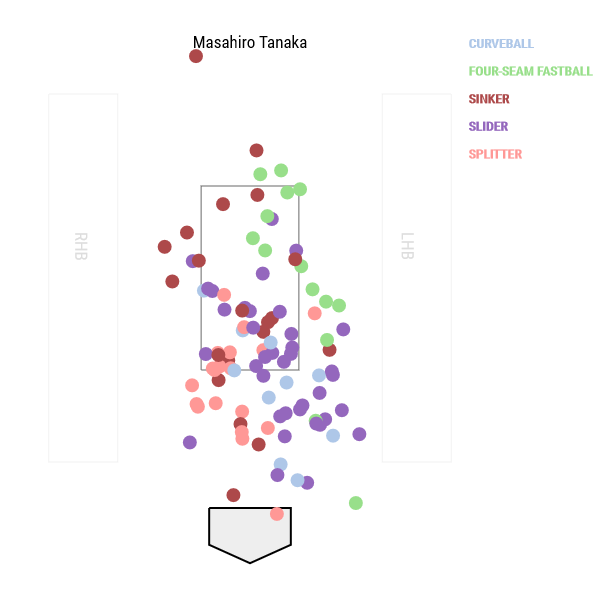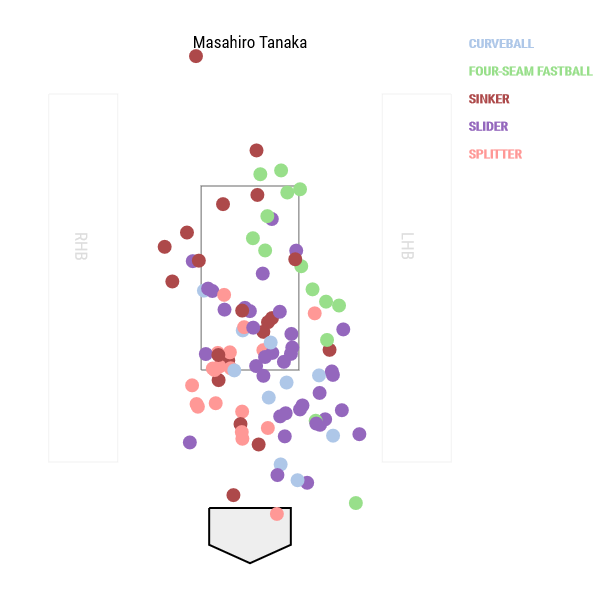 Not many middle-middle pitches at all. You can count them on one hand. Tanaka stayed on the edges and down in the zone, something he's struggled to do most of the season, mostly because neither his slider nor his splitter have had the same movement as last season.
Also, Tanaka elevated his fastball for strikeouts several times Friday night. Those green and red dots at the top of the strike zone were not mistakes. Gary Sanchez called for the high fastball with two strikes several times and Tanaka executed. (Most of the time.) We haven't seen him elevate fastballs all that much over the years. I wonder if this is a new trick or just something they saw in the Texas scouting report.
We've seen Good Tanaka a few times this season. He had the shutout in Boston and the 13-strikeout game against the Athletics, plus he was pretty good two starts ago in Anaheim, but he's been unable to get on any kind of roll. Hopefully this is the start of something big. Given his season to date, I need to see more before declaring Tanaka #cured. Still though, what a night. This man is something else when he's on.
No Runs For Yu
Unfortunately, Yu Darvish was on top of his game as well. This was the first time Tanaka and Darvish had ever faced each other in MLB — they had four head-to-head matchups in Japan — and it lived up to the hype. Did it ever. Darvish carved the Yankees up with mid-90s fastballs and wicked mid-80s sliders and silly low-70s curveballs. He even threw Aaron Judge a 65 mph curveball at one point. He was better than Tanaka, really.
The Yankees did get a runner to second base in the first inning — Brett Gardner singled and stole second — but their only other baserunner against Darvish was Sanchez's one-out single in the fifth inning. He was immediately erased on a double play. That was it. Two baserunners, both singles to center, in seven innings against Darvish. He struck out ten and threw only 88 pitches, and after the game manager Jeff Banister said he removed Darvish as a precaution because he felt "tightness." Can't really blame the offense for doing nothing in those seven innings. Darvish was lights out.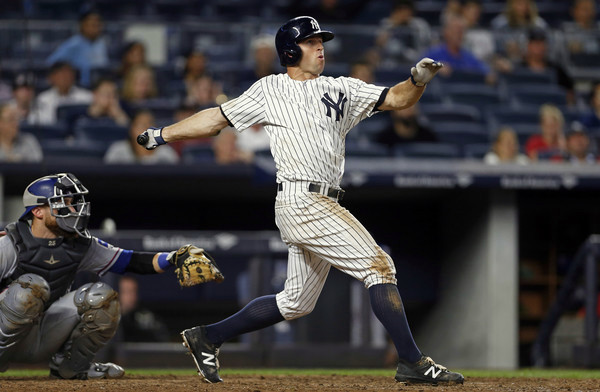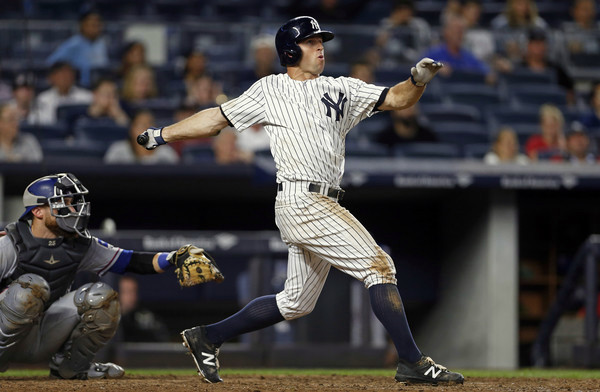 Battle of the Bullpens
Lately anything that involves the bullpen has been bad news for the Yankees, no matter who's on the mound. Aroldis Chapman took over in the ninth inning and put the go-ahead run in scoring position with one out with a single (Elvis Andrus) and a hit batsman (Nomar Mazara). Chapman plunked Mazara in a 1-2 count. Two-strike hit-by-pitches are the worst.
The Mazara hit-by-pitch pushed Andrus to second base and he then stole third, which is pretty gutsy. Not many players would attempt that in that spot. Not with one out. Sanchez's throw was high and wide and Torreyes did a great job lunging to make the catch and stop the ball from going into the outfield. He saved a run. Only temporarily, unfortunately. Chapman struck out Adrian Beltre with a 101.3 mph fastball in the dirt Sanchez couldn't block.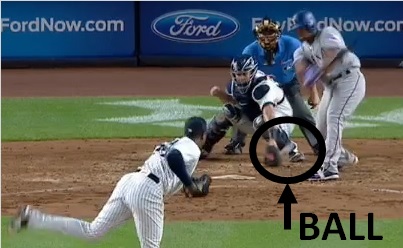 Yes, Sanchez has to block that. No, a 101.3 mph fastball in the dirt isn't an easy pitch to the block, especially when you called for and were expecting the pitch on the outside corner. But still, Gary's gotta get his body in front of that one. Andrus scooted home to break the scoreless tie. The steal of third base was pretty huge. Chapman got Rougned Odor to ground out to limit the damage to one.
Given the way things have been going lately, it was easy to think the game was over at that point. The offense went to sleep after the Judge home run Thursday night and Darvish shut them down for seven innings Friday night. Matt Bush is pretty darn good too. Fortunately he caught a little too much of the plate with a 2-1 fastball to Gardner, who yanked it into the short porch for a game-tying solo home run in the bottom of the ninth. No. 14 of the season for Gardner. How about that?
The Gardner blast gave us what we all wanted to see: more bullpen! Woof. Chad Green and Chasen Shreve (and Gregorius) conspired to load the bases in the top of the tenth without allowing a hit. Gregorius made an error on Carlos Gomez's soft line drive — it took a short hop right in front of Didi, but still, a Major League shortstop should make that play — to give the Rangers a leadoff baserunner. The next four batters:
Jonathan Lucroy grounds out to third on first pitch (no chance at a double play)
Mike Napoli walks on eight pitches (Shreve then replaces Green)
Joey Gallo strikes out on six pitches
Shin-Soo Choo walks on five pitches
Including the Gomez at-bat, that's 24 pitches to load the bases with two outs. And, naturally, Shreve fell behind in the count 3-1 to Andrus with the bases full. Not ideal! He tried to get him to fish for splitters, but Andrus wasn't having it. He took the fastball down the middle for the 3-2 count — it was a good pitch to hit, but I don't blame Andrus for taking here — fouled off the next fastball down the middle, then popped up the third to shallow right field. Inning over. Ex-friggin-hale. A scoreless inning felt like a miracle given the recent bullpen issues.
Joltin' Toe
The game-winning rally in the bottom of the tenth was made possible by three of my favorite Yankees. Sanchez got it started with a one-out single back up the middle, then Gregorius set it all up with a big single to right-center field, allowing Sanchez to chug all the way to third. A fly ball wins it! And of course Chris Carter was due up, and of course he struck out. At least he had the decency to do it on four pitches rather than the minimum three.
Suddenly, the rally was on life support. Two outs, runners on the corners, Torreyes up against Bush, who was still pumping upper-90s heaters and nasty breaking balls. Bush left one of those upper-90s fastballs out over the plate and Toe slapped it back up the middle for the walk-off single. Beautiful little piece of hitting. Right back up the box. Torreyes knew he'd won the game right away: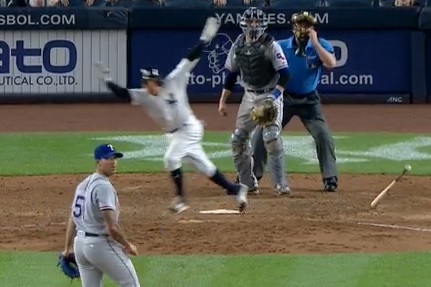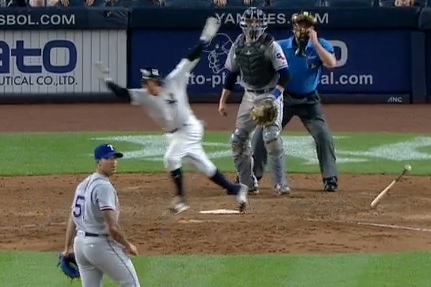 Smart move by Carter striking out rather than hitting into a double play, eh? The Yankees really need a new first baseman. Like yesterday. Anyway, Sanchez to Gregorius to Torreyes gave the Yankees a much-needed feel-good win. The last week and a half as been pretty terrible. Suddenly now everything feels like it'll be a-okay.
Leftovers
Somehow the Yankees finished the night with seven hits despite getting only two in seven innings against Darvish. They sent ten men to the plate against Bush and five got hits. Five! Didn't see that coming. Gardner and Sanchez each had two hits. Judge, Gregorius, and Torreyes had one each. No walks and 14 strikeouts, mostly because Darvish was so ridiculous.
Chapman, Green, and Shreve combined: 2 IP, 1 H, 1 R, 0 ER, 2 BB, 1 K, 1 HBP. I guess that qualifies as a good bullpen day these days? Chapman really labored. He threw 28 pitches and got only two swings and misses. His velocity was there though. He topped out at 102.2 mph. After the shoulder issue, I can't help but keep on eye on the radar gun.
And finally, the no shutout streak remains alive! It was in serious jeopardy there. The Yankees and Nationals are the only teams in baseball yet to be shut out this season. I love it.
Box Score, WPA Graph & Standings
The box score and updated standings are at ESPN and the video highlights are at MLB.com. Check out our Bullpen Workload page too. Here's the win probability graph:

Source: FanGraphs
Up Next
The second game of this three-game series, assuming the rain holds off Saturday afternoon, which it looks like it will. Luis Cessa and Austin Bibens-Dirkx are the totally not made up scheduled starting pitchers. There are two games left on the homestand and RAB Tickets can get you into Yankee Stadium for both of them.