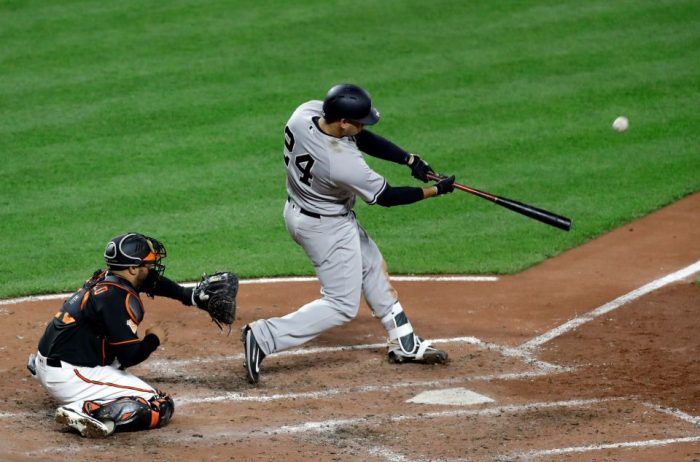 After what he did last summer, it's hard to imagine Gary Sanchez running a low profile. He burst onto the scene with an impressive display that almost won him AL Rookie of the Year honors over a pitcher who was successful in the league all year. Immediately, he endeared himself to the game with his powerful displays and came into 2017 with great expectations and the combination of talent and potential to back it up. And then he got hurt swinging a bat in Baltimore and missed a lot of time. While that was unexpected in and of itself, here's another thing that I didn't expect: Gary Sanchez is having the best season of any catcher in the American League.
Thanks to Aaron Judge being, well, Aaron Judge, Luis Severino doing his ace thing, Aaron Hicks emerging as a legit player, Brett Gardner and Matt Holliday hitting bald bombs all over the place, and Starlin Castro reestablishing his All-Star status, Sanchez has taken a bit of a backseat with regards to attention this year. Missing time with an injury will do that, sure, but the overall success of the team has sort of buried the lede on how good Sanchez has been this year.
In home runs, Sanchez's six trail only Salvador Perez (11) and Alex Avila and James McCann with 7. Perez laps all catchers with 201 plate appearances; Avila (120) and McCann (125) have a handful more than Sanchez (119). In terms of wOBA, Sanchez is at .352, two points behind Russell Martin (.354) and a bunch behind Avila (.433!). wRC+ puts him behind Avila (176) and Martin (122), and tied with Evan Gattis at 121. He's third in ISO (.190) behind Avila (.283) and Perez (.214). He's tied for sixth in fWAR with Gattis (0.7), but has fewer games played than every player ahead of him AND every player behind him. What we should also note is that Alex Avila has played 20 games at catcher, but also 11 at first. He's having a damn good season–seriously, I'd forgotten about his existence as a baseball player–but splitting time makes me give preference to the other guys on the list, especially Sanchez.
El Gary may not top the AL catching leaderboards in everything, but his combination of stats paints a fine, well rounded picture of a fantastic season. That this has slipped a bit under the radar speaks to a few things. Obviously, Sanchez's teammates listed above have played a bit more and have shined, some of them unexpectedly. The team overall has been much more successful than anticipated and all of that has–somewhat rightly–overshadowed Sanchez's solid, if not outwardly flashy, 2017 performance. Hopefully, the next few weeks net Sanchez some more attention and votes to get him to the All Star game. He deserves his first of what should be many.