Can we just go back to the All-Star break? What a crappy way to start the second half. The bullpen blew yet another game and have a new entry into the Worst Loss of the Year race. The Red Sox won Friday's series opener 5-4 on a walk-off walk. Lovely. The Yankees have lost 19 of their last 26 games and that record matches the eye test. Sell sell sell.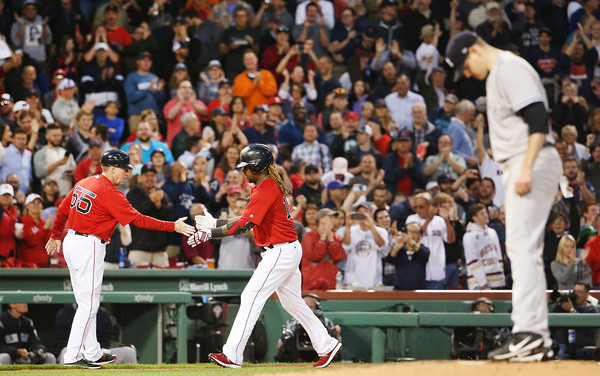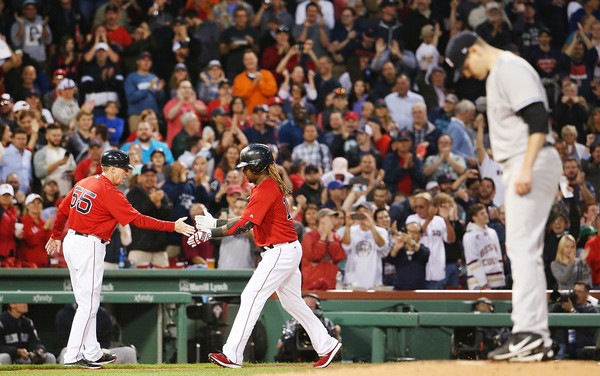 Montgomery Burns (Up His Pitch Count)
It was clear from the start Jordan Montgomery did not have it Friday night. He fell behind the first batter 3-0 and walked the second batter. Montgomery was behind in the count all night long. He threw a first pitch strike to only eight of the 21 batters he faced, and seven of those 21 batters saw a three-ball count. Montgomery's pitches by inning: 29, 26, 17, 24. Goodness.
Amazingly, Montgomery allowed only three runs in his four innings of work. He stranded two runners in the first, two runners in the second, and the bases loaded in the third. Two of the three runs he allowed came on Hanley Ramirez's two-run home run in the third, and the other came on a Dustin Pedroia ground ball single in the fourth. The final line: 4 IP, 6 H, 3 R, 3 ER, 3 BB, 3 K, and 96 pitches. Easily the worst start of Montgomery's brief big league career.
Four Runs Ain't Enough
The Yankees had two leads in this game. They drew first blood in the third inning, when Gary Sanchez plated Chase Headley with a single to left. Headley reached on a leadoff single, then went first-to-third on Ronald Torreyes' single. Two innings later Headley started another rally with a leadoff double. He came around to score on Brett Gardner's single, and Gardner came around to score on Sanchez's long two-run home run over the Green Monster. That turned the 3-2 deficit into a 4-3 lead. Hooray!
Unfortunately, the offense did nothing after the Sanchez home run. Literally nothing. Not one baserunner. They went 14 up and 14 down to end the game. The Yankees have generally been really good at tacking on runs this season, but not Friday night. Coulda used some insurance runs there, guys. Like, a lot of insurance runs. The wrap-around 8-9-1-2 portion of the lineup went 6-for-13 (.462) with a walk. The rest of the lineup went 0-for-19 with a walk.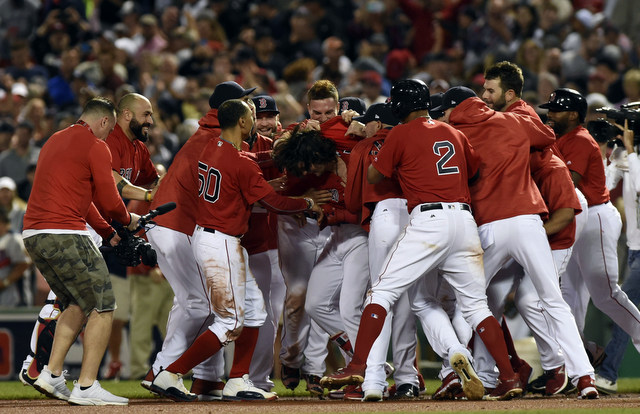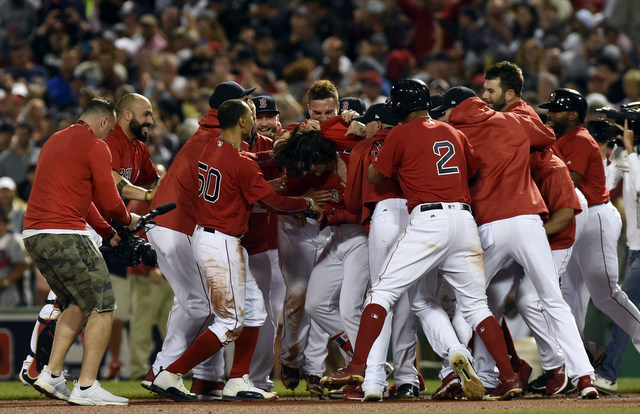 Death by Bullpen
You know, for a while there, it seemed like the bullpen would have a good night. Chad Green replaced Montgomery and threw fire for two innings, striking out five of the six batters he faced. How good has Green been out of the bullpen this season? Adam Warren pitched around a pair of two-out hits in the seventh, then Dellin Betances struck out the side in the eighth. He also hit a batter, but hey, three strikeouts! Still love ya, Dellin.
Everything fell apart in the ninth and, to be fair, it wasn't all Aroldis Chapman's fault. Hardly. Mookie Betts and Pedroia started the inning with back-to-back infield singles, then they pulled off a double steal uncontested. Sanchez had no chance to throw either guy out. Chapman wasn't really paying attention to the runners and they got huge leads. The tying run scored when Xander Bogaerts hit a grounder that Torreyes booted. I'm pretty sure the run would have scored anyway, but Torreyes didn't even get an out on the play.
With runners on corners and no outs, Joe Girardi had Chapman intentionally walk Ramirez to load the bases and create the force at any base. It also gave Chapman zero margin for error. Five pitches later, the game was over. Chapman walked Benintendi with the bases loaded for the walk-off loss. I'd be more annoyed if you couldn't see it coming a mile away. Aroldis threw 23 pitches and only eleven strikes, and no, the intentional walk doesn't count against his pitch count.
The biggest problem here is one swing and miss among 23 pitches. One. Chapman's swing and miss rate has dropped from 18.6% last year to 14.1% this year — that's still really good! — and on his fastball specifically, his whiffs-per-swing rate has fallen from 41.0% in 2015 to 32.8% in 2016 to 26.9% in 2017. Chapman got hosed on some weak grounders Friday. The Yankees also didn't give this guy $86M to get weak grounders. He has not been the same overpowering Aroldis Chapman this year. Not even close.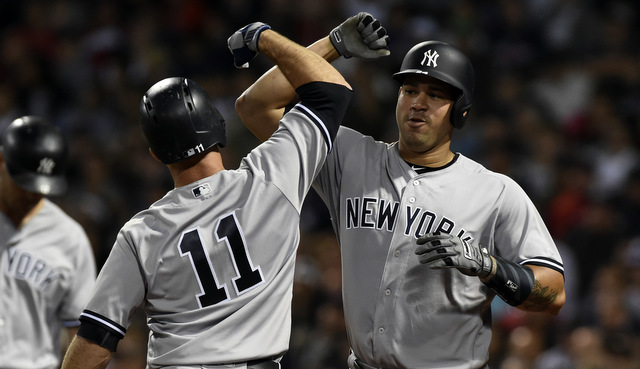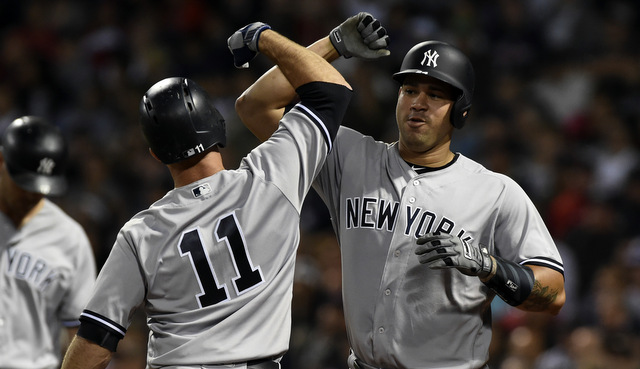 Leftovers
Welcome back, Matt Holliday. He went 0-for-4 with three strikeouts and a first pitch 3-2-3 double play with the bases loaded and one out in the third. He's had better days at the plate. Sanchez had two hits including the homer. He ended the first half in a pretty brutal slump, remember. I guess the Home Run Derby fixed his swing. Odds we hear that narrative? Not good.
Rough day for Torreyes despite his third inning single. He committed two errors — he bobbled the grounder in the ninth, and in the fourth he straight up dropped the flip from Didi Gregorius at the second base bag on a potential 6-4-3 double play. Yeesh. Oh, and he struck out on a pitch over his head. Hurry back soon, Starlin Castro. Torreyes is best enjoyed in moderation.
And finally, welcome to the big leagues, Garrett Cooper. He went 0-for-4 with three strikeouts like Holliday. Unlike Holliday, he did not ground into a double play the one time he put the ball in play.
Box Score, WPA Graph & Standings
For the box score and updated standings, head over to ESPN. MLB.com has the video highlights and we have a Bullpen Workload page. If you're interested in postseason odds, I recommend FanGraphs. Here's the loss probability graph:

Source: FanGraphs
Up Next
Same two teams Saturday afternoon for the second game of this four games in three days series. All-Stars Luis Severino and Chris Sale will be on the mound. That'll be fun. That game has a 4pm ET start time, so I guess that means it's a FOX broadcast.