A series win! The Yankees finally got that monkey off their back Sunday afternoon. They rallied from behind for a 6-4 win in the road trip finale over the Mariners. The Yankees managed to go 6-5 on this eleven-game, ten-day trip across three time zones. Thank goodness that one is over with.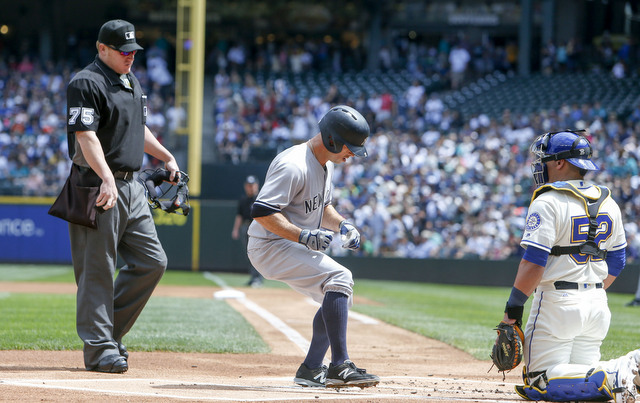 Three Solo Dingers
It took the Yankees two pitches to take the lead Sunday afternoon. Yovani Gallardo's first pitch to Brett Gardner in the first inning was a fastball in the dirt, and his second was a center cut fastball deposited into the right field seats for a leadoff home run. The home run was Gardner's third leadoff dinger of the season and ninth of his career. It was also his career high tying 17th home run. There are 65 games remaining this season.
Gallardo was not done serving up the long ball. Didi Gregorius touched him up for a solo home run in the second and again in the fourth. Two Didi dingers! This was the first two-homer game of Gregorius' career. The last Yankee shortstop with a two-homer game? Derek Jeter, of course. In 2011. Last one before that? Jeter again, in 2010. Last one before that? Cody Ransom! Ransom had two homers in Game 160 in 2008. Three solo homers equaled a 3-0 lead.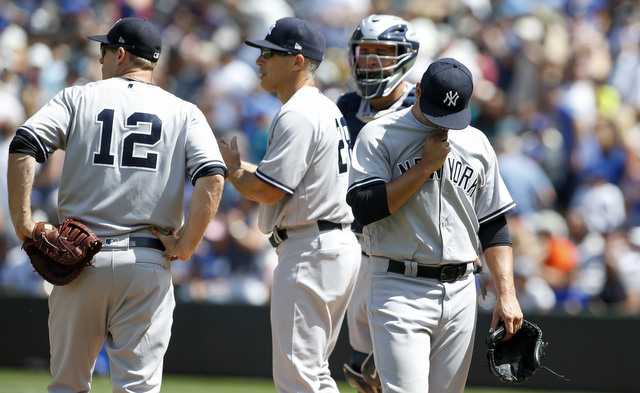 Smith Unravels
For the second time in as many big league appearances, Caleb Smith impressed early before unraveling once the lineup turned over. First time through the order he retired eight of nine Mariners faced, with Kyle Seager's one-out double in the second the only blemish. Smith needed only 32 pitches to go through the first three innings. Eleven pitches in the first, eleven pitches in the second, and ten pitches in the third. Beautiful.
Then, one the lineup turned over, Smith retired only three of eight batters faced. He didn't even get to face the ninth hitter. Two soft singles and a walk loaded the bases with no outs in the fourth inning, and I thought that was going to be it for Smith. The Yankees hadn't won a series in forever, the bullpen is loaded, there's an off-day Monday, and Smith let things get away from him in his previous outing after the lineup turned over. All the signs were pointing to a pitching change.
Joe Girardi didn't agree. He stuck with Smith and hey, he struck out Seager and popped up Mitch Haniger, so he put himself in position to escape the jam. Instead, Ben Gamel managed to pull a soft first pitch jam shot into shallow right field for a two-run single. The pitch was right in on his hands: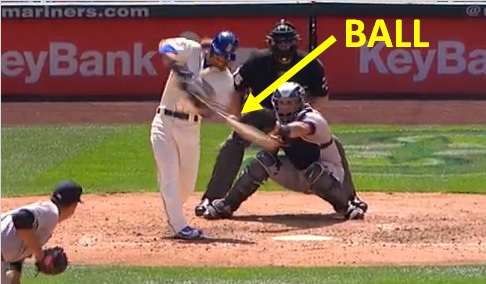 Not sure how that pitch didn't shatter Gamel's bat. The two-run single cut the lead to 3-2. Two pitches later Guillermo Heredia gave the Mariners a 4-3 lead with a double to left field. Smith very nearly escaped that jam. He got two outs and really busted Gamel inside. Instead of escaping, four runs were on the board. Life is pain.
The Comeback
The Yankees regained the lead with a three-run sixth inning against former Yankees lefty James Pazos. After the way Gamel tortured them all series, Pazos stepped up and did the Embedded Yankee thing Sunday. Thanks for that, James. All the damage came with one out too. Gregorius started the inning with a ground out, then the next six men the Yankees sent to the plate reached base.
The rally started with back-to-back walks by Chase Headley and Todd Frazier, and an opposite field single by pinch-hitter Ronald Torreyes — Torreyes hit for Tyler Wade to get the right-on-left matchup against Pazos — loaded the bases with one out. Hooray for that. Gardner tied the game with an opposite field single off Gamel's glove in left field. The way this series has been going, I figured Gamel would've caught that. Gardner's single came in an 0-2 count too. Nice.
With the score tied 4-4, Mariners skipper Scott Servais brought in the right-handed Tony Zych, and Clint Frazier responded with a two-run double along the left field line. Like Gamel in the fourth inning, Frazier managed to get enough wood on a pitch in on his hands. He legendary-bat-speeded it into a go-ahead double. This kid is so much fun, isn't he? The Gardner single and Frazier double turned a 4-3 deficit into a 6-4 lead.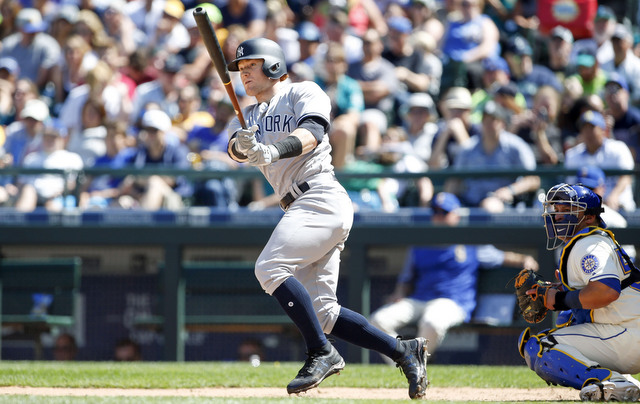 The New Bullpen
Unsung hero Sunday: Chad Green. He replaced Smith, struck out Carlos Ruiz to strand two runners in the fourth, then tossed perfect fifth and sixth innings as well. Green struck out three of the seven batters he faced and gave the offense a chance to get back in the game. He restored order. That was big. It's pretty nice to be able to use Green early in the game now, in key situations like that, isn't it?
For whatever reason Joe Girardi decided to flip Dellin Betances and David Robertson on Sunday. Betances pitched the seventh and Robertson pitched the eighth. Not sure what that was about, though it doesn't really matter. Three up, three down for both guys. Aroldis Chapman sandwiched a pickoff between an infield single off his leg and a double off the wall. He then got the last two outs for his 11th save. The bullpen: 5.1 IP, 2 H, 0 R, 0 BB, 6 K. That'll do.
Leftovers
The 3-4-5 hitters (Aaron Judge, Gary Sanchez, Matt Holliday): 0-for-12 with three walks and four strikeouts. Judge had two walks and Holliday had one. The other six hitters in the lineup: 10-for-24 (.417) with four doubles and three homers. Sometimes the other guys have to carry you. Gardner, Gregorius, and Headley each had two hits. Headley also had two walks. He is hitting for zero power, but he's been getting on base a bunch lately.
And finally, the series win is New York's first since the massacre series against the Orioles from June 9th through 11th. They outscored the O's 38-8 in that series. The Yankees were 0-8-2 in their last ten series. The last time they went at least ten series without a win? Back in 1991. What a terrible season that was. This one is much better.
Box Score, WPA Graph & Standings
For the box score and updated standings, head to ESPN. MLB.com has the video highlights and we have a Bullpen Workload page. Here's the win probability graph:

Source: FanGraphs
Up Next
The Yankees are heading home for the first time in more than two weeks. They have an off-day Monday, then will welcome the Reds to the Bronx for a quick little two-game series. Rookies Jordan Montgomery and Luis Castillo will be on the mound in Tuesday night's opener. That game is start of a nine-game homestand. RAB Tickets can get you in the door for any and all nine games.