The Yankees had themselves a productive little Tuesday, eh? They made a big seven-player trade with the White Sox and also picked up a much-needed 6-3 win over the Twins to create a little breathing room in the wildcard race. The Yankees are an even 3-3 since the All-Star break.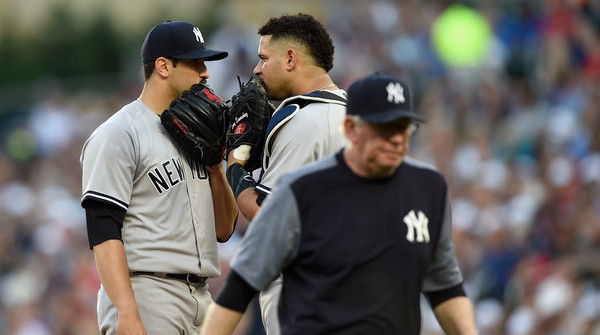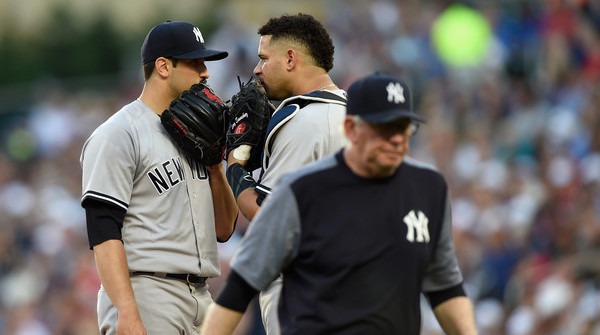 Cessa Struggles
Holy moly what a brutal start by Luis Cessa. I mean, it wasn't a total disaster (three runs in 3.2 innings), but geez, the guy could not throw strikes. He walked three and hit a batter … in the first inning. Cessa also gave up a solo homer to Miguel Sano and, well, it happens. I'm not going to get mad about that. He then allowed a loud run-scoring triple to Brian Dozier after (yep) falling behind in the count. The final line: 3.2 IP, 4 H, 3 R, 3 ER, 4 BB, 2 K. Yuck.
With Michael Pineda done for the season, Tuesday's start was a pretty good opportunity for Cessa to seize a rotation spot for the foreseeable future. Bryan Mitchell pitched well enough Monday — not great, but good enough — but the Yankees decided to option him down Tuesday. Will Cessa get another start? Eh. It wouldn't surprise me. Then again, the wheelin' and dealin' Yankees could swing something before then. Just please, not another start like this.
The Offense Breaks Out
Bartolo Colon went into Tuesday's start with an 8.14 ERA (5.07 FIP) in 63 innings, so of course he started the game with three scoreless innings. Sigh. The Yankees finally got on the board in the third inning thanks to a leadoff single by Aaron Judge, a one-out single by Didi Gregorius, and a two-out single by Chase Headley. Three singles, one run. Love that small-ish ball.
It wasn't until the fourth inning, when the 44-year-old Colon was visibly fatigued, that the offense really broke out. The Twins were up 3-1 at the time. The first four men the Yankees sent to the plate that inning reached base. Ronald Torreyes got it started with a single. Brett Gardner then dunked a ground rule double just fair inside the line in the left field corner, and Gary Sanchez knotted the game up with a two-run double into the left field corner. Exhale.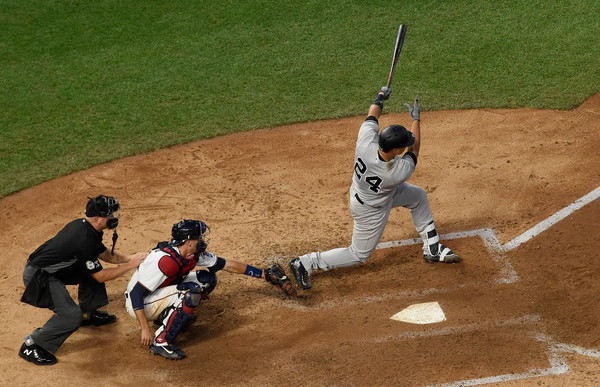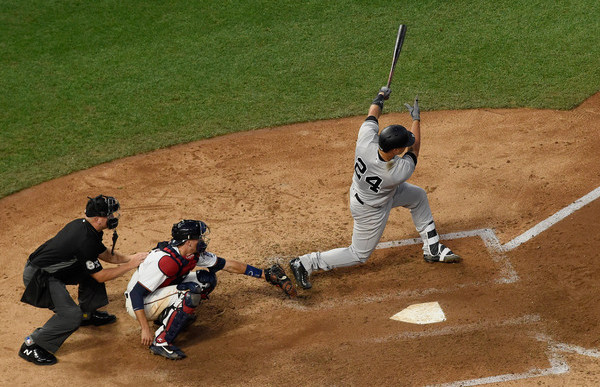 The Sanchez double ended Colon's night at 82 pitches. He looked completely out of gas. In came Ryan Pressly, who allowed the go-ahead single to Judge. Hooray for that. Judge is starting to come around a bit. His five-game slump has been annoying. Two batters later Gregorius gave the Yankees some much-appreciated breathing room with a loud two-run home run to right field. The Yankees were down 3-1 when the inning started. They were up 6-3 when it ended.
More Stellar Bullpen Work
Who is this bullpen and what have they done with the Yankees bullpen? Maybe they didn't need to make the David Robertson/Tommy Kahnle trade after all. I kid, I kid. But seriously, how good has the bullpen been since the All-Star break? Aroldis Chapman had the ugly ninth inning Friday and Caleb Smith got hung out to dry Monday night, otherwise it's been nothing but zeroes.
Chasen Shreve was the first man out of the bullpen and he escaped Cessa's mess with a strikeout. Shreve then tossed a scoreless fifth inning, and Adam Warren retired all six men he faced in the sixth and seventh. Dellin Betances made things interesting in the eighth — the inning went double, strikeout, hit batsman, strikeout, walk, line out — but escaped without allowing a run, and that's all that matters. Chapman pitched around a leadoff walk in the ninth.
The final line on the bullpen: 5.1 IP, 3 H, 0 R, 2 BB, 6 K, 1 HBP. Pretty darn good. The Yankees didn't go out and get Robertson and Kahnle for the hell of it. They really need those guys. The bullpen has been mess for a few weeks now. They've been better since the All-Star break, so perhaps this means the guys who are already here are turning things around, and now the Yankees have two new high-end relievers as well. That'd be cool.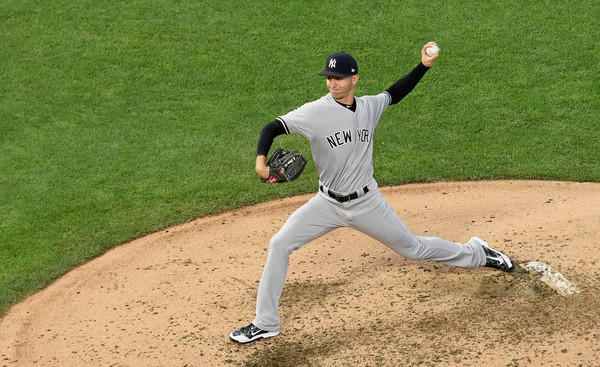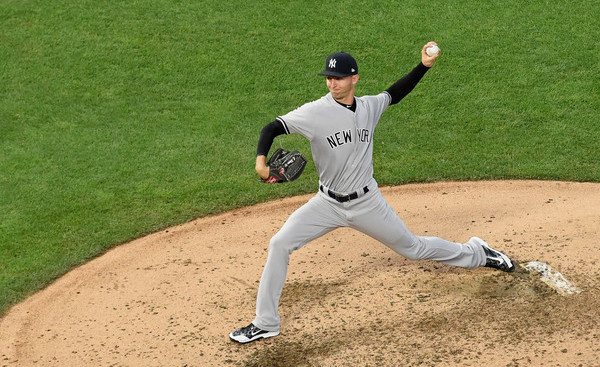 Leftovers
Big day for the bats. The Yankees had 13 hits, including three each by Gregorius and Torreyes. Gardner, Sanchez, and Judge had two apiece as well. Matt Holliday went 0-for-4 with two strikeouts and is now 3-for-27 (.111) with eleven strikeouts since coming off the disabled list. He's been really late on fastballs too. Hopefully it's just rust and not something more serious.
Not a whole lot to add other than that. The Yankees picked up a win, remained in postseason position, and added three new players to the roster. Fun day.
Box Score, WPA Graph & Standings
For the box score and updated standings, go to ESPN. MLB.com has the video highlights and we have a Bullpen Workload page. Here's the ol' win probability graph:

Source: FanGraphs
Up Next
The Yankees and Twins will wrap-up this three-game series with a Wednesday matinee. That's a 1pm ET start. Jordan Montgomery and Jose Berrios are the scheduled starting pitchers. Then it's off to Seattle.