Was it easy? No. But a win is a win, and that was an impressive win considering the tough loss Friday night. The Yankees rebounded to beat Chris Sale and the Red Sox 4-3 on Saturday night. They're 3-1 against Sale this year, you know. They'd be 4-0 if Aroldis Chapman could protect a one-run lead.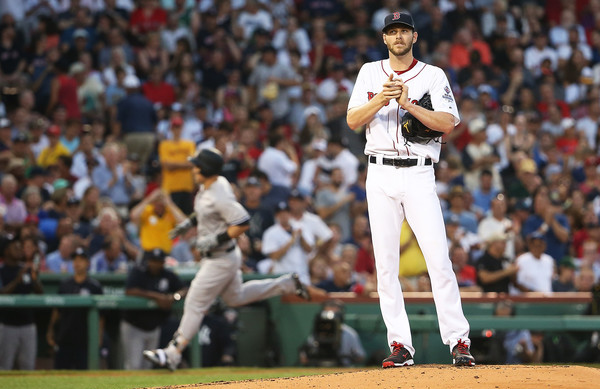 Austin's Power
I have to say, of all the weird baseball stuff that could've happened Saturday night, Tyler Austin taking Sale way deep over the Green Monster for a three-run home run is not something I would've seen coming. It's not that Austin doesn't have power, he definitely does, but Sale is just so damn good. Austin took him for a ride twice in this game, in fact. He ripped a long line drive Jackie Bradley Jr. had to jump to catch at the center field wall.
That three-run second inning rally started with what looked like a home run off the bat from Didi Gregorius. Well struck to right field. Almost certainly a home run into the short porch at Yankee Stadium. At Fenway Park, it was a ground rule double into the right field corner. Todd Frazier took a pitch to the calf to put two runners on base for Austin, who went up and got a high fastball. It was crushed. Gone off the bat. Look at this thing:
Tyler Austin's 1st career at bat vs. Sale went pretty well. pic.twitter.com/luEfYEm6OG

— New York Yankees (@Yankees) August 19, 2017
Don't sleep on the bat flip. It's kinda hard to see in the video, so here's a better clip. Love it. I don't care that Austin has been in the big leagues for like ten minutes. You crush a no-doubter against Chris Sale during one of the most meaningful Yankees-Red Sox games in about five years, and you deserve to enjoy it. Pimp every homer like it's your last.
Between the three-run homer and the fly ball Bradley caught at the wall, Austin hit about 850 feet worth of baseball against Sale in his first two at-bats Saturday. Can't imagine many players have squared him up that well twice in one game this season. Exit velocity on the homer: 108.6 mph. Exit velocity on the caught line drive: 106.1 mph. I like Garrett Cooper. Seems like a nice guy. But it's nice to have a righty platoon bat who can hit for power.
Big Stoppa
The Yankees are now a perfect 8-0 when CC Sabathia starts following a Yankees' loss this season, and in those eight starts, Sabathia has a 1.46 ERA and is averaging 6.1 innings per start. The big man has stepped up and stopped (potential) losing streak after (potential) losing streak this year. He did it again Saturday night.
Against the Red Sox, Sabathia showed zero ill-effects from his recent knee trouble, and cruised through four scoreless innings on only 42 pitches. The Red Sox finally broke through for two runs in the fifth and it was a stupid little rally. A walk (Xander Bogaerts), a soft line drive single (Rafael Devers), a run-scoring tapper to second (Sandy Leon), and a run-scoring soft line drive single to left (Bradley) got two runs on the board for Boston.
Sabathia appeared to hit a bit of a wall in the sixth inning, though he was able to strand Mookie Betts at second base following his leadoff double. There was definitely some luck that inning, because Hanley Ramirez smashed a line drive that Frazier dove to grab at third base. Chase Headley also made a nice play hustling to catch a foul pop-up near the dugout for the third and final out. Sabathia's final line: 6 IP, 4 H, 2 R, 2 ER, 1 BB, 4 K. Give me like nine more starts like that this year, CC.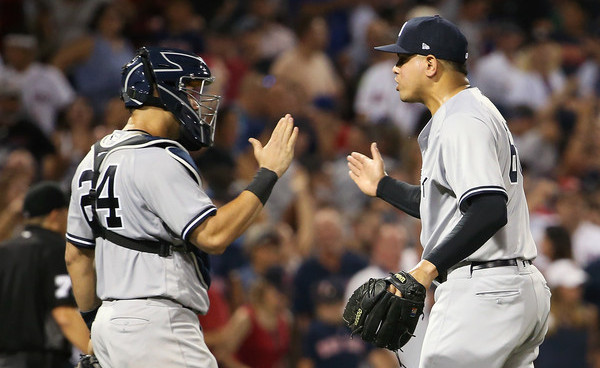 Homegrown Bullpen
With Chapman having been (temporarily?) demoted, the Yankees went with three homegrown relievers to close out Saturday's win. Fortunately, Frazier gave the Yankees an insurance run first. He went down and golfed a Sale slider into the very first row of the Green Monster seats for a solo homer. Can of corn in pretty much every other ballpark. In Fenway Park, it's a homer. Frazier really fits that park well with all the fly balls to right.
Anyway, the 4-2 lead turned into a 4-3 lead two batters into the seventh inning. Adam Warren gave up a solo home run to Devers that hit inside the yellow line in center field, and deflected into the seats behind the bullpens. The ground rules say that's a home run. For real. From the official ground rules site:
Batted ball in flight striking left of line in right-center field at a point above the bullpen and continuing into the bullpen: Home Run.
So what's the point of the yellow line then? Eh, whatever. Warren recorded one more out before giving way to David Robertson, who finished the seventh with a one-pitch out. The eighth inning got a little hairy. The Red Sox loaded the bases with two outs on a strikeout/wild pitch (Andrew Benintendi), a double (Hanley), and an intentional walk (Mitch Moreland). I didn't like the intentional walk. It gave Robertson no margin for an error. A hit batter or a walk ties the game.
Fortunately Robertson is a boss and he struck out Bogaerts on three curveballs, each nastier than the one before it, to end the inning. A nice big fist pump followed. Dellin Betances, the closer du jour, nailed down the save thanks to Gary Sanchez's rocket arm. Leon reached base on a strikeout/wild pitch with one out and, predictably, pinch-runner Brock Holt tried to steal second to get the tying run into scoring position. Everyone runs on Dellin. But Sanchez threw him out. Go look at this throw. Look at it.
Good gravy. That's why you don't move Sanchez to first base or DH, folks. That's why you work and work and keep working with him on his blocking. Gary is a special hitter with a special arm and you keep him at catcher because he's a special player there. Move him to first base or DH and he's just another guy. What an unbelievable throw. Statcast clocked it at 86.4 mph. 86.4 mph!
After that throw, Betances got Bradley to hit a routine fly ball to left field to end the game. That's my closer. The final bullpen line: 3 IP, 2 H, 1 R, 1 ER, 1 BB, 7 K. The walk was intentional. Three relievers came in to nail down an important win and all three came up from the farm system. Yeah, Warren and Robertson spent a little time elsewhere, but they're back in pinstripes now, and I couldn't be happier.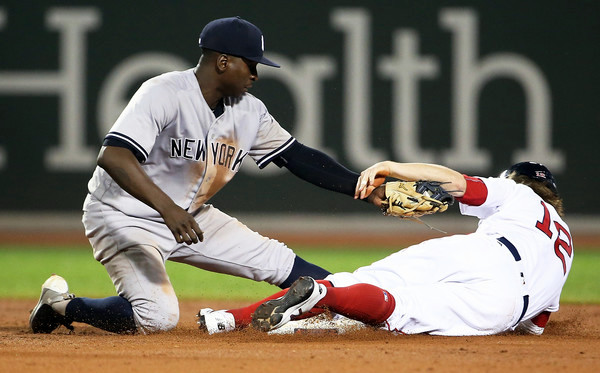 Leftovers
The Yankees won despite the 3-4-5 hitters (Aaron Judge, Sanchez, Headley) going a combined 0-for-12. Judge did draw a walk, but he also struck out three times, including once with runners on first and second and two outs in the eighth. The Yankees ultimately did not need the insurance runs, though they would've been nice.
During that eighth inning rally pinch-runner Jacoby Ellsbury was thrown out at the plate on the stupid contact play that never works because it's stupid and dumb. Austin reached base on a double, Ellsbury pinch-run, and Ronald Torreyes bunted him up. Bunting after pinch-running your fastest pinch-runner is an underrated weird baseball move. Gardner hit a hard-hit grounder to Devers at third, who came home for the out. Womp womp.
Two hits for Gardner and Austin and three for Gregorius. Gardner saw 20 pitches in four at-bats against Sale and didn't swing and miss once. That's impressive. Sale chews up left-handed hitters. Frazier hit his home run and Aaron Hicks hit a pop-up double off the wall. Can of corn turned double. Fenway Park is cool sometimes.
And finally, with his second inning strikeout of former Yankee Chris Young, Sabathia now has more strikeouts than any other left-handed pitcher in AL history. That is pretty ridiculous. Here's the leaderboard coming into this game. Congrats, big guy.
Box Score, WPA Graph & Standings
ESPN has the box score and updated standings and MLB.com has the video highlights. We have a Bullpen Workload page. Here's the win probability graph:

Source: FanGraphs
Up Next
The Yankees and Red Sox wrap-up this three-game series Sunday afternoon. That's a 1:30pm ET start. Sonny Gray and Rick Porcello are the scheduled starting pitchers.