This one really got out of hand quick. A cavalcade of errors by the Mariners in the bottom of the first put the Yankees ahead for good and gave them breathing room en route to the series win. That breaks a skid of 10 straight losses in rubber games and they did it without needing the backend of their bullpen.
Fly like an E-6
The game was wild from the start. The Mariners took a 1-0 lead after a half inning after stringing three hits together,(more on that later), but the Yankees quickly fought back with plenty of help from the lackluster M's defense.  Lackluster is putting it lightly. Let's go to the play-by-play.

(1) After Starlin Castro doubled, Gary Sanchez lined a single into left field. It was easily going to score Castro, but former Yankee Ben Gamel let the ball get through him and roll towards the auxiliary scoreboard. That gave Sanchez second base and
(2) Jean Segura may have had the worst first inning of his career. He made an out to start the game and this was his first of three (!) errors as he misplayed Didi Gregorius' pop-up. It was an easy ball and should have easily been Andrew Albers' second out. Instead, bases loaded with one away.
(3) Chase Headley bought off three 0-2 pitches before grounding one right to Kyle Seager. It was going to easily be an out at third base, if not a 5-5-3 double play, but Seager couldn't corral the ball. He just needed to come up with the ball and take a few steps to his right for an easy force, but alas, it was one of those days for the Mariners' defense.
(4) Todd Frazier struck out with the bases loaded, something he seems to have done a few too many times this series. But the Mr. Clutch Jacoby Ellsbury got his third hit with runners in scoring position of the last two days, lining a ball into left-center field.
And that's when everything went haywire for Segura.
It easily scored two runs, but Segura dropped the throw in by Gamel, committing his first error of the play as Headley ran home. The Mariner shortstop tried to catch Headley at home but his throw got by Mike Zunino, allowing Ellsbury to reach third. Ronald Torreyes knocked him in with a bloop single.
That's all five errors. Aaron Hicks made two outs in the inning and had an error in the top of the first, although it didn't cause the one run to score. And it was nowhere near the worst first inning for anyone. That's got to be a tie between Segura and Albers, who had to get five outs against a potent Yankees lineup.
It was the first time since July 1977 that a team made five errors in one inning. What a mess!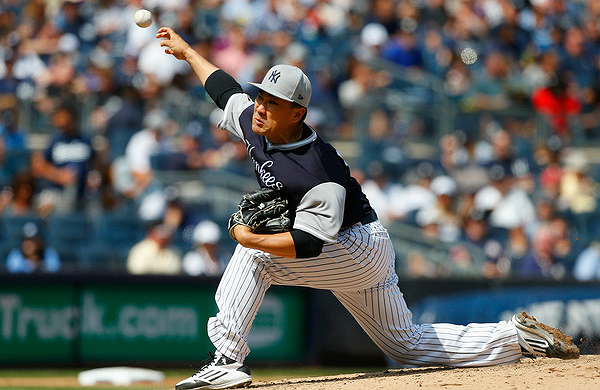 Back to Ace Tanaka
Four batters into the game, Tanaka seemed like he may be heading towards a tough one, allowing hits to Yonder Alonso, Robinson Cano and Nelson Cruz, the last one an RBI double. However, he rebounded with a strikeout of Kyle Seager before inducing a fly out to escape further damage.
After that, he pitched with a lead and did so quite well. He had only two 1-2-3 innings (2nd and 7th inning) but had some of his best stuff. His breaking pitches were doing exactly what he wanted as he struck out 10 batters. He allowed just three fly outs compared to eight ground-ball outs. That's precisely what he needs to do.
The Cruz strikeout was his only one looking while the rest were swinging. He ran into trouble in the fifth with back-to-back singles before falling behind 3-0 on Segura. He threw two straight four-seamers for strikes before getting him to whiff on a slider. Two groundouts to the right side later and he was out of trouble, still leading 7-1.
Tanaka's ERA is down to 4.69 and he has a 2.92 ERA in his 11 starts. In that stretch, he's struck out 79 batters in 71 innings. He's making his early season hijinks look more and more like a fluke than a permanent step back.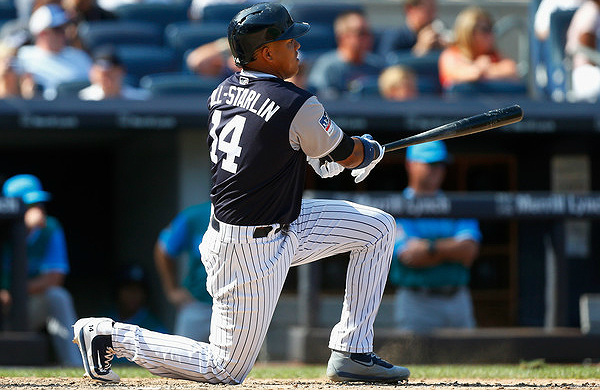 Leftovers
Starlin Castro is back in full force. As the DH, he went 4 for 4 with a double in four plate appearances. He got things started in the first and knocked in a run in the third with a bloop single. He didn't get a chance for a fifth hit as Greg Bird pinch hit for him in the seventh with the bases loaded. Bird came through with a two-run single.
The Yankees' other run came on a Headley sac fly with the bases loaded that turned into a double play. Sanchez got caught off second base not expecting the cutoff and was gunned down in a 8-3-6 DP.
Nearly everyone got in on the party. Ronald Torreyes had three hits and is now batting .302 on the season. Sanchez and Ellsbury had two hits each while Aaron Judge (double), Hicks, Gregorius and Bird each had one. Judge had two walks while Sanchez and Frazier had one each. Headley had the sac fly and another line drive that nearly got over Gamel's head.
Frazier made an error to start the sixth, but Tanaka got the Mariners in order with two strikeouts and an easy grounder afterward.
Caleb Smith pitched two easy innings out of the bullpen in relief of Tanaka and was the only reliever for the Yankees. Only needed 20 pitches to do so while striking out one. Perhaps the best he's looked in his limited appearances this year.
Joe Girardi was ejected in the third inning after the umpires bungled a clear interference play. With a runner on first and one out, Robinson Cano hit an easy double play ball to Headley, who turned to throw Segura out at second. Segura clearly stepped out of the baseline to try and block the throw before continuing to slide towards Gregorius to break up the double play. Headley dropped the ball at first. Take a look at the play.
The umps reviewed it but kept the call on the field, leading to Girardi's ejection. Segura interfered with the play twice and it was baffling how the play wasn't ruled a double play. Tanaka struck out Cruz looking right afterwards, so it wasn't a huge deal. Still, a bad call leads to Girardi's second ejection in four games.
Lastly, this is the first time the Yankees have scored 10 runs this season without hitting a home run. How about that?
Box Score & Standings
Go to ESPN for the box score and updated standings, the MLB.com for the video highlights. Here's our Bullpen Workload page.
Up Next
The Yankees will continue their 10-game homestand with a three-game set against the Cleveland Indians on Monday night. It'll be a marquee pitching matchup with AL Cy Young favorite Corey Kluber faces Luis Severino in a 7:00 start. And they'll begin play Monday just 2.5 games back of Boston, which was swept by Baltimore.