Meh. That was one of those unremarkable games every team will play about 40 of each season. It'll soon disappear into the giant blob of baseball we all forget each season. Maybe Paul George will remember it. YES showed him sitting in the stands during the broadcast enough times. The Yankees dropped Tuesday night's game 4-3 to the Tigers.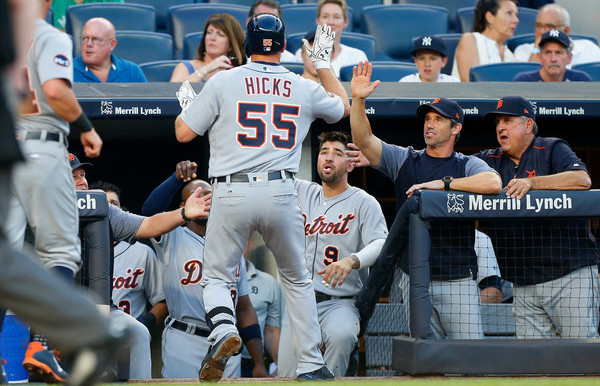 Sabathia's Bad Inning
Pretty amazing CC Sabathia managed to get through six innings given the way things unfolded early. And the Yankees really needed those six innings too. The bullpen has been worked pretty hard of late. Sabathia allowed three runs in the second inning, all on one swing of the bat, and only one run in his other five innings. Those One Big Innings, man. I guess you kinda have to expect them in a small park.
Anyway, the second inning rally was kinda dumb. Miguel Cabrera lifted a jam shot bloop into center field, then Nick Castellanos pulled a well-located grounder just inside the third base bag for a double to put runners on second and third with no outs. Exit velocity on the Miggy bloop: 71.8 mph. Exit velocity on the Castellanos double: 78.1 mph. Not exactly scalded, you know?
The biggest problem that inning was not the Cabrera bloop or the Castellanos double. It was Sabathia not being able to put John Hicks away. John Hicks! He fouled off four two-strike pitches — four! — to extend the at-bat before Sabathia caught just enough of the plate with a backdoor slider …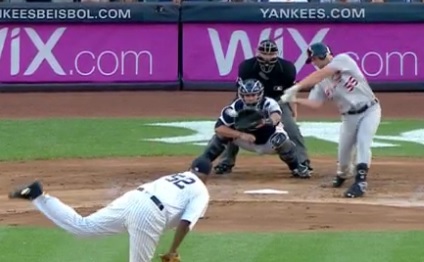 … which Hicks lifted two rows back into the short porch for a three-run home run. I mean, it's John Hicks. He's a 27-year-old rookie who hit .269/.281/.428 (90 wRC+) in Triple-A prior to being called up before the game. Gotta put that guy away for the second out and give yourself a chance to escape the inning. Or at least hold him to a sac fly or a run-scoring ground out, something like that. Limit the damage.
Sabathia's final line: 6 IP, 6 H, 4 R, 4 ER, 1 BB, 3 K on 97 pitches. He had words with home plate umpire Mike Estabrook a few times because he thought he was getting squeezed, particularly on backdoor sliders — Sabathia thought he had Hicks struck out on a backdoor slider earlier in that at-bat — and you know what? Later in the game the plate opened up a bit. A little too late though. Getting beat by John Hicks is: annoying.
Gregorius Is Glorious
Great night for Didi Gregorius and not such a great night for the rest of the offense. Anibal Sanchez and his 6.18 ERA (5.16 FIP) were out there throwing cement mixers all game — Sanchez's average fastball: 89.7 mph — and the Yankees could only get to him for two runs in 6.2 innings. Those two runs came on Didi's fourth inning homer into the short porch. Gary Sanchez doubled as the previous batter.
The Yankees scored their other run on a Gregorius single in the eighth. Sanchez singled and moved to second when Justin Upton misplayed the ball in left field. Tigers manager Brad Ausmus lifted (Anibal) Sanchez for the lefty Daniel Stumpf and Gregorius jumped all over his first pitch for a line drive to right. Sir Didi went 2-for-4 with the homer in the game and is now hitting .303/.330/.506 (119 wRC+) this season. His seven home runs since the All-Star break are the most in baseball. For reals.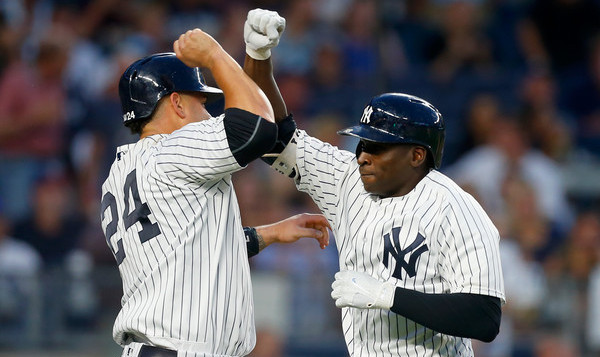 As is the case in most one-run losses, the Yankees had some chances to score but failed to capitalize. Most notably, they had a runner at third with no outs in the third inning and did not score. Tyler Wade started the inning with a double and moved to third on a wild pitch. Ground out (Brett Gardner), pop-up (Clint Frazier), ground out (Aaron Judge). Gross. Second time in what, three days the Yankees had a man on third with no outs and didn't score?
The Fighting Spirit kicked in in the ninth inning and the Yankees did get the winning run into scoring position. Jacoby Ellsbury pinch-hit for Wade with two outs, worked a good walk, then advanced all the way to third when Shane Greene threw away a pickoff throw. The Tigers intentionally walked Gardner — intentionally walked the winning run! — and he immediately stole second without a throw. Alas, Frazier flew out to end the game. Drat.
Leftovers
Gardner threw a runner out at the plate in the eighth inning to save David Robertson a run and keep the Yankees within one. Robertson struck out two and allowed three little singles in his inning. Adam Warren walked a batter in his two otherwise uneventful innings. The rest of the bullpen got to rest, so that's good.
Matt Holliday did a thing! Two things, actually. He had a single to left in the second and a double off the wall in the sixth. That was the hardest he's hit a ball since taking Craig Kimbrel deep. Gregorius, Sanchez, and Holliday each went 2-for-4. So the 4-5-6 hitters went 6-for-12 and the rest of the Yankees went 2-for-22. There's yer ballgame.
And finally, this was Sabathia's 500th career regular season start, so congrats to him on the milestone. Sabathia and Tom Glavine are the only pitchers in history to start their careers with 500 starts and zero relief appearances.
Box Score, WPA Graph & Standings
ESPN has the box score and updated standings, and MLB.com has the video highlights. Don't miss our Bullpen Workload page either. Here's the win probability graph:

Source: FanGraphs
Up Next
The homestand ends Wednesday afternoon — that's a 1pm ET getaway day start — and the Yankees will try to win the series in the rubber game. Masahiro Tanaka and Jordan Zimmermann are the scheduled starting pitchers. RAB Tickets can get you in the door if you want to catch the Yankees before they go out on an eight-day road trip.