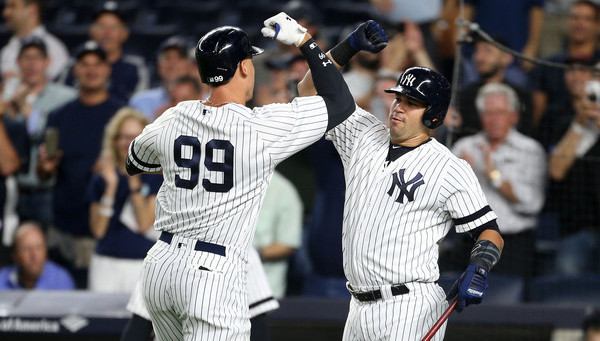 You know, I incorrectly labeled yesterday's game thread Game 149 instead of Game 150, and either no one noticed or no one bothered to tell me so I could correct it. Not sure what's worse, to be honest.
Anyway, the Yankees and Twins are back at this evening, with the second game of their three-game series. The Yankees won the opener last night, giving them a five-game lead over Minnesota for the top wildcard spot. The race isn't over, but a five-game lead with 12 games to play? I like the Yankees' chances. Here is the Twins' lineup and here is the Yankees' lineup:
LF Brett Gardner
RF Aaron Judge
C Gary Sanchez
SS Didi Gregorius
DH Chase Headley
2B Starlin Castro
CF Jacoby Ellsbury
3B Todd Frazier
1B Greg Bird
LHP CC Sabathia
It's raining sideways in New York. Lots of rain and lots of wind. The rain is supposed to slow down a bit before first pitch, though it's not supposed to stop completely for another hour or two. We might be starting in a delay. Yuck. Tonight's game is scheduled to begin at 7:05pm ET and you'll be able to watch on YES locally and ESPN nationally. Enjoy the game.
Rotation Update: Luis Severino, not Masahiro Tanaka, will start tomorrow's series finale. This gives the Yankees the option of starting Severino three times before the end of the regular season, which could come in handy if they're in position to win the division. Make sense.
Update (6:50pm ET): The game will indeed start in a rain delay. No word on a start time yet.
Update (7:36pm ET): The field is being de-tarped and the Yankees say the game will start at 8:10pm ET.