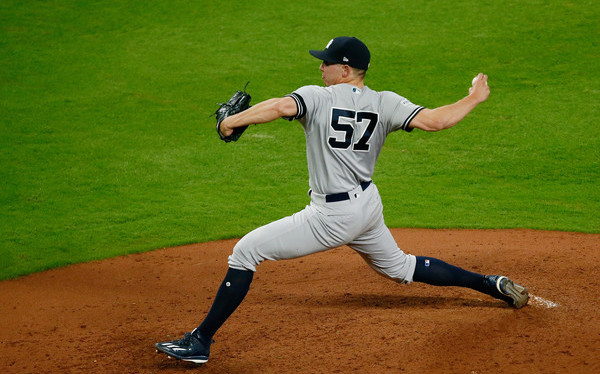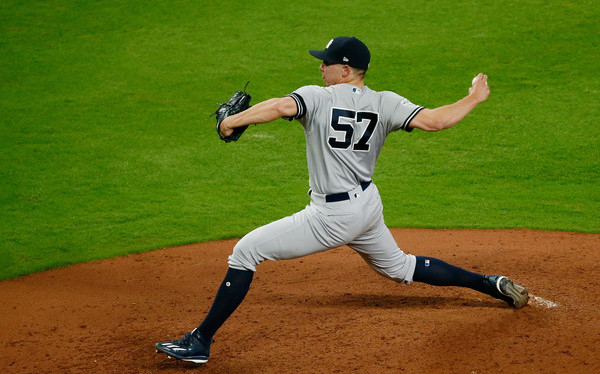 Sadly, the 2017 Yankees season came to an end Saturday night, with a loss to the Astros in Game Seven of the ALCS. On one hand, falling one win short of a World Series spot sucks always and forever. On the other hand, the 2017 Yankees were a pretty awesome team. I haven't had this much fun following the Yankees in a long time. I won't forget this season.
Back in March, four days before Opening Day, I made ten bold predictions for the 2017 Yankees season. And now that the season is over, it's time to go back and see how I did. One thing this exercise taught me: I need to go bolder next year. Most of this year's bold predictions were more mild than bold. Eh, whatever. This was my first crack at this. Now I know better for next season. To the bold predictions review!
1. Pitchers not currently on the 40-man roster will combine for 30+ starts.
Yeah, I probably should've gone with something like 50+ starts instead of 30+ starts if I wanted to be bold. Here is the games started leaderboard among players who were not on the 40-man roster as of the bold predictions post:
Jordan Montgomery: 29
Sonny Gray: 11
Jaime Garcia: 8
Caleb Smith: 2
That is 50 starts — 50 starts! — by pitchers who weren't on the 40-man roster at the end of Spring Training. Nearly one-third of the season. The Yankees had some serious questions at the back of their rotation this year, though I figured guys like Luis Cessa, Bryan Mitchell, and Chad Green would get most of the chances to fill in since they were already on the 40-man. That didn't happen. Cessa, Mitchell, and Green combined for seven starts this season — five by Cessa and one each for Mitchell and Green.
2. Judge finishes in the top three of the Rookie of the Year voting.
Well, technically we don't know the answer to this yet since the awards haven't been announced yet, but yeah. Aaron Judge is going to be named AL Rookie of the Year. It should be unanimous, but you never know. The rookie WAR leaderboard:
Aaron Judge, Yankees: +8.2
Cody Bellinger, Dodgers: +4.0
Paul DeJong, Cardinals: +3.0
Matt Chapman, Athletics: +2.7
Jordan Montgomery, Yankees: +2.7
If Judge doesn't win AL Rookie of the Year, it'll be a travesty.
3. A pitcher other than Tanaka, Betances, and Chapman makes the All-Star Team.
I am 3-for-3 so far. Luis Severino made the All-Star Team this season. And he made it clean. He wasn't an injury replacement or a Final Vote guy or anything. He was an original member of the AL All-Star roster. In the bold predictions post I guessed Michael Pineda would be the pitcher other than Masahiro Tanaka, Dellin Betances, and Aroldis Chapman to make the All-Star Team. I don't know why anyone listens to me.
4. Green emerges as the next great Yankees reliever.
I am proud of this one. I believed Green had the tools to be a very effective reliever, mostly because his fastball generated so many swings and misses, even as a starting pitcher last season. His slider is just okay and his changeup basically doesn't exist. I figured he'd eventually end up in the bullpen at some point, impress while airing it out for an inning or two at a time, and eventually enter the Circle of Trust™. That is pretty much exactly what happened. I'd be lying if I said I expected Green to be this good, but I had a feeling there was a potentially dominant reliever hiding in there somewhere. This is why people listen to me, I guess. Every once in a while I luck into looking smart.
5. Neither Sanchez nor Bird will lead the Yankees in home runs.
Remember Greg Bird's Spring Training? He was a monster and it looked like he was about to have a huge season. That's why I included him in this bold prediction. Obviously the ankle injury changed things. Gary Sanchez was ridiculous during his two-month cameo last year, and pretty much everyone expected him to be the team's best hitter this summer. The 2017 Yankees home run leaderboard:
Aaron Judge: 52
Gary Sanchez: 33
Didi Gregorius: 25
Brett Gardner: 21
Matt Holliday: 19
In the bold predictions post I picked Starlin Castro to lead the Yankees in homers in 2017. For real. Here's what I wrote:
I'm boldly predicting Sanchez and Bird will finish second and third on the Yankees in home runs, in either order. Judge could sock 25+ dingers, which would probably be enough to lead all rookies, though I don't think he'll lead the Yankees either. Not Matt Holliday or Chris Carter either. My pick? Starlin Castro. Boom. Castro turned 27 last week and is at the age where maximum power output could be reasonably expected. He set a career high with 21 dingers last year, and now that he's entering his second year with the Yankees and is presumably more comfortable with things, I'm saying he'll get to 30 this year.
Castro finished sixth on the team with 16 home runs, though he spent two stints on the disabled list with hamstring injuries. Otherwise he would've cleared 20 homers easily, maybe even 25. And he still wouldn't have been even halfway to Judge. Yeah, technically I got this bold prediction right, but the Castro pick is kinda embarrassing. I'm ashamed.
6. The Yankees do more buying than selling at the trade deadline.
Remember when we were all talking about the Yankees as sellers? Good times. The Yankees sold at last year's trade deadline, and they weren't projected to be all that good this season, so of course we thought they might sell again. Tanaka, Betances, Holliday, Gardner, and others represented potentially tradeable pieces.
Ultimately, the Yankees bought at the trade deadline with two big trades and one smaller deal. A quick recap:
Tyler Clippard, Blake Rutherford, Tito Polo, and Ian Clarkin to the White Sox for Todd Frazier, David Robertson, and Tommy Kahnle.
James Kaprielian, Jorge Mateo, and Dustin Fowler to the Athletics for Sonny Gray and international bonus money.
Dietrich Enns and Zack Littell for Jaime Garcia.
Don't forget about the Tyler Webb for Garrett Cooper blockbuster. All buying, no selling.
7. Ellsbury, not Gardner, is the outfielder traded away.
Nope. Neither was traded away. The outfielder traded away was, uh, Fowler? Poor Dustin. His injury was definitely the worst moment of the season. Once the injury happened, part of me hoped the Yankees would make the postseason and invite him to throw out the first pitch at some point. That would've been cool. The Yankees traded him instead. This business is cruel.
8. Rutherford will take over as the No. 1 prospect in the organization.
Nope. Rutherford was traded too, so he can't be the No. 1 prospect in the organization. That said, even if he hadn't been traded, he wouldn't have taken over as the top prospect, even with Gleyber Torres blowing out his non-throwing elbow and needing Tommy John surgery. Rutherford did not have a good season overall:
With the Yankees: .281/.342/.391 (113 wRC+) with two homers, 18.1 K%, 8.2 BB%
With the White Sox: .213/.289/.254 (63 wRC+) with no homers, 15.4 K%, 9.6 BB%
Overall (all at Low-A): .260/.326/.348 (98 wRC+) with two homers, 17.3 K%, 8.6 BB%
I certainly wouldn't give up on Rutherford based on a disappointing first full season as a pro. The kid is still incredibly talented and it could click next year. He's not a better prospect than Torres though. This bold prediction didn't come true. (MLB.com currently ranks Gleyber as the top prospect in baseball with Rutherford sitting at No. 39, for what it's worth.)
9. The Yankees will have the most productive DH spot in baseball.
For the first two and a half months of the season, this one was looking pretty good. Holliday had a fantastic start to the season. Then he got sick and just stopped hitting in mid-June, two things that may or may not be related. Here is where the Yankees ranked among the 15 AL teams in DH production:
AVG: .235 (11th)
OBP: .327 (4th)
SLG: .429 (5th)
OPS+: 105 (3rd)
HR: 28 (5th)
The Mariners had the most productive DH spot pretty much across the board thanks to Nelson Cruz. They were first in AVG (.288), first in SLG (.547), first in OPS+ (148), first in homers (39), and second in OBP (.374). Only the Indians were better in OBP (.391).
10. The Yankees will spend more days in first place than last year.
I kinda cheated with this one. The Yankees spent zero days in first place last year. They didn't win the AL East this season, though they did spend 62 days in first place, more than 2013 (17 days), 2014 (24 days), and 2016 (zero days) combined. (They spent 100 days in first place in 2015.) I closed the bold predictions post with this:
Even with the questions at the back of the rotation, I believe this team is better than last year, and it'll show when they get off to a better start in April. They've had some trouble keeping their head above water early on the last few seasons.
The Yankees went 15-8 with a +43 run differential in April, the best record in the AL. And off they went.