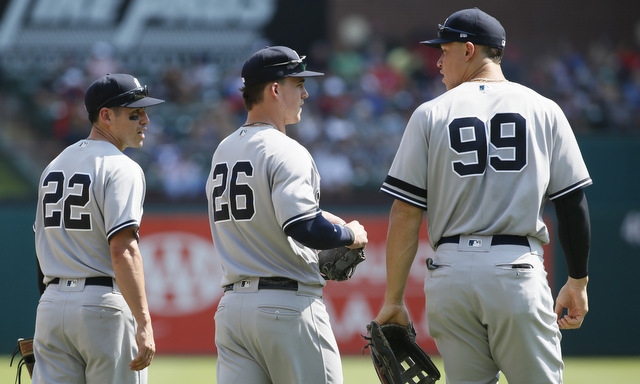 Tomorrow is the deadline for teams to offer contracts to their pre-arbitration and arbitration-eligible players. It's the non-tender deadline. A brand new batch of free agents will hit the market, though there's a reason these guys become free agents. They get non-tendered because they're damaged goods (injured pitchers, usually) or their salary has eclipsed their on-field worth. Anyway, I have some thoughts, so let's get to 'em.
1. Might as well start with the non-tender deadline. The Yankees do not have any obvious non-tender candidates. MLBTR listed Austin Romine as a non-tender candidate, though I do not get the sense the Yankees are eager to make a change at backup catcher. I suspect their internal defensive metrics indicate Romine is a heck of a lot better than the public metrics and the eye test would leave you to believe. Plus he seems like a genuinely good dude and the Yankees value having a good clubhouse. Maybe they'll do the non-tender/re-sign to a minor league deal trick to clear up a 40-man spot? I think Kyle Higashioka (optionable catcher with power) and Gio Gallegos (optionable reliever with great Triple-A numbers) would find Major League deals elsewhere, so they're not non-tender/re-sign candidates. I mean, if Colten Brewer got a Major League deal, Gallegos would too. Maybe the Yankees can do it with Tyler Austin? Free agency is always flooded with first base types, plus Austin knows he's always another Greg Bird injury away from a call-up. My guess is Austin would look for a fresh start elsewhere. The non-tender deadline figures to pass tomorrow without the Yankees doing much of anything. They'll probably tender all their players and that'll be that.
2. Bold prediction: the Yankees will have their managerial search wrapped up by the end of next week, then they'll hold the introductory press conference at the Winter Meetings the following week. That gives them this week and next week to wrap up the first (New York) and second (Tampa) rounds of interviews and make a decision. Is it weird that naming a manager six weeks after canning the old manager qualifies as a bold prediction? It kinda is. The managerial search has been shockingly slow-moving. The GM Meetings and Thanksgiving slowed things down a bit, for sure, but the Yankees do seem to be taking their sweet time with this. Like I said two weeks ago, I don't see the prolonged managerial search as a bad thing. Or even as a good thing. It's just a thing. I do think the longer it goes on, the worse it looks. The optics are bad. It makes the Yankees look indecisive, and look like they're having a hard time finding a qualified candidate. I've seen plenty of "the Yankees screwed up when they fired Joe Girardi without having a replacement in mind!" comments on social media and whatnot. I don't agree with that — how often does a team fire a manager and have his replacement already picked out anyway? — though that's the sentiment. It looks bad. Hopefully the Yankees wrap this up soon, pick a great manager, and we can all move on to bigger and better things.
3. I think Brian Cashman not having a contract is weirder than the Yankees not having a manager at this point. Hal Steinbrenner said Cashman is working on what amounts to a handshake agreement during the owners' meetings two weeks ago, and that's the last update we received. There's no reason to think Cashman won't be back though. He's running the managerial search — Hal wouldn't let Cashman do that if there were any chance he wouldn't be back — and the Yankees sent out a press release this week promoting Cashman's annual rappel down the Landmark Building in Stamford as part of the Heights & Lights Festival, so they certainly aren't acting like Cashman might leave. Cashman and Hal are probably haggling over money. Cashman might be pushing for Theo Epstein money ($10M+ annually) and Hal is countering with Andrew Friedman money ($7M annually). Something like that. It's just weird this is taking so long. Cashman's previous contracts always came together fairly quickly. This one is dragging out for some reason, and that it's happening at the same time as the prolonged managerial search makes it a little curious.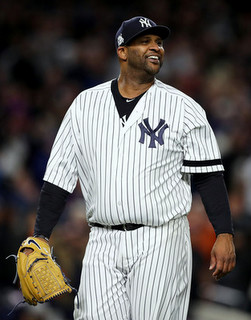 4. My hunch coming into the offseason was that the Yankees and CC Sabathia would hammer out a new contract fairly quickly, though that hasn't happened. I still think Sabathia is coming back though. It makes too much sense not to happen. He's still effective and he doesn't want to leave while the Yankees could use the rotation depth and wouldn't have to worry about any sort of adjustment period. The fact he should come fairly cheap helps too. Still no deal though. Two things about that. One, there has been very little free agent activity overall this winter, so it's not like everyone else is signing while Sabathia sits and waits. And two, I get the feeling a "CC we really want you back, but we need to take care of some other stuff first, so let's touch base in a few weeks" conversation has already taken place. The Yankees need to hire a new manager, build a new coaching staff, re-sign Cashman, and work through Shohei Ohtani's rapid fire free agency. Once they do that, they can circle back to Sabathia and hammer out a deal. I think he's coming back. I hope he comes back. CC is the man.
5. Spin rate, particularly curveball spin rate in the wake of Tom Verducci's article on the Astros, is all the rage these days — you are forewarned, there might be a "the Yankees and their use of spin rate" post coming at some point — so I've been toying around with Statcast leaderboards the last few weeks. One-hundred-and-seventy-five pitchers threw at least 150 curveballs this season. Here's where various Yankees (and one ex-Yankee) rank in average curveball spin rate:
9. Sonny Gray: 2,890 rpm
10. Jonathan Holder: 2,879 rpm
19. Dellin Betances: 2,807 rpm
23. Jaime Garcia: 2,797 rpm
37. Bryan Mitchell: 2,725 rpm
45. David Robertson: 2,685 rpm
(MLB average: 2,489 rpm)
One, I'm surprised Robertson does not rank higher. Two, is it a coincidence the Yankees acquired two (three, really) curveball spin rate darlings at the trade deadline? Surely availability had something do with it — only five starters were traded in the week prior to the deadline (Gray, Garcia twice, Yu Darvish, Jeremy Hellickson, Trevor Cahill) — but Gray and Garcia seem to fit the mold. Three, is Mitchell's curveball spin rate the reason he wasn't a 40-man roster casualty prior to the Rule 5 Draft protection deadline? He's been pretty bad in the big leagues overall (4.94 ERA and 4.26 FIP in 98.1 innings) and he'll be out of minor league options next year, yet he's still on the 40-man. And four, Holder's spin rate and minor league performance is probably going to keep getting him chances. Spin rate isn't everything — many of the curveball spin rate leaders the last two years are pretty crummy pitchers — but it is clearly something teams value. I don't think it is any way a coincidence so many Yankees who use a curveball as their primary secondary pitch have such high spin rates. (Notable exception: Jordan Montgomery and his below average 2,375 rpm curveball.)
6. I've been thinking a lot about the Collective Bargaining Agreement and the MLBPA lately given all the Ohtani stuff. For all intents and purposes, baseball has a salary cap. The new luxury tax rules are so harsh — teams can be hit with a luxury tax rate as high as 95% under certain conditions — that no owner will ever allow the front office to get close to that threshold, so it's effectively a salary cap. Draft and international spending is capped now too. Everything is capped and somehow the union let it happen. Good luck uncapping it. I think one of the MLBPA's top priorities during the next round of CBA talks (beyond hiring an actual labor professional to represent them) is getting the minimum salary raised substantially. Teams are building around young players and eschewing big money free agents more than ever, so make sure those young players get paid. The league minimum will be $545,000 in 2018. It was $490,000 five years ago. That's an 11% increase. Meanwhile, MLB revenues went from $8 billion five years ago to north of $10 billion this year. That's more than a 25% increase. Get the young players their piece of the pie. The minimum salary will be $555,000 in 2019, then players will get cost of living adjustments in 2020 and 2021 before it's time to bang out a new CBA. I'd like to see the MLBPA push for a minimum salary closer to $1M. Push for $1M and settle for like $750,000 or so. The more young players make early in their careers, the less likely they are to sign long-term extensions, and that means more talent gets pumped back into free agency, which raises salaries for everyone.