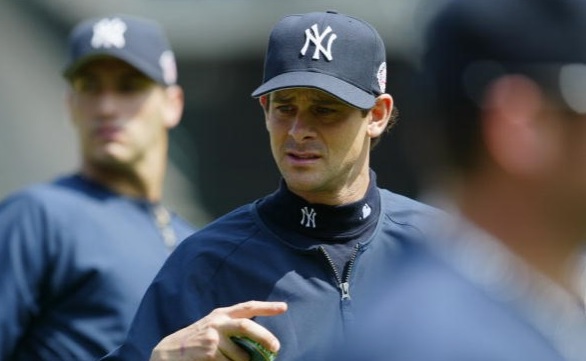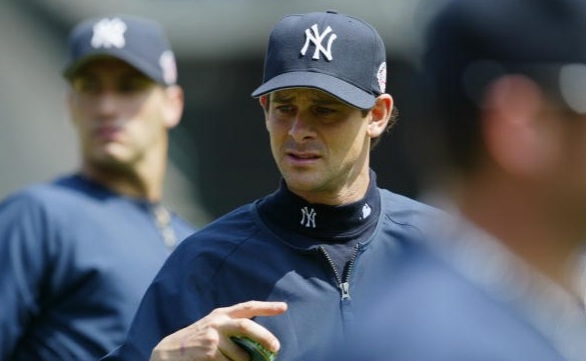 In a few hours the Yankees will hold an introductory press conference for new manager Aaron Boone, who we learned got the job last Friday. You'll be able to watch the press conference live on YES and Yankees.com at 12pm ET. Needless to say, this is a significant change. The upstart Yankees are going from veteran skipper in Joe Girardi to a neophyte in Boone. The manager situation is almost a microcosm of the roster. Out with the old, in with the new. Anyway, I have thoughts on all this, so let's get to 'em.
1. News broke the Yankees would name Boone their manager Friday night, and the word of the weekend was "risky." It's a risky hire. The Yankees made a risky move. It's a risky decision. Blah blah blah yadda yadda yadda. Of course hiring Boone is a risky decision. This was always going to be a risky decision, no matter who the Yankees hired. Realistically, who could the Yankees have hired to make this whole thing not be considered risky? Maybe luring Terry Francona away from the Indians would've done the trick? Parting ways with Girardi and going forward with literally anyone else as manager was risky. I don't see Boone as any more risky than any other managerial candidate, even with the lack of experience. Hire an experienced manager and you're hoping he learned from his previous managerial stint (from which he was fired, of course). Hire an inexperienced manager and you don't really know what you're going to get. There's always risk, and with Boone, the focus has been on the negative (he might suck) rather the positive, specifically the fact he is a very bright and personable guy who grew up in the game and is enthusiastic about taking on the challenge of managing in New York.
2. When teams change managers, they have a tendency to bring someone in who is the exact opposite of the guy they just fired. The Mets and Phillies went from the old school Terry Collins and Pete Mackanin to the very new school Mickey Callaway and Gabe Kapler this offseason, respectively. The Tigers moved on from Brad Ausmus, an analytics guy and former front office dude, and brought in the thoroughly unspectacular Ron Gardenhire. The Yankees replaced the intense and meticulous Girardi with Boone, who by all accounts is much more laid back and open-minded. Girardi was high-strung and he wore it on his face, you could see if every time the Yankees played a remotely important game, and I think that tends to wear on a team after a while. That shouldn't be a problem with Boone. He's outgoing and he's got a great sense of humor (have you seen his impressions?). I'll be very surprised if we see Boone in the dugout wearing that same strained look Girardi wore so often the last decade.
3. "Communication" was the buzzword during the managerial search, and if you're judging Boone's communication skills on his broadcasting, just stop. Broadcasting a game for a national audience is waaay different than communicating with players one-on-one. Informing the audience is not the same thing as a manager forming a professional (and personal) relationship with his players. Basically everything I've read about Boone the last few days (like this, this, this, this, and this) indicates he is very relatable and the kind of person who gets along with everyone. He'll joke around with the media — that'll be a nice change of pace from Girardi, who enjoyed speaking to the media about as much as I enjoy a subway platform on a nice and toasty August afternoon — and keep his players loose, and that's important. The Yankees bought into his communication skills and ultimately, that's all that matters. Just don't judge those skills by his broadcasts. Talking on television and talking to human beings are very different things.
4. Clearly, experience was not a priority for the Yankees. Or for pretty much any team this offseason, for that matter. Six teams changed managers this winter (Mets, Nationals, Phillies, Red Sox, Tigers, Yankees) and five of them hired first time managers. Only the Tigers (Gardenhire) hired a retread. The Yankees interviewed six candidates and only one, Eric Wedge, had prior MLB managerial experience. Boone and Carlos Beltran have zero coaching or managerial experience, and Chris Woodward is relatively new to the coaching game. This is the trend within baseball now. Even Girardi only had one year coaching experience and one year managerial experience under his belt when the Yankees hired him. He wasn't exactly a seasoned vet. Teams don't want Joe Maddon or Terry Francona. They want the next Joe Maddon or Terry Francona. Look at the two World Series managers this year. Dave Roberts and A.J. Hinch have barely more than 1,000 games of managerial experience combined. That's a little more than six full seasons between them. Boone spent the last few seasons speaking to all 30 managers as a broadcaster — and I don't mean those silly mid-game interviews, I'm talking about in the clubhouse and on the field before games — and that's valuable experience. He got to pick the brain of everyone around the league rather than work under one or two managers. Young inexperienced managers are a clean slate. Boone is going to have his own unique managerial style, no doubt, but the Yankees will also be able to mold him into the manager they want because he's not set in his ways. That's what pretty much every team is trying to do these days.
5. I was surprised the Yankees let Rob Thomson get away and join the Phillies as their new bench coach. He'd been with the Yankees since the early 1990s and he'd done basically everything there is to do in the organization. Thomson knew the Yankees inside and out, and he said he wanted to stay even if he didn't get the manager's job. The fact he's now with Philadelphia leads me to believe the Yankees moved on from Thomson, not the other way around. The split seems amicable — "No hard feelings on my part! It's the business. The Steinbrenners and the Yankee organization have taken great care of me for 28 years," said Thomson to Joel Sherman — so I wonder if the Yankees felt they needed such large scale clubhouse change that they let Thomson go in addition to Girardi. Or maybe they didn't want Boone to have to look over his shoulder at a Girardi holdover and someone else who interviewed for the managerial job? I'm not sure. If anything, I thought the Yankees would kick Thomson back up to the front office than let him go completely. I'm surprised. I expected Thomson to stay in some capacity.
6. Speaking of the front office, I think the odds are pretty darn good the Yankees will hire Beltran as a special advisor to Brian Cashman, similar to Hideki Matsui. I think that's why they brought him in for the managerial interview. To show him respect and to show him he's wanted. Matsui has been a special advisor to Cashman for three years now and his duties include, among other things, going around and working with prospects in the minors. I know Beltran said he wants to manage, but going from player one year to manager the next is a huge jump, and was probably never all that realistic. A special advisor role is much less demanding. There's less travel and more time at home with the family, which a recently retired player figures to appreciate. But he also gets to stay in baseball and begin the second phase of his career. Matsui and Beltran are very similar. They are dignified and very highly respected, especially in their home countries, and have a lot of baseball knowledge to offer. The Yankees could bring Beltran aboard as a special advisor with the promise that if a coaching or managerial job opens somewhere around the league, he's free to leave. He can work with players up and down the organization, particularly Latin American players, in the meantime. Beltran is someone worth having in the organization and I think the Yankees let him know they want him during their interview, even if they didn't name him their manager.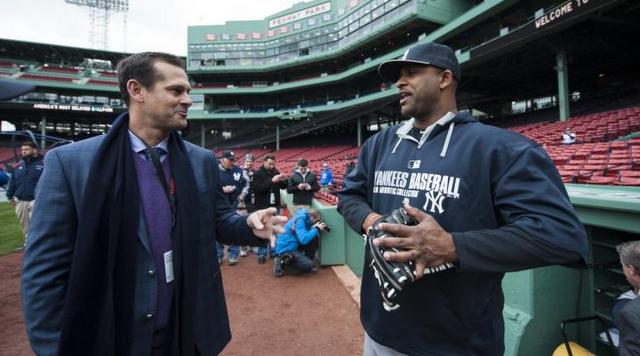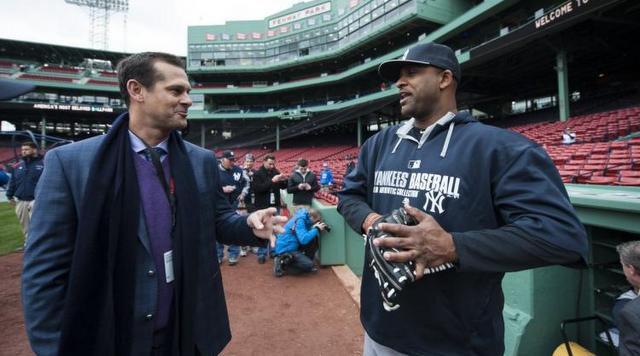 7. Among the six managerial candidates, my personal preference was Hensley Meulens, though I didn't feel strongly about any of the candidates one way or the other. I liked Bam Bam because he has extensive coaching experience. That's basically it. Being able to speak five languages was an obvious plus, though I thought it was getting played up a little too much. There's more to managing than speaking different languages. Meulens has coached for a long time, he's coached under a great manager in Bruce Bochy, and just about everyone who's spent time around him has said he'll make a great manager one day, so that's why I liked him. Then again, Meulens has interviewed for a few managerial openings over the years (including the Tigers this offseason) and didn't get any of them, so maybe he's not as great of a candidate as everything thinks? I dunno. I thought Bam Bam would be the guy and he was my personal favorite for the job, but like I said, I didn't feel all that strongly about any of the six candidates. I thought maybe I would the deeper the Yankees got into the process, but nope. I was mostly indifferent about the whole thing.
8. The next step now is building a coaching staff and I have to think Boone and Yankees will look for a bench coach with managerial experience to help the rookie skipper. I don't think there will be a meaningful difference between Girardi and Boone in terms of on-field strategy. The lineup kinda writes itself, at least through the top six spots or so, and the bullpen is deep enough to survive the rookie manager's learning curve. The front office has a lot of input into that stuff anyway. Boone and the Yankees are still going to want someone in the dugout with experience. Someone who has run a Spring Training before, someone who has seen so many of those weird situations baseball can throw at you. Who are some potential bench coach candidates then? Beats me. Wedge has been mentioned as a candidate — he managed Boone for two years in Cleveland — and he reportedly wants to get back in the managing game, and getting back in the dugout as a bench coach is a step in that direction. Tony Pena is an obvious candidate, but if the Yankees want to move on from Pena like they apparently wanted to move on from Thomson, he won't be an option. Dave Miley managed Boone for a short period of time in 2003 and managed Triple-A Scranton from 2006-15, so he is familiar with the Yankees and vice versa. Could the Yankees hire bench coach Bob Geren away from the Dodgers? They'd probably be able to get Fredi Gonzalez, Boone's former manager with the Marlins, away from Miami. He is currently their third base coach. Robin Ventura (unemployed)? John Farrell (unemployed)? Ron Washington (Braves third base coach)? Bo Porter (unemployed)? I'm looking forward to seeing the coaching staff. Should be interesting.
9. Boone is going to be under the microscope this year because every new manager is under the microscope, though in this case Boone is the inexperienced manager of ready to win Yankees, who will almost certainly be a trendy World Series pick going into 2018. There will be a lot of attention on him. And that's good because it means that much less attention will be paid to Aaron Judge and Greg Bird and Luis Severino and all the other young players who would've been the top story this season had the Yankees kept Girardi. There's some value in that. Anything that makes life easier for your young cornerstone players is a plus. I always thought Alex Rodriguez provided an intangible value by soaking up so much attention that many other Yankees were able to fly under the radar. Don't get me wrong, there will be a ton of attention of Judge and Severino and all the young guys expected to lead the team to a title. As much attention as there would've been without the managerial change? I don't think so.
10. So what number will Boone wear? I imagine we'll find out today. He wore No. 19 during his brief stint with the Yankees as a player, but that's Masahiro Tanaka's number. Boone also wore No. 8 at times in his career. That's not happening either. He wore No. 17 with the Reds all those years, and that's open now with Matt Holliday gone, so I guess that's it? We'll find out. Whatever it is, I hope Boone doesn't adopt Girardi's tradition of wearing the number of the World Series title the Yankees are chasing. Remember that? He wore No. 27 in 2008 and 2009, then when the Yankees won the 2009 World Series, he switched to No. 28 because that was his goal, the team's 28th championship. I always thought that was kind of gimmicky, and when Girardi ended up wearing No. 28 for the final eight years of his tenure, it was a daily reminder that the Yankees weren't achieving their stated goal. The gimmick has run its course. I hope Boone picks No. 17 or whatever and that's that.
11. And finally, no, the Yankees did not hire Boone because of that home run he hit 14 years ago. I know some people out there are thinking it. Did that home run give Boone a level of celebrity he wouldn't have otherwise achieved given his playing career? Absolutely. It helped land him on ESPN, I'm sure. And maybe that helped Boone stay relevant long enough to be considered for a managerial gig seven years after he played his final game. But no, that homer didn't get him the job. If anything, being honest and accountable about blowing out his knee in a basketball game helped Boone get the job. He could've easily made up some story about getting hurt during an offseason workout to keep his 2004 contract — the Yankees voided his $5.75M deal, which would've been the highest salary of his career by $2M — but no, Boone owned up to it. That speaks to his character and I think that stood out to the Yankees. Now, did they hire him because of that? No, of course not. But it was an insight into Boone's character. It was a piece of information that could be used during the hiring process. The home run though? Nope.