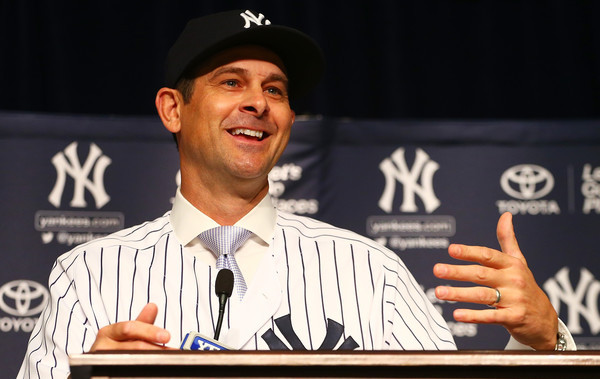 Aside from the Giancarlo Stanton trade, the biggest move the Yankees have made this offseason is replacing Joe Girardi with new manager Aaron Boone. Brian Cashman and the rest of the higher ups felt the team needed a fresh voice in the clubhouse, and a fresh voice they will get. This is Boone's first managerial gig.
Hiring a manager with no prior managerial experience — Boone doesn't even have any coaching experience, he'd been an analyst with ESPN since his playing career ended — is far from unprecedented. In fact, it is business as usual these days. Six teams changed managers this year. Five hired first-timers.
Mets: Mickey Callaway
Nationals: Dave Martinez
Phillies: Gabe Kapler
Red Sox: Alex Cora
Tigers: Rob Gardenhire
Yankees: Aaron Boone
Three of those teams made the postseason this past season and four of them can go into 2018 with a reasonable expectation of competing for a postseason spot, at worst. And yet, they hired rookie managers. The average MLB payroll was just north of $150M in 2017. Teams are putting their nine-figure rosters in the hands of inexperienced managers. Pretty wild.
Why are they doing this? Two reasons, I think. One, front offices are always looking for the next big thing. Hiring Joe Maddon or Terry Francona is the sexy move, but hiring the next Joe Maddon or Terry Francona is the real goal. And two, managers with no experience are essentially a clean slate. Front offices can mold them into the type of manager they want. I'm sure that applies to the Yankees and Boone to some degree.
Of course, hiring a no experience manager comes with a lot of risk. You simply have no idea what you're going to get until the person is put in the position of being a manager. Everyone loved Matt Williams as a player and a coach, then, as soon as he became Nationals manager, he was a disaster. An experienced manager is a known commodity, and the team could help him improve on the things that got him fired from his previous managerial job.
Eighteen teams hired a rookie manager between the end of the 2011 season and the start of the 2017 season. That's a six-year window and it does not include interim managers who were later hired full-time, like Mike Quade and Ryne Sandberg. They took over the Cubs and Phillies, respectively, as interim rookie managers at midseason and were hired full-time after the season. Those 18 teams gave the keys to a first year manager in the offseason.
My original plan was to look at those 18 teams and rookie managers to see how they performed and how the rookie manager's tenured played out, and maybe a pattern would emerge or something. A pattern did emerge, for sure.
Combined actual winning percentage in final year under old manager: .468
Combined PECOTA projected winning percentage in final year under old manager: .513
Combined actual winning percentage in first year under rookie manager: .480
Combined PECOTA projected winning percentage in first year under rookie manager: .488
Here's my spreadsheet. I used PECOTA projections to get an estimate of each team's talent level because that's kinda important. For all intents and purposes, the teams with rookie managers met their PECOTA projection. The difference between the actual .480 winning percentage and projected .488 winning percentage is roughly one win per 162 games, which is nothing.
In the previous year, those same teams under their old manager collectively unperformed their projected winning percentage by more than seven wins per 162 games. That's why the managerial change was made, right? The team underperformed and the front office wanted to shake things up. Among our 18-team sample, eight underperformed their projection by at least ten wins and 15 underperformed their projection in general. The 2011 Cardinals were the only team to beat their projection by more than two wins. They beat it by five wins in Tony La Russa's final season, and he retired after winning the World Series. He wasn't fired.
The teams underperformed under their old manager for whatever reason. The 2014 Rangers were decimated by injuries under Ron Washington. The 2013 Cubs were picked apart at the trade deadline under Dale Sveum. The 2012 Rockies were so thin on the mound they went to a four-man rotation and used tandem starters under Walt Weiss. A team that underperformed replaced their manager, in this case with a rookie skipper, and met projections the next year. That was the pattern. Underperform with the old manager, meet expectations with the rookie. A few more observations.
1. Most rookie managers had a prior history with their team. Click on my spreadsheet and go down the list of rookie managers. Almost all of them had some prior connection to their new team. Mike Matheny played five years with the Cardinals before they hired him in 2012. Sveum was the Red Sox third base coach under Theo Epstein before Epstein hired him with the Cubs. Robin Ventura played for the White Sox. Mike Redmond played for the Marlins. Weiss played for the Rockies. So on and so forth.
Boone, of course, played for the Yankees back in the day, albeit briefly. He hit a big home run and was honest when he blew out his knee playing basketball. Boone could've made up some story about hurting the knee during an offseason workout to keep his contract, but he was honest, and I think the Yankees appreciated that. It says something about his character. That prior connection undoubtedly helped Boone — and the other rookie managers in our little 18-team sample — get their job. They had their foot in the door already.
2. Bo Porter is the cautionary tale. When the mid-tank Astros named Porter their new manager in September 2012, GM Jeff Luhnow had this to say:
"People know Bo is going to be here for a long time. He could be one of those guys who is an Astros manager for decades, not just years. The players knowing that this is the group that's going to be here — it begins to lay the foundation for stability, which is really what we're looking for."
Clearly, Luhnow was very high on Porter. And less than two years later, he fired him. "I made this decision because I believe we need a new direction in our clubhouse," said Luhnow after letting Porter go. The two reportedly had some communication problems leading up to the firing. Their relationship went south quick.
To me, this looks very much like a case of Porter not being the guy Luhnow expected. Luhnow thought he was hiring the next great manager, someone who could take all the fancy ideas the Astros have and implement them on the field, and it didn't play out like that. The two couldn't get on the same page. Porter had no prior managerial experience — he had plenty of coaching experience, but not managerial experience — so as much as Luhnow liked him, he was going in blind. He expected one thing and got another. That's the risk that comes with an inexperienced manager.
3. True zero experience managers are rare. As you know, Boone has no coaching or front office experience whatsoever. He retired as a player, headed to the ESPN broadcast booth, and remained there until being hired by the Yankees a few weeks ago. Pretty crazy. Here's the breakdown of our 18-manager sample:
Coaching experience: 12 (Jeff Banister, Kevin Cash, Andy Green, Chip Hale, Paul Molitor, Porter, Bryan Price, Redmond, Rick Renteria, Dave Roberts, Sveum, Williams)
Front office experience: 5 (Brad Ausmus, Craig Counsell, Scott Servais, Ventura, Weiss)
No front office or coaching experience: 1 (Matheny)
Like Matheny, Boone is going into his new managerial gig blind. He's never coached and he's never worked in a front office. Matheny is the only other guy to do that since the end of the 2011 season, and he's still in the dugout for the Cardinals, so I guess that means he's doing okay? (I know plenty of Cardinals fans who are sick of him, for what it's worth.) The Yankees are asking Boone to do something that is very rare, and they're asking him to do it in the game's largest market. A bold decision, this is.
* * *
I didn't expect to learn much from recent rookie managers, though I did think it was interesting teams more or less met projections with their rookie skipper after underperforming with their previous manager. In that sense, replacing Girardi with Boone is a huge outlier. PECOTA pegged the Yankees as an 82-win team last year, and they wound up winning 91. No other team since 2011 has replaced a manager after that much success (aside from La Russa retiring).
Can a bad manager sink a talented roster? Absolutely. Look at Williams and the Nationals a few years ago. The players were damn near the point of mutiny in the clubhouse. Can a good manager contend with a not so talented roster? Eh, maybe. I'm of the belief managers can do more harm than good. At the end of the day, talent wins out. The players play. I think the most likely outcome this coming season is the Yankees win a lot of games because they're talented, and Boone looks smart because of the players.