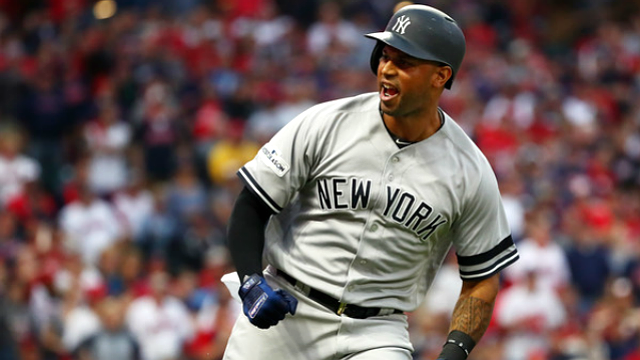 I've been a part time player, so to speak, a lot in my life. Before landing a full-time job in the summer of 2016, I was something of a migrant teacher. In Connecticut, between April of 2013 and June of 2016, I taught in five schools, never for more than a year at a time, as a long-term substitute. I taught every grade from 7-12, with the exception of 8th, going through myriad curricula, from creative writing to world literature, and everything in between. And all the while, I never felt settled until I got my chance at a full time job. If you'll allow me a stretch–as you so often do–the situation I was in is vaguely analogous to that of Aaron Hicks.
After missing all of July and having a very 'meh' return to the field in August and beyond, Hicks is slotted to be the Yankees' center fielder this year from the jump, as opposed to having to play a bench role or usurp an established starter as was the case in 2016 and 2017. Hicks is a switch hitter and a solid defender, bonuses on top of his youth relative to his competition, not counting Clint Frazier (who's not really competition anyway); he still has upside left, unlike Brett Gardner and Jacoby Ellsbury.
Despite appearing in every season since 2013, Hicks has never had more than 361 PA in a season, which he notched both in 2016 and 2017. In 2016, that came in 123 games; last year, it came in only 81, showing the trajectory of his career from bench player into starter. This year, barring injury, he'll pass both of those marks, assuming health.
Hicks brings a patient approach at the plate and adds pop, too. He also plays a good outfield and has a rocket for an arm. This is just about everything you'd want in a center fielder. Additionally, if his Instagram account is anything to be believed, Hicks has worked incredibly hard this offseason to make this a healthy and productive season.
All of this is a long way to say that Aaron Hicks is a player we can all be rooting for to take the spotlight in 2018. Though he can–and hopefully will–produce, the pressure won't necessarily be on him to do so, given the other bats in the lineup. After injuries and waiting in line, Hicks is in a good position to enhance his career and take a big step, just like the club he's a part of.