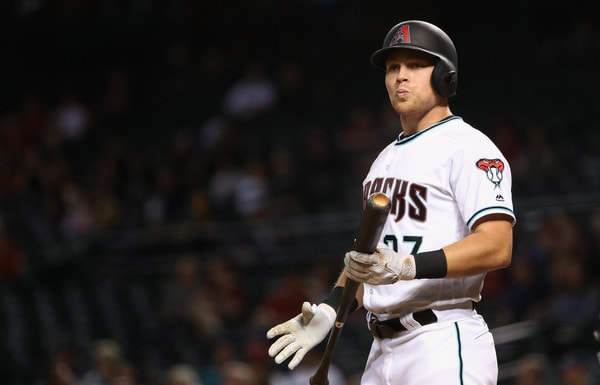 It seemed inevitable the Yankees would get another infielder after trading away Starlin Castro and Chase Headley, and yesterday afternoon, it finally happened. The Yankees acquired Brandon Drury from the Diamondbacks in a three-team trade that sends prospects Nick Solak to the Rays and Taylor Widener to the D'Backs. Hopefully this works out as well as the last time the Yankees got an infielder from Arizona in a three-team deal. Anyway, I have some thoughts on the deal, so let's get to 'em.
1. My official position: I like the trade. Maybe even love it! Not that I think Drury is a budding star or anything, but he fits the roster well, he's young (25) and has some upside, and it didn't cost the Yankees anyone they'll miss. Didn't soak up any precious luxury tax plan payroll dollars either. I mean, the hope was Solak would one day turn into what Drury is now, and when Drury was Solak's age, he was already in the big leagues. The Yankees gave up six years of a potential future Drury for four years of the actual Drury. Widener was the cost of doing business. The Yankees subtracted nothing from their Major League roster and added a versatile young player who adds depth at their two most wide open positions. And, as Joel Sherman notes, the Yankees have an extra layer of insight into Drury because new third base coach Phil Nevin managed him in Triple-A from 2015-16. What's not to like?
2. I've said several times in recent weeks that Neil Walker was my top infield target because he switch-hits, he has a history of getting on base, and he could play the three non-first base infield positions. Drury is the next best thing. He doesn't switch-hit and he won't walk much, but the power is legit …
… and he can play multiple positions. Second and third are his primary positions, though he also has experience at first base and left field, and he can even fill in at shortstop in a pinch. If the Yankees decide Miguel Andujar needs more time in Triple-A, Drury can play third. If they decide Gleyber Torres needs more time at Triple-A, Drury can play second. And if they decide neither needs more time at Triple-A, Drury can be a supersub. He can back up Greg Bird at first base too. Walker was my top target because I thought the lineup could use a switch-hitter with on-base ability. Drury is a fine alternative.
3. The Drury pickup likely squashes any chance of Mike Moustakas on a pillow contract, not that I thought the Yankees signing him was all that realistic. I bet he ends up with a market rate contract a la Lorenzo Cain, Yu Darvish, Eric Hosmer, and J.D. Martinez even though things aren't looking good now. Maybe a #mysteryteam swoops in to sign him. The Phillies, maybe? The White Sox could work. Can't rule out the Braves either. Anyway, point is the Yankees always seemed like a long shot for Moustakas, and now there's basically no chance it happens. He doesn't fit financially and there's less of a need at third base. Never say never! But yeah, Moustakas ain't happening, and I am totally cool with that.
4. You know who Drury replaces? Headley. Both guys project as league average or slightly below league average hitters this season with third base defense that is fine overall, but can be adventurous at times. Drury is eight years younger though, he's much cheaper, and he can play second base (and left field) as well. Look at this:
Yankees give up: Castro, Headley, Solak, Widener, Jorge Guzman, Jose Devers, Bryan Mitchell
Yankees get: Drury, Giancarlo Stanton, an open infield spot for Gleyber
The Yankees did all that while staying payroll neutral. Shedding Castro and Headley offsets Stanton's salary, and Drury essentially slides into Mitchell's payroll slot. Pretty amazing. The Yankees got younger and better, didn't take on money, and didn't trade any prospects that really hurt. Give Brian Cashman another Executive of the Year award.
5. This trade means nothing for Torres and Andujar long-term. They are still the future at second and third bases, respectively, and the Yankees won't let Drury stand in the way of either. In the short-term, I think it is now more likely Andujar will return to Triple-A to begin the season. Sending Gleyber down for service time reasons makes too much sense — the injury and subsequent layoff provide the perfect cover — and I expected that to happen even before the Drury trade. It seems to me the potential loser here is Tyler Wade or Ronald Torreyes, though I'd bet good money on Torreyes making the Opening Day roster. It's possible Wade will as well. Drury at third, Wade at second, Torreyes on the bench with Andujar and Torres in Triple-A. See? Doable. The trade does make the path to big league playing time a little more difficult for the kids and I don't consider that a bad thing, even though I am bummed Andujar may have to wait a little longer to get his shot. A little friendly competition among infielders never hurt anyone. Drury is versatile enough that everyone can coexist on the roster when the time comes, and the Yankees won't let him block any of their higher upside prospects.
6. Drury has an interesting plate discipline profile. He's never drawn many walks (career 5.9 BB% in MLB and 6.0 BB% in the minors), though in his 1,038 big league plate appearances, his strikeout rate (20.3%), chase rate (30.8%), and swing-and-miss rate (9.9%) are all league average (21.6%, 29.9%, 10.9%). And, weirdly, he struggles against fastballs and punishes everything else:
Fastballs: .315 xwOBA (MLB average: .343 xwOBA)
Curveballs: .274 xwOBA (MLB average: .248 xwOBA)
Sliders: .302 xwOBA (MLB average: .256 xwOBA)
Changeups: .338 xwOBA (MLB average: .289 xwOBA)
Drury doesn't walk, but his chase and swing-and-miss rates suggest he isn't a mindless hacker. And he doesn't struggle against pitches that bend. Maybe the Yankees think Drury is a tweak or two away from really breaking out? Something that helps him get around on fastballs a tad quicker could do wonders. He'll be a nice little project for hitting coach Marcus Thames and assistant hitting coach P.J. Pilittere. And if nothing works, oh well. Drury is useful as is. But I think there's some untapped potential here. Good things tend to happen with young players who have power, and don't chase or whiff excessively.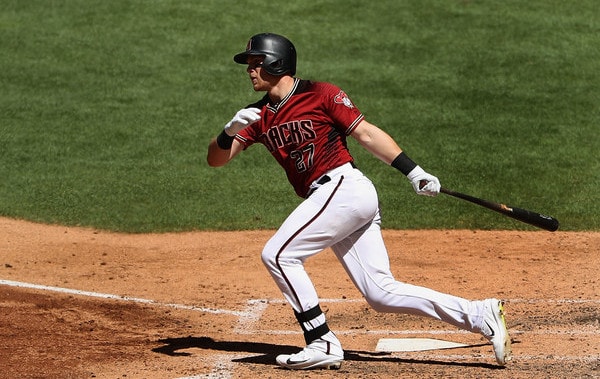 7. The trade follows the pattern the Yankees established at the trade deadline. They're trading prospects, but not their best prospects, and they're dealing from positions of depth. Blake Rutherford and Dustin Fowler are very good outfield prospects, but they're not Clint Frazier and Estevan Florial. Widener, Zack Littell, Jorge Guzman, and James Kaprielian are good pitching prospects, but they're not Justus Sheffield, Albert Abreu, Dillon Tate, and Chance Adams. Solak is a good second base prospect, but he's not Gleyber or Wade or Thairo Estrada. The Yankees are using their prospect surplus in exactly the right away. They're trading those excess prospects for big league players. Solak and Widener are quality prospects, no doubt, but they are far down the depth chart and didn't have much of a chance to become impact players for the Yankees anytime soon. The Yankees cashed them in as trade chips, and hey, the trade is good for them too. Solak and Widener will have greater long-term opportunities with the Rays and D'Backs, respectively. Everyone wins.
8. So what's the second base depth chart look like right now? I guess it's Drury, Torres, Wade, Torreyes, Thairo in that order. That's a pretty nice list of names right there. Gleyber is the long-term answer, clearly, but Drury and Torreyes are already useful big leaguers, and Wade and Thairo have the potential to be useful big leaguers soon. (I'm a Wade guy. I think he'll be more than useful.) Easy to understand why the Yankees were willing to part with Solak, huh? He was stuck behind a lot of talent. It's no surprise then that Sherman says the Yankees tried to sell the Pirates on Solak as the second piece behind Frazier during Gerrit Cole trade talks. That didn't work, obviously. Solak and Jorge Mateo are gone and the Yankees are still chock full o' second base options. Pretty great.
9. And finally, I still expect the Yankees to add a pitcher soon, as in before Opening Day. The Drury trade actually creates some clarity for the pitcher search. The Yankees have their infielder, didn't spend any of their finite luxury tax plan dollars, and didn't trade any top prospects. They know what they need and exactly how much they have to offer, both in trades and free agency. I don't think the Yankees want to give up draft picks or international bonus money for Lance Lynn or Alex Cobb, and aside from Jake Arrieta, the other free agent rotation options kinda stink. (Trevor Cahill? R.A. Dickey?) Chris Archer seems likely to move now that the Rays are in full blown tank mode, and the Drury trade shows the Yankees aren't against sending prospects to Tampa. Would Tampa send Archer to the Yankees though? Who knows. Patrick Corbin and Michael Fulmer are the usual trade targets. I wonder if the Yankees will go off the board and try to pry someone like Michael Wacha or Kendall Graveman loose. We'll see. I think a pitcher is coming though. The Yankees aren't done.