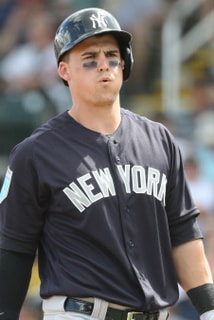 The end of the week was not a kind one from the Baseball Gods. The Dodgers' Justin Turner has a broken wrist. Madison Bumgarner of the Giants was hit with a comebacker and has a broken left hand. Chris Sale got a similar scare on his leg, but is no worse for wear. Most importantly, though, from our pinstriped perspective, is that Greg Bird has right foot inflammation and will see a specialist on Monday. Insert upside down smiling emoji here. Hopefully the visit on Monday is just routine and Bird is cleared to begin the season with his teammates on Thursday. If not, let's consider the options.
Assuming Bird hits the DL, the Yankees will go with a one-for-one roster spot swap. To the DL would go Bird and up to the big club would come Tyler Austin or Billy McKinney. Neil Walker, a switch hitter with way more Major League experience than any other potential player, would also likely be called upon to play first.
The most likely scenario I see is a first base platoon of Walker and Austin, with Walker playing there against right handed pitchers, allowing Tyler Wade to fill in at second. This helps keep the Yankees on the right side of the platoon matchup and maintains good defense at second with Wade. Should they roll with McKinney, who had a powerful spring training, he would play first against righties (lefty hitter) with Walker there against lefties and Ronald Torreyes at second.
The drop off from a Bird + Walker lineup to anything else is pretty big, regardless of the details of who's playing where and when, but of those two options, I prefer the Walker/Austin pair, even if I like McKinney more than I like Austin at this point. The  potential difference between those two is smaller than the potential difference between Wade and Torreyes.
The timing of this is bad–when isn't an injury poorly timed?–but the Yankees are well positioned to absorb this blow. Bird's power and patience will be missed, but the Yankees also have plenty of that spread throughout the lineup. With any luck, this will all be academic and the results of Bird's consultation will bear good news. If this does go south, it'll be another letdown for Bird and for us. He's never been a disappointment when healthy, but these injuries are beyond that.