The Yankees head into the final series of their homestand on a roll after winning three of four against the Blue Jays. Now, a familiar non-division foe enters the Bronx for a four-game set.
The Last Time They Met
In case you forgot, the Yankees and Twins met in the 2017 American League Wild Card Game. For the 10th straight time, the Yankees beat the Twins in the playoffs and this time in a winner-take-all game.
Luis Severino was out of the game six batters into the game (I kinda called it?), but the Yankees backed him up with 8 2/3 innings of one-run ball out of the bullpen. Chad Green, David Robertson, Tommy Kahnle and Aroldis Chapman each had some of their best postseason moments in that game.
Didi Gregorius hit a tying home run in the bottom of the first inning and the Yankees never looked back. Aaron Judge and Brett Gardner added homers of their own while Greg Bird and Aaron Hicks each had an RBI.
For more information, check out Katie's Yankeemetrics post on that game and the ALDS.
Injury Report
Byron Buxton is on the 10-day disabled list due to migraines and is on rehab assignment. He could be back mid-way through the series. Minor league/40-man roster OF Zack Granite is on the DL with a shoulder contusion.
On the pitching side, Trevor May and Michael Pineda are recovering from Tommy John surgery and won't be in games for a while. Wild Card Game starter Ervin Santana is slated for a late-May return from middle finger surgery on his throwing hand.
Their Story So Far
Thanks to some unfortunate weather breaks and some scheduled days off, the Twins have played just 16 games and are 8-8. In fact, they've only played five games in the last 10 days. Minnesota is coming off an unfortunate sweep at the hands of the Rays of all teams. The team strikes out a fair amount at the plate, though the squad takes its walks and hits for some power. Still, their wOBA is 19th in baseball. The pitching staff has been a little walk happy but generally middle-of-the-pack.
As for their individual hitters, Brian Dozier has a 23-game hit streak dating back to last season. It's 16 straight games this season. Joe Mauer has been hitting like his old self and recently eclipsed 2,000 hits for his career. And before he was shelved with migraines, Buxton had continued last season's trend of starting off slowly despite his hot finish to 2017.
Lineup We Might See
The Yankees will toss two lefties and two righties against Minnesota this series, but the Twins toss out pretty similar lineups against pitchers of either side. Here's how they often stack up against righties:
1. 2B Brian Dozier
2. 1B Joe Mauer
3. 3B Miguel Sano
4. LF Eddie Rosario
5. DH Logan Morrison
6. SS Eduardo Escobar
7. CF Max Kepler
8. RF Robbie Grossman
9. C Jason Castro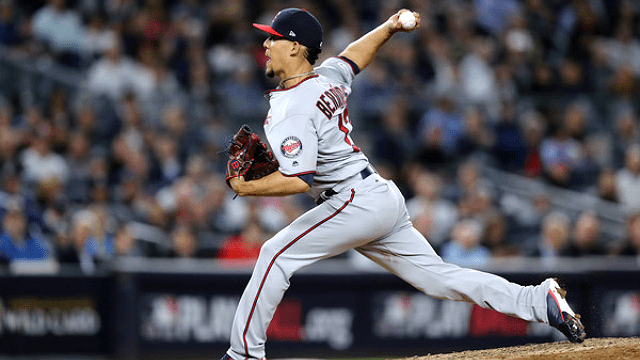 The Starting Pitchers We Will See
Monday (7:05 PM EST): RHP Masahiro Tanaka vs. RHP Jake Odorizzi
Traded from the Rays for a limited return, Odorizzi is plenty familiar with the Yankees. He went 0-2 while struggling through two starts against the Bombers last season and is 5-7 with a 4.31 ERA in 14 games (13 starts) against them in his career. Brett Gardner, Aaron Judge, Gary Sanchez and Ronald Torreyes all have homers off him, but he's fared well against the non-Judge healthy Yankees in his career.
Odorizzi is off to an OK start to 2018 with a 3.38 ERA over 21 1/3 innings in four starts. He's traditionally outpitched his FIP, which is 5.35 this year thanks to too many walks and homers, both of which have been problems in his career. He's an extreme flyball pitcher, which doesn't play well at Yankee Stadium. So far this season, he's used a sinker more than his traditional four-seamer while still working in a splitter, curveball, cutter and slider.
Last Outing (vs. CLE on Apr. 17 in Puerto Rico) – 5.0 IP, 6 H, 4 R, 1 BB, 6 K, 3 HR
Tuesday (6:35 PM EST): LHP CC Sabathia vs. RHP Jose Berrios
This will be quite the matchup for the Yankees as Jose Berrios has been one of the best pitchers in baseball this season. He entered Sunday second in both fWAR and bWAR for pitchers. Over four starts, he has a 1.63 ERA over 27 1/3 innings. He has a 29.3 percent strikeout rate … and a 1.0 percent walk rate. Yup, he's issued just one walk this season (in addition to one hit-by-pitch). His control has been impeccable.
Berrios averages 94.2 mph on his fastball, which he throws just over a third of the time. He also works in a sinker and changeup, but his best pitch is his 82 mph curveball. For my money, it's one of my favorite pitches to see in all of baseball. Berrios was lit up by the Yankees in the Wild Card Game and needed 90 pitches to get 10 outs in a start vs. them last September. Still, he's gonna be a lot to handle.
Last Outing (vs. CLE on Apr. 18 in Puerto Rico) – 7.0 IP, 3 H, 0 R, 0 BB, 5 K
Wednesday (6:35 PM EST): RHP Sonny Gray vs. RHP Lance Lynn
Lance Lynn was one of the pitchers hit hardest by the slow free agent market. A long-time cog in the Cardinals' rotation, the 30-year-old settled for a one-year, $12 million deal despite expectations he'd get that much per year over at least 3-4 years. Good for the Twins to try and get a bargain late in the offseason (he signed March 12).
Lynn hasn't looked very good in his new uniform. While he's struck out 19 batters over 15 innings, he's walked 15 as well, sporting a 6.00 ERA and 1.87 WHIP. For reference, he's coming off 186 1/3 innings in 2017 where he had a 3.43 ERA and issued just 78 walks. Lynn comes after hitters with his low-90s fastball with the occasional curveball or slider. He hasn't faced the Yankees since 2014, when he threw a five-hit shutout.
Last Outing (@ TB on Apr. 20) – 6.0 IP, 7 H, 5 R, 5 BB, 7 K
Thursday (1:05 PM EST): LHP Jordan Montgomery vs. RHP Kyle Gibson
Kyle Gibson is off to a mixed start to 2018. After throwing six no-hit innings in his first start (albeit with five walks), he's struggled and hasn't posted a quality start since. He was fine against Tampa his last time out, but two bad innings led to a loss.
The 30-year-old throws a low-90s fastball/sinker the majority of the time while working in a changeup, slider and curveball. Gibson has never fared all that well against the Yankees. He's 1-4 with a 9.31 ERA over 29 innings in six starts against the Bombers, though he didn't face them last season and doesn't have an extensive history against the current lineup.
Last Outing (@ TB on Apr. 21) – 6.0 IP, 5 H, 4 R, 1 BB, 7 K, 1 HR
The Bullpen
The Twins added a pair of relievers to the back-end of their bullpen this offseason: Fernando Rodney and Addison Reed. Rodney is his normal self, having blown two saves and converted two more while Addison Reed has allowed three runs in 11 innings. Trevor Hildenberger has been fine in his second season while Zach Duke and Taylor Rogers are the lefties in the 'pen. Both Duke and Rogers have struggled.
Alan Busenitz has been effective in three outings while Ryan Pressly has yet to give up a run while mostly pitching in low leverage situations. Rule 5 Draft pick Tyler Kinley has pitched sparingly.
The team needed 4 2/3 innings out of its bullpen on Sunday, though Pressly (1.2 innings) was the only pitcher to record more than three outs. Reed, Pressly and Rogers have pitched two of the last three nights. None of their relievers pitched both Saturday and Sunday.
Yankees Connection
Phil Hughes made his first start of the season Sunday and struggled through 3 1/3 innings. Former Yankee farmhands Jake Cave and Zack Littell are in the minors but on the 40-man roster while Pineda is on the 60-day DL.
Who (Or What) to Watch?
Just like the Jays series, this is another measuring stick series. The Twins are a playoff contender and sport a strong lineup, plus they'll toss their best healthy starters in this four-game set.
As for who to watch, Berrios. He's been a force all season. Even though he took the loss in the Wild Card Game last year, he's the one pitcher that would worry me if I'm Aaron Boone.