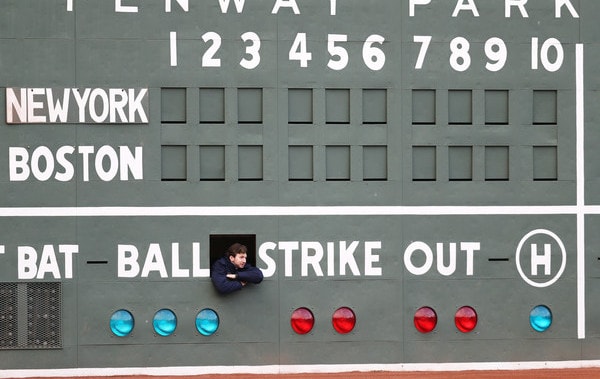 The first two games of this three-game series with the Red Sox have been eventful. The Yankees got embarrassed Tuesday night. It was bad. Then, last night, they answered back with a good team win. And the benches cleared and punches were thrown. Even before the brawl, you could tell the rivalry has some more fire to it this year. I reckon last night's brawl won't the last two time tempers flare between these two clubs.
As for tonight's game, the Yankees are getting Aaron Hicks back from the disabled list, as expected. He went 2-for-4 on Opening Day before an intercostal issue sent him to the sidelines. Hicks played in Triple-A tune-up games the last two days (2-for-6 with a walk) and now he's ready to return. Glad to have him back. The lineup looks a bit more formidable with Hicksie and his switch-hitting bat. Here are the starting lineups:
New York Yankees
1. CF Brett Gardner
2. RF Aaron Judge
3. DH Giancarlo Stanton
4. SS Didi Gregorius
5. C Gary Sanchez
6. DH Aaron Hicks
7. 1B Neil Walker
8. 2B Tyler Wade
9. 3B Ronald Torreyes
RHP Sonny Gray
Boston Red Sox
1. RF Mookie Betts
2. LF Andrew Benintendi
3. 1B Hanley Ramirez
4. DH J.D. Martinez
5. 3B Rafael Devers
6. 2B Eduardo Nunez
7. CF Jackie Bradley Jr.
8. C Sandy Leon
9. SS Brock Holt
RHP Rick Porcello
The bad news: There's some rain in the forecast tonight. Not a ton, but there are supposedly showers on the way between 8pm and 10pm ET. Hopefully it's nothing that delays the game. That would stink. Tonight's series finale will begin at 7:10pm ET and you can watch on YES locally and MLB Network nationally. Enjoy the game.
Roster Move: Shane Robinson was designated for assignment to clear a roster spot for Hicks, the Yankees announced. As with Jace Peterson, I bet Robinson clears waivers, accepts the Triple-A assignment, and remains in the organization as a non-40-man roster player.
Injury Update: Brandon Drury (migraines) isn't done going through his battery of tests. He has more scheduled for the coming days. "A lot of the tests have come back negative so far but still waiting on a number of things he is going through. Hopefully we start to get answers trickling in more so (later this week) and beyond," said Aaron Boone to George King.
Suspensions: As expected, Tyler Austin and Joe Kelly were both suspended for last night's brawl. Austin got five games and Kelly got six games. They're both appealing and are eligible to play tonight.