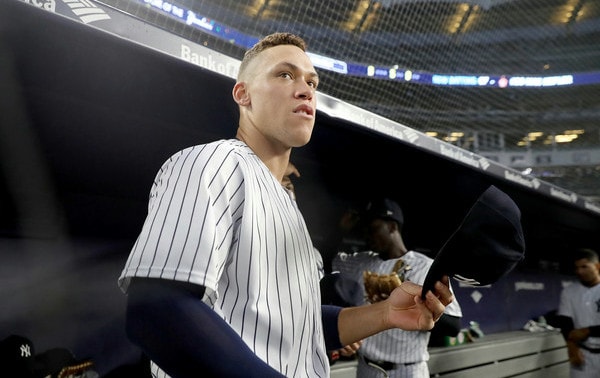 Win or lose today, the Yankees have already had a very successful homestand. They've won seven of the first nine games and outscored their opponents 65-31. After two middling weeks to begin the season, the Yankees have snapped out of their funk and now look very much like the team everyone expected them to be this year. They're not perfect, don't get me wrong. But they are very, very good.
This afternoon's game is a chance to finish the four-game sweep of the Twins, who are now 0-7 in their last eight games at Yankee Stadium, including the 2017 AL Wild Card Game. They're 1-12 in their last 13 games in the Bronx. Geez. Playing the Yankees must be a total nightmare for Twins fans. I couldn't imagine. Anyway, happy 26th birthday Aaron Judge. Go sock some birthday dingers. The lineups:
New York Yankees
1. LF Brett Gardner
2. DH Aaron Judge
3. SS Didi Gregorius
4. RF Giancarlo Stanton
5. C Gary Sanchez
6. CF Aaron Hicks
7. 1B Tyler Austin
8. 3B Miguel Andujar
9. 2B Gleyber Torres
LHP Jordan Montgomery
Minnesota Twins
1. 2B Brian Dozier
2. DH Joe Mauer
3. 1B Miguel Sano
4. 3B Eduardo Escobar
5. C Mitch Garver
6. RF Max Kepler
7. LF Robbie Grossman
8. SS Ehire Adrianza
9. CF Ryan LaMarre
RHP Kyle Gibson
Lovely afternoon for a ballgame in the Bronx. The sun is out and temperatures will be in the mid-60s. Good weather for a sweep. Today's homestand finale will begin at 1:05pm ET and you can watch on YES locally and MLB Network out of market. Enjoy the game.