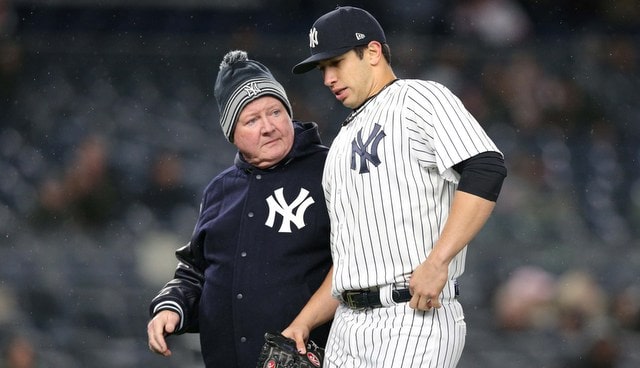 Yet another Yankee is heading to the disabled list. Following tonight's game Brian Cashman confirmed Luis Cessa will be placed on the 10-day DL with an oblique strain. Cessa was called up earlier today to replace Tommy Kahnle, who was placed on the 10-day DL with shoulder tendinitis.
Cessa exited tonight's game with the injury after throwing two innings and 28 pitches. Jonathan Holder and Jonathan Loaisiga are the only healthy 40-man roster pitchers not in the big leagues right now, so I'd bet on Holder getting called up tomorrow. Cessa's injury also means Domingo German is the unquestioned sixth start right now.
Cessa joins Kahnle (shoulder), Greg Bird (ankle), Brandon Drury (migraines), Jacoby Ellsbury (oblique, hip, foot), Clint Frazier (concussion), Ben Heller (elbow), Billy McKinney (shoulder), and CC Sabathia (shoulder) on the disabled list. Sabathia is due back Thursday. Everyone else is out more long-term.
Update: I'm a dolt. The Yankees will probably just activate Sabathia and plug him into Cessa's roster spot rather than call up Holder. There's an off-day Wednesday and Sabathia is Thursday's scheduled starter. Duh.