That was a Very Bad Loss. A Very Bad Loss that started out very well, actually. The Yankees turned a 5-0 first inning lead into an 8-7 loss in 12 innings against the Orioles on Sunday. They were up 5-0 and they knocked Baltimore's starter out in the first inning, yet somehow they were still out-pitched and out-hit. A well-deserved less, this was.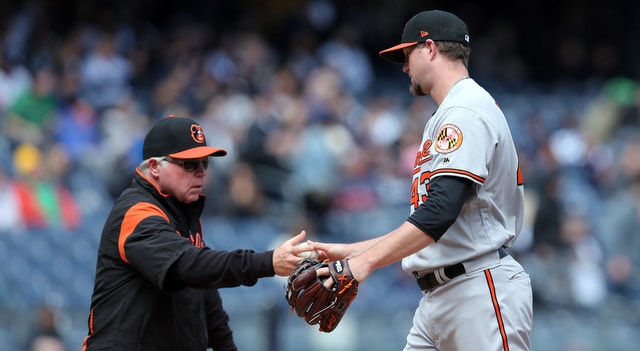 Mike's Not Wright
For at least one inning, Sunday afternoon felt like an old school Yankees-Orioles game. The Yankees jumped out to a big early lead, hanging a first inning five-spot on righty Mike Wright Jr., who recorded two outs before hitting the showers. A lot happened in that inning, so let's annotate the play-by-play: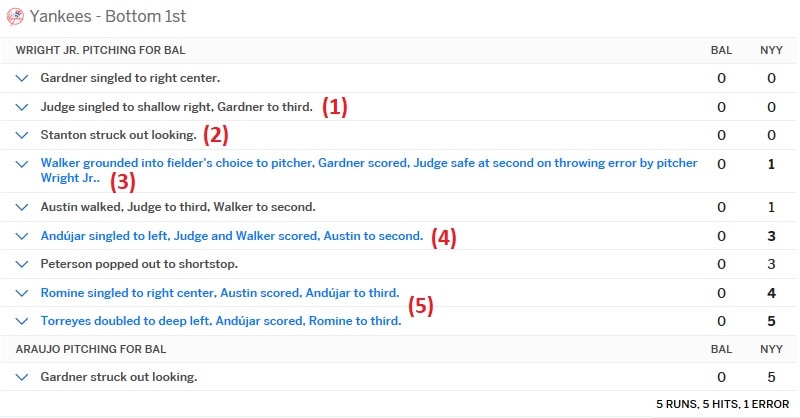 (1) The exit velocity on Aaron Judge's single: 69.6 mph. It was a little squibber he looped over Trey Mancini's head at first base and into shallow right field. Not sure I'd even call it a bloop. The standard bloop is hit harder. The single was Judge's 179th career hit and only four of the previous 178 had a lower exit velocity, and one of those four was an infield single. The guy known for frozen ropes helped build the five-run rally with one of the dinkiest hits of his career. Baseball is weird sometimes.
(2) Giancarlo Stanton is in such in a bad place right now. He went 0-for-7 with five strikeouts in this game and 3-for-28 (.107) with 16 strikeouts on the homestand. His overall contact rate coming into Sunday was 60.2%, well below his career average (68.2%). His contact rate on pitches in the zone was 73.5%, also well below his career average (81.5%). The MLB average contact rate on pitches in the zone is 84.6%. Here are the pitch locations Stanton saw in this game: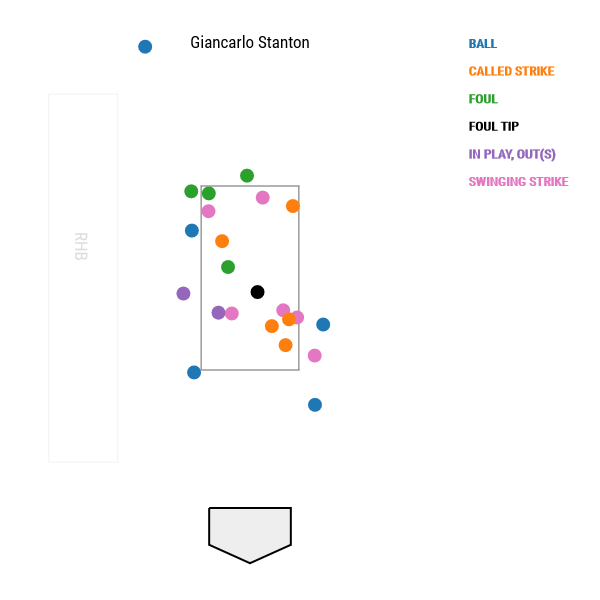 Swung through a few pitches out over the plate and foul tipped one more. Those are the pitches he should be hitting hard. Giancarlo has done this sort of thing before — he went 5-for-32 (.156) with 14 strikeouts at one point last April, and of course had his infamous 0-for-17 with 15 strikeouts slump in 2016 — and he's always snapped out of it. I'm sure he'll do it this time too. Still pretty annoying. The sooner Giancarlo gets going, the better.
(3) I thought Judge was out at second on this play. Neil Walker hit a little tapper back to the mound and Wright attempted the 1-6-3 inning-ending double play rather than try to cut the runner down at home, and his throw pulled Manny Machado off the base. The slow motion replay kinda sorta made it look like Judge's foot slid into Machado's foot and pushed it on the base, in which case he would've been out. I guess not though. The Orioles never bothered to challenge, so the run scored and everyone was safe, giving the Yankees a 1-0 lead.
(4) Brandon Drury is going to miss who knows how long with his migraines, so third base is Miguel Andujar's for the foreseeable future. He went 1-for-3 with a sacrifice fly Saturday, and in his first at-bat Sunday, he did a nice job hanging in against Wright after falling behind in the count 0-2. Wright tried to get him to chase two sliders out of the zone — a good plan against a free swinger, for sure — but Andujar didn't bite, then he able to sneak a ground ball through the 5.5 hole for a two-run single. It was a fastball over the plate and it was more well-located than well-struck. Still, for a young guy who has been an MLB starter for two games, it was a nice confidence building at-bat. It also gave the Yankees a 3-0 lead.
(5) For at least one inning, we got a flashback to The Roe & Toe Show of last April, when injuries pushed Austin Romine and Ronald Torreyes into everyday duty, and they produced far more than anyone could've reasonably expected. Romine punched a two-out single to right to give the Yankees a 4-0 lead, then Torreyes yanked a 2-0 fastball damn near out of the ballpark. It smashed off the left field wall, about a foot or two fair, for a run-scoring double and a 5-0 lead. Getting those big two-out hits from Romine and Torreyes, the No. 8 and 9 hitters, turned a good inning into a great inning.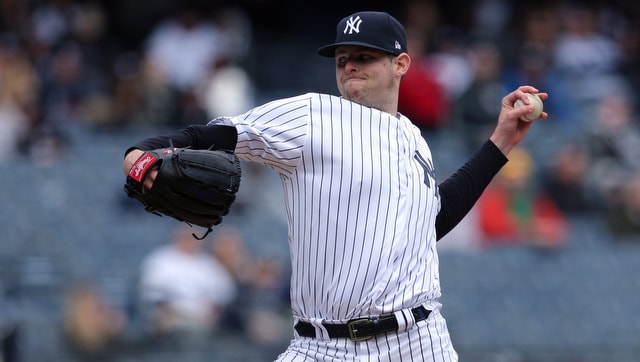 The Partial Monty
This was not a good start for Jordan Montgomery. His infield defense didn't help him much, but still, it was not good at all. The offense staked him to a 5-0 lead in the first inning and he couldn't make it out of the fifth. The Orioles had at least two baserunners in every inning he pitched. Two timely 6-4-3 double plays helped limit the damage, and without them, it could've been real ugly.
After the Yankees scored those five runs in the first, it took five pitches for the Orioles to respond. Tim Beckham banged a double to left and Anthony Santander drove him in with a single to left. Two things about that. One, Jace Peterson pulled up at the last second to play the ball on a hop. I imagine a more experienced outfielder makes the catch. And two, Torreyes hesitated a bit before making the relay throw home. Seemed like he was surprised the runner was going home. Not great all around.
The O's added another run in the third inning on three singles. The big blow came in the fifth. Montgomery allowed a one-out single to Adam Jones, than made a truly terrible 0-2 pitch to Danny Valencia. He hung the crap out of an 0-2 curveball …
… and Valencia hit the crap out of it for a two-run homer to cut the lead to 5-4. It was Montgomery's 86th and final pitch. His line: 4.1 IP, 10 H, 4 R, 4 ER, 2 BB, 4 K. He did get eight swings and misses, so that's good. The Orioles went 4-for-9 (.444) the first time through the lineup and 6-for-12 with two walks thereafter, so Montgomery wasn't even good the first time through the order. I get that it was cold and all that, but geez, up five runs after one inning and the starter doesn't get out of the fifth? Bad. Bad bad bad.
Another Battle of the Bullpens
Been a lot of those lately, huh? The Yankees were still up 5-4 when Montgomery was yanked, and the first man out of the bullpen was Domingo German. A strikeout and a fly ball later, the fifth inning was over. The Yankees tacked on an insurance run in the sixth when Romine poked a single just fair inside the first base bag — props to Peterson for hustling to beat out an infield single as the previous batter to keep the inning alive (Machado took a little too much time at short to make the play) — which stretched the lead to 6-4.
The O's answered right back. Craig Gentry singled and stole a base, then scored on Machado's two-strike, two-out single the other way. Tyler Austin's dive came up short and Stanton airmailed the cutoff man, though I'm not sure they had a play at the plate anyway. The throw took away any possibility though. That made it 6-5. With one man on in the seventh, former Rule 5 Draft pick Anthony Santander ambushed a get-me-over 3-0 fastball …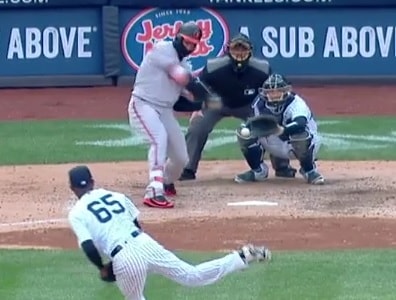 … for a go-ahead two-run home run into the short porch. The 5-0 lead was officially gone. The Orioles led 7-6. Sigh. It's been that kinda year. Little Sunday on Sunday: 2.2 IP, 3 H, 3 R, 3 ER, 1 BB, 5 K. As always, the stuff was as good as it gets. The location? Not so much. He was in a one-run game in the seventh because Aaron Boone was looking to stay away from his top relievers given their recent workload, yet he had to use them all anyway. Sigh.
The Yankees did rally after falling behind 7-6, however. They answered right back in the bottom of the inning. Austin stroked a single to right against the lefty Tanner Scott — Austin against lefties is so much better than Austin against righties — and Andujar worked a hard fought 11-pitch walk to put two on with one out. Peterson's grounder got Austin to third (Andujar was forced out at second), then of course Romine dumped a game-tying single to right. Sure, why not? After all that, the game was tied 7-7 after seven innings.
Extra Innings Futility
For the first time since 1990, the Yankees played a home series with multiple 12+ inning games. The teams traded zero in the 8th, 9th, 10th, and 11th before the Orioles finally broke through in the 12th. With Adam Warren on the mound for the fourth time in five days, pinch-hitter Pedro Alvarez drew a one-out walk and Santander rapped a two-out single, bringing the apparently dangerous Craig Gentry to the plate.
Gentry, a career .260/.334/.337 (85 wRC+) big league hitter, put together an 11-pitch at-bat — 11-pitch at-bat! — against an obviously fatigued Warren. It was the longest at-bat of Gentry's career. After six foul balls, he pulled a ground ball through the left side for a go-ahead single. Heck of an at-bat. The single came on Warren's 29th pitch and he had nothing to put Gentry away. At least he was able limit the damage to one run, I guess.
A deflating loss wouldn't be complete without a ninth inning tease, or in this case a 12th inning tease. Romine drew a leadoff walk. Didi Gregorius then drew a walk. Brett Gardner did what he always seems to do in those spots and he laid down a bunt. He bunted with two strikes! And it worked! Brad Brach fumbled the ball and everyone was safe. Bases loaded with no outs and Judge and Stanton coming up. The ideal situation. Then this happened:
Ah, yes, the ol' game-saving 1-2-5 double play. pic.twitter.com/3owNWCFEFe

— Orioles on MASN (@masnOrioles) April 8, 2018
I honestly can't remember if I've ever seen a 1-2-5 double play before. I'd seen an embarrassing amount of baseball in my life, and that might be a first. Good grief. Stanton then struck out to end the game. Second five-strikeout game of the homestand and the first two of his career. To be fair, this one took extra innings, but still. What a miserable end to a miserable game.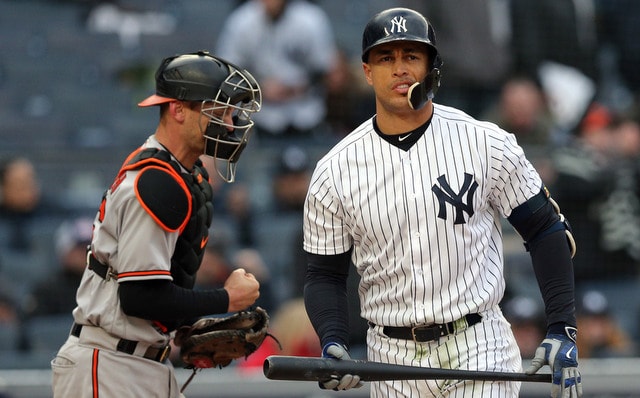 Leftovers
The Yankees had chances to take the lead late even before that 12th inning. Judge beat out an infield single in the eighth and was stranded. Gregorius doubled with one out in the tenth and was stranded, thanks in part to Gentry's running catch on Gardner's hard-hit liner. Austin doubled with one out in the 11th and was stranded. The Yankees went 6-for-21 with runners in scoring position. That's a .286 average! That's good! It's also 15 (!) outs. Yucks.
Boone said he was trying to stay away from David Robertson (third straight day), Warren (three appearances in four days), and Chad Green (back-to-back stressful outings). Robertson and Warren wound up pitching anyway. So did Dellin Betances, Aroldis Chapman, and Chasen Shreve. Betances, Chapman, Shreve, and Robertson combined: 4 IP, 1 H, 0 R, 0 BB, 3 K. At least the regular relievers are starting to come around.
The Yankees had 22 baserunners in 12 innings. Gardner (two singles), Judge (two singles, two walks), Austin (single, double, walk), Andujar (two singles, walk), Peterson (two singles), Romine (three singles, walk), and Gregorius (double, walk) all reached base multiple times. Gregorius didn't even start. He came off the bench late. Stanton was the only Yankee who didn't reach base at least once.
Box Score, WPA Graph & Standings
Here are the box score and video highlights for the game, and the updated standings for the season. Still another 152 games to play, folks. Little too early to worry about the standings. Here is our Bullpen Workload page and here is the loss probability graph:

Source: FanGraphs
Up Next
The Yankees have an off-day Monday, then they'll head up to Boston for a three-game series with the Red Sox. Tuesday night's series opener will feature a battle of aces: Luis Severino vs. Chris Sale. Fun!