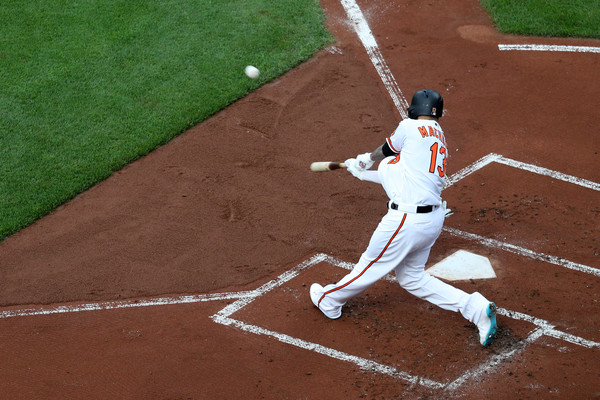 Nearly one-third of the way through the season, the Yankees are finally heading to Camden Yards. First series of the year in Baltimore. This is four-game weekend set
The Last Time They Met
The Yankees hosted Baltimore for a four-game series back in April, and it didn't go so well for the good guys. The Orioles took three of four, picking up two extra innings victories along the way, and are one of two teams with a winning record against the Yankees this year – the other being the also subpar Texas Rangers. Some notes from the series:
Didi Gregorius thoroughly enjoyed hitting against the Orioles staff, going 4-for-10 with two doubles, a home run, two steals, and six walks (against just one strikeout).
Manny Machado showed what he is capable of in Yankee Stadium – perhaps a sign of things to come over 81 games next year – going 7-for-19 with a double and two home runs.
Aaron Judge robbed a home run, and it was glorious.
It seems akin to a distant memory or a fever dream, but Jace Peterson made two starts in left for the Yankees, and acquitted himself fairly well in going 3-for-9 with a walk. Why do I bring this up? Because Peterson was picked up by the Orioles after being cut loose by the Yankees, and he's receiving fairly regular playing time.
Check out Katie's Yankeemetrics post for more fun facts.
Injury Report
Baltimore is banged-up, with two position players (Tim Beckham and Colby Rasmus), a starter (Chris Tillman), and their top-two relievers (Zach Britton and Darren O'Day) on the disabled list. None of them are expected to return for this series, though it is worth noting that Britton and Tillman have resumed throwing, so a surprise return isn't out of the question.
Their Story So Far
The Orioles are 17-39 with a -88 run differential, both of which represent the second-worst marks in baseball. They've lost five in a row by a combined score of 24-6, and this represents their fifth five-plus game skid of 2018. They're 27th in the majors in runs allowed, 29th in runs scored, and 30th in defensive runs saved, so they're not particularly good (or even passable) at anything right now. Of course, that didn't stop them from taking three of four from the Yankees eight weeks ago, so anything is possible.
The Lineup We Might See
The injury to Tim Beckham has forced Buck Showalter to be a bit creative, as he was the team's everyday third baseman prior to undergoing core surgery. Danny Valencia, Pedro Alvarez, and Jace Peterson have filled in at the hot corner, but Showalter has yet to settle on a regular there, instead riding the hot hand. And that flows into the DH role, as well, as Alvarez splits time there with Mark Trumbo. All that being said, their lineup may end up looking something like this:
Trey Mancini, LF – .232/.309/.372, 7 HR, 0 SB
Adam Jones, CF – .281/.297/.464, 9 HR, 0 SB
Manny Machado, SS – .324/.392/.612, 16 HR, 2 SB
Jonathan Schoop, 2B – .230/.258/.375, 5 HR, 0 SB
Chris Davis, 1B – .156/.239/.244, 4 HR, 0 SB
Mark Trumbo, RF – .303/.326/.449, 2 HR, 0 SB
Pedro Alvarez, DH – .190/.302/.450, 8 HR, 0 SB
Danny Valencia, 3B – .279/.339/.471, 5 HR, 0 SB
Chance Sisco, C – .211/.318/.337, 2 HR, 1 SB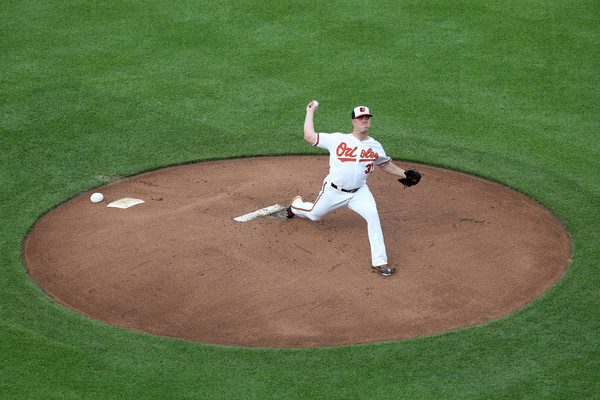 The Starting Pitchers We Will See
Thursday (7:05 PM EST): RHP Sonny Gray vs. RHP Andrew Cashner
I poked fun at Cashner the last time these teams met, and, of course, he ended up shutting down the Yankees for six innings (6 IP, 2 H, 1 R, 3 BB, 5 K). He followed that up with an even better outing against the Blue Jays (7 IP, 4 H, 0 R, 3 BB, 6 K), and you could squint hard enough to see a repeat of his 2017 unfolding. Regression struck quickly, though, and opposing batters have hit .324/.401/.553 against Cashner in his last eight starts, over which time he's posted a 6.17 ERA. That's more like it.
Last outing (vs. TBR on 5/26) – 5.0 IP, 11 H, 5 R, 4 BB, 4 K
Friday (7:05 PM EST): RHP Masahiro Tanaka vs. RHP Kevin Gausman
Gausman has seemingly settled in as a league-average starter in his age-27, pitching to a 4.31 ERA (97 ERA+) and 4.43 FIP in 11 starts. He now has a perfectly average 100 ERA+ in his career, and a slightly above-average 96 FIP-. That might not be what you want from a 4th overall pick, but it's not bad – especially for a team that has had severe issues with developing starting pitching. And Gausman did look pretty good against the Yankees earlier this year, holding them to 2 runs in 5 innings on April 6.
Last outing (vs. TBR on 5/27) – 2.2 IP, 6 H, 7 R, 2 BB, 1 K
Saturday (4:05 PM EST): RHP Domingo German vs. RHP Alex Cobb
Cobb's season started about two weeks late, the result of him waiting to sign until March 20. The early returns haven't been pretty, as he's pitched to a 6.80 ERA (62 ERA+) in nine starts, and has yet to find any semblance of a groove. He has provided the Orioles with a bit of length, though, finishing six innings four times and pitching into the sixth another time, and he does have a track record of success in the AL East.
Cobb is a three-pitch guy, featuring a low-90s sinker, a mid-80s splitter, and a low-80s curve. He'll mix in a straight fastball every now and then, but he'll go full starts without throwing a four-seamer.
Last outing (vs. WAS on 5/28) – 7 IP, 5 H, 3 R, 3 BB, 3 K
Sunday (1:05 PM EST): LHP CC Sabathia vs. RHP Dylan Bundy
Buck Showalter's old school mindset is often on full display with Bundy, who has thrown 100-plus pitching in four starts, and 98 in another two. The 25-year-old has a history of elbow and shoulder issues, but the team will continue to trot him out there until he hits the proverbial wall – and it's a shame, as it would feel like he was on borrowed time regardless of the pitch count. Bundy has produced strong strikeout (28.3%) and walk (6.8%) rates this year, but his 4.46 ERA is a tick below league-average.
Bundy is something close to a five-pitch pitcher. He mostly relies on his low-90s four-seamer, low-80s slider, and mid-70s curve, but he'll also sprinkle in a low-90s sinker and a mid-80s change-up. His slider is a true swing-and-miss offering, with a 33.2% whiff rate.
Last outing (vs. WAS on 5/29) – 6.0 IP, 11 H, 3 R, 0 BB, 6 K
The Bullpen
The Orioles bullpen has settled down into league-average territory after struggling for the first week of the season, and currently sports a 99 ERA+ (18th in the majors) and 0.53 WPA (17th). The problem is that they're also 29th in shutdown appearances, as they don't really have a true stud in the group right now. Brad Brach (3.43 ERA) has been solid as the closer, and Richard Bleier's odd brilliance (2.33 ERA despite an 11.5% strikeout rate) is fun, but the absence of Britton and O'Day has everyone pitching at a slot higher than they probably should be. Though, to be fair, this group isn't a joke, and it has performed mostly admirably considering the circumstances.
Who (Or What) To Watch
I have a soft spot for Dylan Bundy, as I followed his ups and downs as a prospect closely, and I always enjoy seeing a player come back from potentially career-ending circumstances. And, as always, Manny Machado is worth the price of admission.